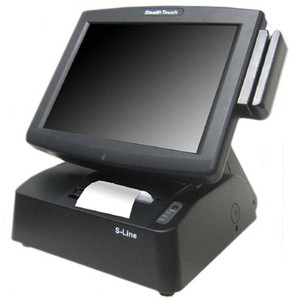 The right point of sale (POS) system can have a dramatic effect on any retail or hospitality business, giving management a new level of control over operations, increasing efficiency, boosting profits, and helping fine-tune its business model. In addition to being more efficient than cash registers, POS systems can create detailed reports that can help management make more informed business decisions. Buyers need to consider their needs and find out what the market has to offer when switching from a traditional cash register to a computerized POS system. The return on investment and business benefits can make purchasing a POS system well worth a company's time and effort.

Select a POS System to Fit Your Business
A properly-utilized POS system can provide a business with an increase in efficiency and output, allowing management to more effectively meet the needs of its clients and shareholders. Buyers need to take into account what type of POS system would be the best fit for their particular business, however.
Types of POS Customers
The POS system market has two primary types of customers: retail operations and hospitality businesses, such as restaurants, bars, and hotels.
Retail POS Customers
Retailers have simpler POS system needs than hospitality businesses because they complete transactions at one time and often have little product variation. Some POS system features retailers may want include the ability to support kits (for example, "three for $2" deals), returns and exchanges, and support for digital scales. A retail POS system needs to support matrices if the store sells items that come in a variety of styles, such as clothing or shoes. Matrices let users create one inventory and price entry for a particular item, such as a sweater, while still tracking sales according to size and color.
Restaurant POS Customers
Restaurants and other hospitality businesses have different POS system requirements. Casual restaurants focus on efficiency. Retail-style restaurants, such as sub shops, use restaurant POS systems to relay orders, cutting down on time-per-transaction and reducing errors that can occur when passing hastily-scrawled orders back to the kitchen. In quick-service restaurants, employees take orders on terminals in the front, which automatically display on monitors in the food preparation area so that food can be quickly assembled and delivered to the customer. At table-service restaurants and fine dining establishments, POS systems need to be able create and store open checks, as parties can order more over time, as well as track which server is responsible for which table.
Hotel POS Customers
In addition to managing room assignments, well-integrated hotel POS systems allow users to transfer meal charges from the dining room to guests' rooms with just a button or two. Hotel managers need to be aware that not all POS systems integrate with all property management software.
Benefits of a POS System
A computerized POS system can provide significant returns if a retail or hospitality business has annual revenues of around $700,000 to $900,000. For example, if a restaurant with 20 tables and an average check of $45 can increase turnover by one party per table, the business will make an extra $900 on a busy night. For businesses that operate below this level, an electronic cash register will probably suffice, unless users want the reporting features of a POS system or see it as an investment that can boost efficiency starting on opening day.
Saving Money
A computerized point of sale system can cut down on shrinkage (the inventory that disappears from a store or restaurant) due to theft, waste, and misuse. It can also ensure that every item in a store or on a menu sells for the correct price, and it can generate detailed sales reports that can help management focus on higher-margin items.
Receiving More Information
A POS system can instantly tell authorized users how many units of a particular product have sold today (or last week, or last month), how much money each user has in the cash drawer, and how much of that money is profit. Detailed sales reports make it much easier for management to keep the right stock on hand. Tracking inventory, spotting sales trends, and using historical data to better forecast business needs is simplified with an effective POS system. Often, POS software can alert users to reorder when stock runs low, in addition to allowing management to collect the names and addresses of their best customers as part of standard transactions, which can then be used for targeted advertising and incentive programs.
Increasing Productivity
POS systems can dramatically reduce the time management spends doing inventory, sales figures, and other repetitive but important paperwork. The savings here include time and peace of mind. In retail settings, barcode scanners and other POS features make checkout faster. Restaurants can greatly streamline their order process when orders are relayed automatically to the kitchen from the dining room. In both cases, customers get faster, more accurate service.
Keep in mind that realizing these benefits requires a commitment to utilizing the POS system's capabilities to their fullest. Without appropriate training and ongoing analysis, even the most sophisticated POS system will be no more useful than a basic cash register.
Buyers also make sure that their business has clean electrical power. Draws on the electrical supply from using blenders, slicers, microwaves, and other mechanical devices plugged into the same electrical circuit can easily cause enough power supply fluctuation to wreak havoc with POS computer systems. Users may need to filter power to eliminate troublesome electrical spikes and noise before they get to POS terminals, or install a dedicated POS circuit with an isolated ground.
Choosing Point of Sale System Computers and Software
A computer serves as the central component of a POS terminal which runs the application. Buyers can purchase complete PC-based POS systems or buy computers separately. If all hardware is purchased from one source, the reseller can take responsibility for the entire system, which can make setup and ongoing support easier. Keep in mind that some sellers charge an extra fee if buyers supply their own computers.
If a company purchases computers separate from its POS system, it must coordinate the purchase with the POS system seller. Get exact specifications and follow them closely to reduce compatibility problems. POS applications are not very resource-heavy, so an average to low-end computer will usually get the job done. The computer does need to be upgradeable, as some POS software requires newer operating systems.
Companies should not use POS computers for anything other than POS. Especially resist the temptation to connect them to the Internet and use them for Internet browsing or email. As with any computer systems, backups are important. When a POS system has been set up, create automated backup schedules.
Select POS system software
Most POS software packages offer similar functionality and users can safely assume that all major POS software handles standard customer transactions. Retail POS software typically displays items and prices in a sale and handles taxes, returns, voids, payments (including credit card processing), layaways, and discounts. It also generates accounting reports and tracks inventory. Restaurant POS software allows users to create checks by diner or table, place special orders, track orders per server, move diners from the bar to a table, generate waiting lists, and more. Companies may want to consider additional features depending on their business.
Internet data boards: Some POS software packages offer an Internet data board. Internet data boards provide a snapshot of the day's business that can be accessed from anywhere with an Internet connection. For franchises or other businesses with multiple locations, this can provide significant peace of mind. Other systems can be set to download daily totals to a central server.
Multi-management: Businesses with branches in different regions may also find multi-management useful. Multi-management allows users to share some settings but vary others between sites. For example, a restaurant can offer the same menu with different prices in different locations.
Frequent diner program support: Certain restaurant POS software packages support frequent diner programs. Frequent diner programs reward visitors with incentives or discounts. For example, a company could use a point system that works like frequent flyer miles. Restaurants can associate each menu item with a point value and allow diners to accumulate points that they can later exchange for a free dessert, half-price special, or meal discount. By assigning higher point values, management can give a boost to high-profit or low-performing items, in addition to marketing to customers based on their typical purchase or time of visit.
As features are added, POS software becomes more complicated and costly. Most major POS software publishers provide a software demo on their websites. Many even provide a full working version of the POS software either as a download or on CD. A trial use of the software can help users evaluate ease of use and judge stability. Users need to know what they need POS software to do before comparing long lists of features. Companies should draw up a list of factors that make their business unique, such as any unusual purchasing programs or any incentives that require detail or specific tracking. Other issues to address include:
Software Integration: Note whether the POS software interfaces with existing accounting software and how extensive the integration is. Note whether it simply exports daily journal entries or if the two programs are thoroughly integrated. All types of POS software can produce basic reports, so buyers should ask for samples so they can compare.
Ease of Use: Users need to be able to change prices, items, and employees regularly, so the POS system needs to allow easy changes. An effective POS system also supports a variety of credit card and gift card transactions, including the ability to allow gift card customers to check their balance, and working with a variety of merchant credit accounts.
Consider Hardware and Software Compatibility
When choosing a POS system, users may want to look for a system with software that can run on any type of PC so they are not tied down to a particular vendor or platform. Some manufacturers use proprietary hardware, which gives users less flexibility to purchase upgrades and additional equipment from other sources. The primary advantage of proprietary systems is that software is written specifically to work with one piece of hardware, ensuring seamless compatibility.
Upgrading a POS system as a business grows is not only easy, but is almost expected. Regular software updates let users get access to the latest features. Upgrades may be included in the service contract, or may involve a small additional fee. Adding new hardware, entire new terminals, or new peripherals for existing terminals is also generally easy, provided the added hardware is compatible with existing software. Buying more of the same is a good way to make sure everything connects smoothly.
Evaluate POS System Hardware
Most basic POS systems consist of a cash drawer, receipt printer, monitor, and an input device. Employees can use touch screens, programmable keyboards, scanners, or handheld terminals to enter data into a POS system.
Touch Screens: Many users find touch screens more intuitive to use than keyboards, as touch screens provide flexible user interfaces and programming. Most touch screens are sleek flat-panel LCDs, which cost slightly more than traditional CRT monitors, but last longer, use less electricity, and take up less space. When using either CRT or LCD displays, avoid overlay touch screens added on to regular monitors, as they can be prone to breakdowns.
Keyboards: Grocery stores often prefer programmable POS keyboards that allow management to program individual keys for specific item codes and prices. Some POS models are standard 101-key models like those that come with any computer. Others are smaller, more POS-specific devices, such as the flat-panel membrane keyboards common in fast food outlets. Often, POS keyboards come with built-in magnetic strip readers for processing credit cards.
Scanners: Scanners read a bar code and send the resulting numbers back to the POS system computer, improving speed and accuracy during checkout. They typically connect to the system through Y-connectors called wedges that make them function as an extension of the keyboard. Users should choose a scanner based on their average customer volume at checkout. Users with only a few customers in line at a time should use CCD or simple laser scanners. Companies which have a more constant flow of customers should invest in an auto-sensing scanner or an omnidirectional scanner, which allow more efficient customer throughput.
Handheld Devices: Handheld terminals wirelessly transmit orders back to a base station. Newer write-on handhelds are also available that use handwriting recognition software to parse orders and send them to the kitchen and bar as needed. Handheld terminals allow servers to spend more time on the floor taking orders, interacting with customers, and up-selling desserts and drinks, offsetting the cost difference between the handheld terminal and less expensive touch screens.
Printers: Every POS system needs a printer to create credit card slips and receipts for customers. Many restaurants also use POS printers to send orders to kitchen and bar staff. Inexpensive dot matrix printers, also known as impact printers, use pins and an ink ribbon to print on regular paper. They are better suited for kitchens where ambient temperature can prevent thermal printers from working effectively. Thermal printers use heat and special heat-sensitive paper to generate receipts. They cost slightly more than dot matrix printers, but are faster, quieter, and generally more reliable because they have fewer moving parts. Over several years of use, the higher costs for thermal paper are balanced out by the need to buy both paper and ribbons for dot matrix printers.
Cash Drawers: Cash drawers store cash, credit card slips, gift certificates, exchange receipts, and other important paperwork. They frequently serve as a shelf for heavy pieces of equipment. Look for sturdy construction of at least 18-gauge steel that can stand up to constant opening and closing. Some cash drawers are more easily serviceable than others. Although the life expectancy of a cash drawer is measured in millions of cycles, users need to be able to replace rollers, bearings, and other parts.
Customer Displays: Also known as pole displays, customer displays show item and price information to the customer, and also may show some support advertising. Compare size and display appearance and make sure equipped software is compatible with the display software.
Magnetic Stripe Readers: POS software processes credit cards, but users still need a magnetic strip reader to read the credit cards. Keyboards and touch screens often have built-in readers. If an input device lacks a reader, the user will need to purchase a standalone magnetic strip reader.
Check Readers: Using magnetic ink character recognition (MICR), automatic check readers can quickly process check payments while helping prevent fraud by verifying essential account information. If a business sees a significant volume of checks, it should make sure its POS software supports check verification before purchasing a check reader.
Fingerprint ID Readers: For added security, users may also want to add a fingerprint ID reader to the POS system which limits which employees can access the POS terminal. Unlike PIN codes that can be read over someone's shoulder or magnetic swipe cards that can be forgotten by employees, stolen, or lost, fingerprint ID boxes read thumbprints and ensure that only the right employees can log on.
No matter which POS hardware a company chooses, it must consider the environment where its employees will use it. Both keyboards and touch screens are available with varying levels of spill-proofing and dust-proofing. When looking into handheld devices, ask about the drop test. Units are rated for toughness according to how much of a fall they can survive. Preventative maintenance is extremely important. Simply vacuuming out the cases and lubing and cleaning printers can extend their lives considerably.
Know POS System Support and Warranty Options
Users should resist the temptation to put a POS system together themselves, even if they have some computer ability. POS systems need to be more robust than other systems, have POS-specific issues, and the quality of POS installation can have lasting effects on a business. The first week or two of using a POS system will determine whether it will be effective, so a well-tested installation is essential. Make sure an installation expert will be available to provide support before and after system launch and find out if they will be available to check in and answer questions once employees have an opportunity to use the POS system.
While reputable POS systems have very good reliability overall, shutdowns can lead to unhappy customers, lost revenue, and considerable headaches. Be sure to research the warranty terms and support policies for a POS system before making a purchase. Most manufacturers offer warranties that will enable users to get repairs or replacements for any equipment failures. When looking at support, ask about terms of response times, replacement policies, and telephone support. Guarantees and support plans for POS systems can vary widely. Some provide parts and labor for one year, while others also include free phone support for the first year.
Phone support: Many warranty companies attempt to diagnose problems over the phone first, since they can solve many basic problems this way. Some vendors have telephone support available 24/7, while others are available only during business hours. Many companies charge per incident for calls outside of business hours. Restaurants should lean towards vendors who have 24/7 support since their busiest times tend to be outside normal business hours.
Remote Internet support: If in-person support is not available, some support technicians can set up direct Internet access to a system, which allows them to dial in and make changes remotely.
Loaner equipment: Some POS support companies send users a replacement component as soon as they call in with a problem. Users then have to send the broken component to them for repair.
In-person support: Some POS support companies have field service technicians who can come to a client's location and make repairs. If they can't fix the problem on-site, they should be able to provide loaner equipment that can keep the business running. Users can typically find a guarantee that site repairs will happen with 24 hours. Get an in-depth explanation of how support will be handled.

Finding Point of Sale Systems on eBay
Once you know what type of POS equipment you need, go to eBay's Business & Industrial category portal, click the Point of Sale Equipment link beneath Food Service & Retail, and start searching for items on eBay. eBay offers a number of tools to help narrow down listings and find exactly what your business needs.
The Categories list on the left side of each page can help you narrow down your listings by item type. You'll find links for Bar Code Scanners, Cash Drawers & Inserts, Cash Registers, Complete PC-Based Systems, Credit Card Terminals, Readers, POS Printers, POS Software, and more. As you dig deeper into the site, you'll also be able to narrow your choices by brand.
Keyword Search allows you to search eBay listing titles for specific words. For example, if you want to find a POS system appropriate for restaurants, type "restaurant POS" (without quotation marks) into the Search box. Click "Search title and description" to expand your results. Visit eBay's Search Commands page for more tips on searching with keywords.
If you can't find exactly what you want, try shopping eBay Stores, tell the eBay Community what you want by creating a post on Want It Now, or save a search on My eBay and eBay will email you when a match becomes available.

Buy POS Systems With Confidence
With hundreds of point of sale systems listed on eBay, you will almost certainly find several that will interest you. When trying to select the right POS system, get to know exactly what you're buying, research the seller, and understand how eBay and PayPal protect you.
Know Your Purchase
Many sellers put a lot of time into creating their listings, making an effort to ensure they include all the information buyers need. Carefully read the details in listings for the POS system you consider buying and carefully review available photos. Before placing a bid or buying an item, be sure that you understand all the details.
Receive Answers to All Your Questions
If you still have questions after reading the listing and reviewing the photos, contact the seller using the Ask seller a question link in the "Seller information" box in the top right corner of every listing. Also, request additional photos if you want to see the POS system from a particular angle that isn't shown in the photos included in the listing. If you have more questions than you can address in an email, get the seller's phone number and give him/her a call. Just remember that you need to actually bid and buy on eBay in order to be covered by eBay and PayPal protection programs (see below for more details).
Get Delivery Details
Calculate and include delivery costs into your final price. This may simply be the cost of shipping or the cost of driving across the city or state if the seller is located nearby.
Complete Your eBay Transaction
Always complete your transaction on eBay with a bid, Buy It Now, or Best Offer. Transactions conducted outside of eBay are not covered by eBay and PayPal protection programs (see below for more details).
Know Your Payment Options
Never pay for an item on eBay using instant cash wire transfer services such as Western Union or MoneyGram. These payment methods are unsafe when paying someone you do not know. Instead, pay with PayPal for amounts less than $2,000 (including deposits), or through a money order or direct bank-to-bank fund transfer.
Track Items with eBay Toolbar
Use the free eBay Toolbar to track items you bid on and watch. It includes Account Guard, a feature that indicates when you're visiting a verified eBay or PayPal website and warns you when you enter your eBay password into an unverified site, even if it looks like eBay or PayPal.
Know Your Seller
Getting to know the seller is just as important as researching the product you are looking to purchase. Take time to research the seller so that you can feel positive and secure about every transaction. There are many key things to look for when evaluating a seller.
Positive Feedback
Note the seller's Feedback rating and the number of transactions he or she has completed. Also, consider what other buyers and sellers say in the Feedback and the amount of positive responses and praise the current seller has received.
Sales History
Take the time to look at the Feedback details. Find out how long the seller has been a registered eBay user and look at the types of items a seller typically offers.
Terms and Conditions
Take a look at the terms and conditions of the sale, paying particular attention to whether the seller offers a return policy and whether they charge a restocking fee. Sellers typically set terms and conditions, but you should make sure you agree with them. If not, find another seller or contact the seller to find out if he/she is open to your suggestions.
Good Communication
Once you've initiated communications with the seller, note how the seller is communicating with you, especially whether he or she is courteous, professional, and responsive. Once you bid, communicate with the seller through My Messages in My eBay. All legitimate Second Chance Offer messages will come through My Messages and not to your email address alone. Always contact the seller before accepting a Second Chance Offer, and never respond to any request to send money via Western Union or other instant cash transfer service.
Buyer Protection
In the unlikely event that you don't receive your item or it is not as described, eBay Buyer Protection may be able cover your purchase price plus original shipping. To learn more about the Buyer Protection Plan, view the terms and conditions here. It is important for buyers to note, however, that the Protection Plan is not insurance and it does not provide protection against buyer's remorse or substitute for due diligence on the part of the buyer.

Conclusion
While point of sale systems are an integral part of today's commercial workplace, the details and options available for purchase can be mind-boggling to the novice shopper. It is vital to narrow down the numerous selections available in order to find which POS system will best suit a particular user. Shopping on eBay allows the option of narrowing selections to find the necessary options, in addition to allowing shoppers to buy from sellers worldwide.