Whether you have a large walk-in pantry, or no real pantry at all, you can get extra storage space by using the storage you do have in creative ways. Good
pantry organization
helps reduce food waste and will help save you money.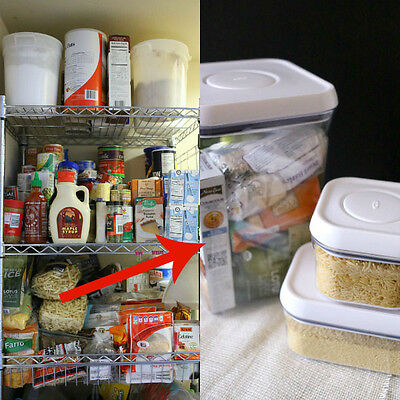 CONTAIN IT
OXO pop up containers
seal perfectly airtight. Designed for modular stacking, utilizing vertical space. They let you store everything from crackers to oats to pasta in plain sight. Sealing is super easy -- just push the button for an airtight seal. To open, push the button again. It pops up and becomes the handle.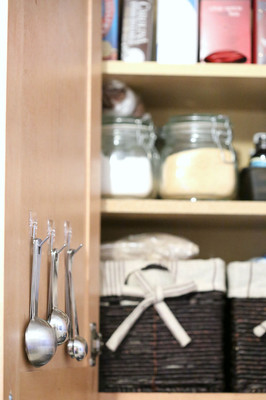 HANG IT
Don't forget walls and the inside of cabinet doors. Use
3M command hooks
to hang measuring spoons and cups inside spice cabinet.
Easy to install
pantry wrap organizer
will keep plastic wrap and foil easily accessible and organized
Stash pantry items on an
over-the-door organizer
to virtually eliminate search time and help keep small pantry items from getting lost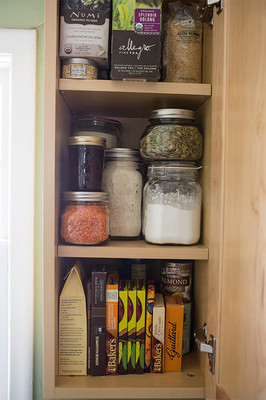 CREAT ORDER
Something as simple as a couple of
pantry baskets
or
jars
can make a big difference in creating order inside a
pantry or cabinet. Too often we keep bulky, unnecessary packaging around, and it creates cramped cupboards. When cupboard space is at a premium, a few extra inches here and there really helps make food more accessible and gives it a bit more room to breathe. Add a
label
to each container for an extra measure of organization.
How to Organize the Perfect Pantry:

Take everything out of the pantry

Check the dates! Throw out any expired food and spices.

Try to fill a bag full of non-perishable food to bring to a local food pantry once a month. This will help keep your pantry clean and not cluttered.

Try to group together all items that belong together.

Use vertical space by stacking cans and containers, so you can see what in your pantry.

Take inventory of your pantry so you know what you have on hand so you don't double buy.

Always put items back where they belong and clean out once a month to keep organized.