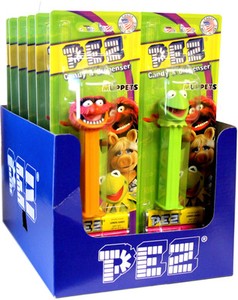 PEZ dispensers are fun candy dispensers that feature a wide variety of characters.
Ranging from cartoon characters and superheroes to Star Wars characters, Santa Claus, and animals on their tops. With the many different varieties available, people enjoy collecting these dispensers. Some collections contain thousands of different PEZ dispensers. Whether it's Disney or Warner Bros., Yoda or Darth Vader, eBay has a diverse assortment of PEZ dispensers to fit any PEZ collector's taste. In order to start a collection and continue to add to it, collectors will need to know what types of dispensers are available, understand the terminology that goes along with buying and collecting PEZ, and know how to effectively search eBay for the items that they need.

Types of PEZ Dispensers
Devoted PEZ collectors, also known as PEZheads, can find both modern PEZ dispensers and vintage PEZ dispensers. Originating in Austria, PEZ made it's way to the United States in 1952, when PEZ-Haas Inc. established obtained a patent and set up their headquarters in New York City. Originally designed to slip easily into one's pocket, the dispenser consisted of a simple straight stem with the candy dispenser affixed to the top. PEZ dispensers made after 1987 have feet, or a small plastic lip placed on the bottom of the stem, which was added to help the dispensers stand unassisted. Though there are many types of PEZ dispensers on the market today, below are some of the most popular designs from both the modern and vintage eras.
Regular PEZ Dispensers
Original PEZ dispensers created in Austria in the 1920s were simple mint candy dispensers. The plain tops functioned to dispense mints and did not have any characters adorning the top. In recent years, regular PEZ dispensers were reissued, making them one of the few types of modern PEZ dispensers without feet.
Holiday PEZ Dispensers
Holiday PEZ dispensers celebrate Christmas, Easter, Halloween and the likes. Christmas PEZ dispensers often feature specific characters. Santa PEZ dispensers, Rudolph PEZ dispensers, and other winter characters are examples featured in this line. Easter PEZ dispensers focus on themes associated with Easter and spring, including bunnies, chicks, ducks, eggs, lambs, and roosters. Halloween PEZ dispensers can cause a fright, featuring such haunting figures as witches, ghosts, skulls, and jack-o-lanterns. Some Halloween PEZ dispensers may even glow in the dark.
Disney PEZ Dispensers
Mickey Mouse PEZ dispensers top many PEZ and Disneyana collectors' lists. Collectors can also find Disney PEZ dispensers featuring characters from movies like Bambi, The Jungle Book, The Lion King, Snow White, Pinocchio, Winnie the Pooh, Peter Pan, Mary Poppins, and more.
Warner Bros. PEZ Dispensers
Warner Bros. PEZ dispensers and Looney Tunes "Back in Action" PEZ dispensers have the heads of popular characters such as Daffy Duck, Yosemite Sam, Wile E. Coyote, Speedy Gonzales, and Road Runner. Some of the most highly sought after characters include Bugs Bunny, Tasmanian Devil, and Tweety PEZ dispensers.
Star Wars PEZ Dispensers
Star Wars PEZ dispensers can have the heads of heroes such as Yoda, Luke Skywalker, Princess Leia, and Chewbacca, while other dispensers explore the Dark Side with Darth Vader, Boba Fett, and Stormtroopers. For a bigger challenge, collectors can also look for giant Darth Vader PEZ dispensers and limited edition Star Wars PEZ dispensers. The entire line is also sold as a collector's edition.
TV and Movie Cartoon PEZ Dispensers
Some of Jim Henson's most memorable creations from The Muppets and Sesame Street adorn the tops of PEZ dispensers. For example, collectors can find Kermit, Miss Piggy, and Big Bird PEZ dispensers. Likewise, many different characters also have a longstanding tradition of appearing on cartoon PEZ dispensers. Older items include The Flintstones, Tom & Jerry, and The Smurfs PEZ dispensers. Collectors can also find recent television favorites such as The Simpsons and Teenage Mutant Ninja Turtles PEZ dispensers. Collectors might also want to keep an eye out for animated characters that have recently made an appearance on the big screen, such as The Incredibles and SpongeBob SquarePants PEZ. Often times, shortly after a movie is released, the characters may be featured on PEZ dispensers as a marketing tactic for the movie.
Comic Character PEZ Dispensers
Superhero PEZ dispensers capitalize on the popularity of characters from Marvel Comics and DC Comics. From the world of Marvel Comics, collectors can find Spider-Man, Incredible Hulk, and Wolverine PEZ dispensers. Popular DC Comic PEZ dispensers include Batman and Wonder-Woman PEZ dispensers. Collectors can also find PEZ dispensers with characters from comic strips, including Snoopy, Charlie Brown, and Garfield.
Sports PEZ Dispensers
Sports fans PEZ collectors can find sports PEZ dispensers with tops in the shapes of baseballs, basketballs, footballs, football helmets, hockey pucks, NASCAR racecars, and soccer balls. Though PEZheads may want to collect them all in order to complete their collection, sports fans will often add them to their collections of sports memorabilia and souvenirs.
PEZ-Pals and People
PEZ - Pals put a human face on PEZ dispensers, including those of boys and girls, nurses and doctors, brides and grooms, sailors and pirates, and much more. Other PEZ dispensers that feature people include astronauts, cowboys, and pilots.
Giant and Mini PEZ Dispensers
Giant PEZ dispensers are more than 12 inches high, can hold at least 12 packs of PEZ candy, and often feature popular Star Wars, Peanuts, and Garfield characters. Mini PEZ dispensers distributed in Japanese vending machines can have the heads of animals or characters from Ultraman, Dragon Ball Z, and Pokemon. General Mills mini PEZ dispensers, issued in General Mills cereal boxes in the U.S., have the heads the Trix Rabbit, Buzz the Honey Nut Cheerios bee, Sonny the Cuckoo Bird, and Lucky the Leprechaun. PEZ key chains also come in a smaller, pocket-friendly size.
PEZ Dispensers Lists & Collecting Books
To determine how much collectors should expect to pay, they can search Completed Listings to find out what similar items sold for on eBay in the past 14 days. PEZ collecting books can also help people price and catalogue PEZ dispensers.

Understanding PEZ Terms
When comparing PEZ dispensers, shoppers will notice that sellers use certain abbreviations to describe them. Being familiar with the different abbreviations that sellers and other collectors use will make it easier for a shopper to determine if the seller has what they are looking for. Knowledge of these abbreviations also helps to make communication between collectors much easier. Below are several of the most commonly used abbreviations that shoppers will come across on their search for PEZ dispensers. The first is a list of abbreviations used to describe PEZ dispensers, followed by a list of common abbreviations used to describe the condition or quality of PEZ dispensers.
Most Common PEZ Abbreviations and Terms
| Abbreviations | Definition |
| --- | --- |
| BIA | Looney Tunes Back in Action |
| Club Med Face | Club Med face PEZ dispensers have color variations with faces that are darker than original PEZ dispensers. |
| DBP | Deutsche Bundes Patent. This is a patent found on some German/Austrian PEZ dispensers. |
| FEB | Fat Eared Bunny |
| FBS | Full Body Santa |
| FBST | Full Body Space Trooper |
| GITD | Glow in the Dark |
| IMC | Injection Mold Code. This is a code found on some PEZ dispensers produced in Austria, Hong Kong, Yugoslavia, and the United States that indicates which country and facility produced the PEZ dispenser. |
| JITB | Jack In The Box |
| JL | Johnny Lightning |
| MAF | Make A Face |
| MMM | Merry Music Maker |
| NGG | Non-Glowing Ghosts |
| SW | Star Wars |
| TRU | Toys R Us |
| TMNT | Teenage Mutant Ninja Turtles |






















Other common PEZ listing abbreviations include:
| Abbreviations | Definition |
| --- | --- |
| LE | Limited edition. These limited edition PEZ dispensers are produced in limited quantities, often come with a Certificate of Authenticity (COA), and typically feature two sets of numbers on the back or base. The higher number indicates the total number produced and the lower number indicates which one the collector has. |
| NR | No reserve. This means the seller has not set a minimum price for the sale. Many PEZ dispensers can be obtained for a very low price when no reserve price is set. |
| MIB | Mint in Bag. This is a new, never displayed PEZ dispenser. |
| MOC | Mint on Card. This is an unopened, not necessarily perfect, PEZ dispenser. |
| MOMC | Mint on Mint Card |
| NF | No feet |
| COA | Certificate of Authenticity |
| NLA | No longer available |
| NRFP | Never removed from package |



Find PEZ Dispensers on eBay
Once you know what type of PEZ dispenser you need for your collection, go to the Collectibles category. At the bottom of this page there is a section for "All Categories within Collectibles." In this section you will click the PEZ link beneath PEZ, Keychains, Promo Glasses and start searching on eBay. Before beginning the search, it's advisable to familiarize yourself with the different search features that eBay offers, such as the categories and advanced search options. These features can help to expedite and narrow down the search process.
Categories
The Categories list on the left side of the page will help you narrow PEZ dispenser listings by era. You can then choose Current or Vintage (no feet ). You can also whittle down the categories based on the types discussed above in the Pick Out PEZ Dispensers section. This feature is useful in that you will only be shown PEZ dispensers in the categories you are interested in without having to weed through thousands of other results you are not interested in. With a category search, you are also given the option to refine the results based on the price range, auction type, seller, shipping method, and more.
Advanced Search
eBay's Advanced Search feature allows you to conduct a more precise search and gives you the option to search by seller, buyer, or store. You can also refine results by selecting "All of These Words," "Any of These Words," or "Exact Phrase." Search All Categories to find PEZ dispensers listed in multiple categories and sub-categories on eBay including Collectibles, Sports Mem, Cards & Fan Shop and Toys & Hobbies.
Keyword Search
With an advanced search, you will also be able to search eBay listing titles for specific words. For example, if you want to find a Santa PEZ dispenser, type "pez santa" (without quotation marks) into the search box. Select the option to search the "Title and Description" to peruse these areas only for the keywords you have selected. Remember to use a + (plus symbol) between consecutive words in a keyword phrase so that they are not omitted from the search. After conducting your initial search, try misspelling the name of the item you desire, using several variations. You'll likely come across additional listings because some sellers may mistakenly misspell the names, spelling Santa "snta," for example. Visit eBay's Search Tips page for more tips on searching with keywords to find precisely what you are looking for.
If you can't seem to find exactly what you want using any of the above search methods, try shopping eBay Stores or telling the eBay Community wwhat you want by creating a post on Want It Now. You can also save a search on My eBay to have eBay send you an email when a match for the PEZ dispenser you are looking for becomes available.

Buy PEZ Dispensers With Confidence
Before purchasing your PEZ dispensers, make sure you know exactly what you're buying, research your seller, and understand how eBay and PayPal protect you when you buy and pay through their services.
Know Your PEZ Purchase
Be sure that you read the entire description and view all pictures that the seller posts of the PEZ dispenser for which you are shopping. This should give you an accurate description and idea of the condition of the PEZ dispenser so that you are not caught by surprise when it's delivered to your house. Be mindful to look not only at the price of the PEZ dispenser but also at the delivery costs. If you are spending a lot of money on the purchase, then make certain that the seller will insure the item once it ships. This way you will be protected in the event that something happens during the shipping process.
If you want more information, you can inquire by clicking the "Ask Seller a Question" link under the seller's profile. Sellers should be more than willing to offer additional information about the item and shipping process upon request.
Know Your PEZ Seller
Before doing business with any seller, be sure that you have done your research. This will make you feel more secure during the transaction. In order to get an idea about the trustworthiness of the seller, read the feedback, look at the number of transactions he/she has completed, and see what percentage of positive sales/transactions have been completed. For more buying security, you can also read former customers' feedback to see what the seller's strengths and weaknesses are.
You might also feel more comfortable with sellers if you communicate with them. You can ask a seller a question directly on his/her profile. If the seller does not respond, then you may want to find another seller who is more forthcoming with information about his/her PEZ dispenser.
Buyer Protection
While not likely, it is possible that you won't receive your item or it won't arrive exactly as the seller has described. For this reason, eBay offers Buyer Protection that will reimburse you for the cost of the item as well as any shipping charges you may have paid. You must always complete your purchase directly on eBay (with a bid, Buy It Now, or Best Offer). The eBay protection program does not cover any purchases made outside of eBay. Additionally, never pay for your eBay item using instant cash wire transfer services. These types of payments are unsafe, especially when paying someone you do not know personally.

Conclusion
Collecting PEZ dispensers is a popular hobby for people of all ages. These candy dispensers have been around since the 1920s, making these collections are a colorful piece of history that all can enjoy. Using eBay allows PEZheads and newbie collectors alike to find the PEZ dispensers they're looking for at great prices. Knowing the different PEZ products available, understanding the PEZ terminology, and navigating eBay's site efficiently will allow a collector to successfully accumulate a vast collection of PEZ dispensers in no time.