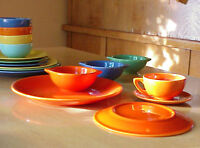 PARMA.
Brief article, which I plan later to expand. I hope other folks will share and compare research and evidence with me regarding discovering the mysteries of PARMA. I thank those who already have expanded our understanding of these dishes.
Few basic points:
Parma was made by more than one manufacturer. My own interest or connexion is that some of it was evidently produced by Joaquin, the former company in the same plant later owned by Laurel Potteries of Stockton California. Laurel is my specialty and focus of research. In doing that research I uncovered information on Parma. Anyway, evidently some of it was made by Joaquin, at least according to my interviews with two of the former employees, and another source's interview of the plant manager / part owner, (as well as his own recollection). Additional information has been provided by fellow collector/researcher/reader - with my thanks.
It was a 'premium', a promotional item.
Parma was available in Par Soap boxes....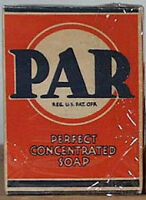 One source says the box indicated which shape was inside. Par soap Co (1100 78th Ave, Oakland CA). Smaller pieces were found in boxes of PAR soap...but 10 "dinners, platters, (and we suppose their Teapot ,,,and perhaps creamer? and lidded Suger?) were ordered exchanged for wrappers from Par castille soap, PAR cake soap, and box tops from (PAR's) Polkadot soap. A photo with a news article -sent to me by a reader and fellow collector / researcher to whom I am very grateful- shows a Teapot (!!!) yes, and Creamer and Sugar along with such shapes as I have in my photos here. Par held some "Times cooking school" at the "San Mateo Theater" and gave attendees 8" salad plates if they brought boxtop from PAR soap (in which they would have already gotten a piece from within). If available in other ways I could not yet say. One person-another serious researcher- recalled pulling them out of Mother's oats when he was young.*(questionable-see footnote) The plant manager told him that it was so cheap they didn't pack it [in the ordinary way] to go to southern CA; they just loaded it and if it broke it broke. One of my Joaquin employees said "...[we] made PARMA by the [train] carload ...[it was packed] in barrels...then you'd see them in your cornflakes* or your soap - it was just junk." The other employee explained the method of making the raised mark ('back-stamp'), and that a tube shaped tool was used by her for trimming of the lugs.
Many different premiums like Parma were made, using often some mould a company already had...and often more than one company would produce them, Some traded for saved labels, other saved store receipts, others in cereals, some at the movie theaters, and so on. According to the employees some of this stuff went to carnivals (for shooting galleries) and to the theater.
It came in various shapes, evidently depending on who was manufacturing it - and when. Which shapes or pieces are made by whom we still do not know, (although I make some speculations).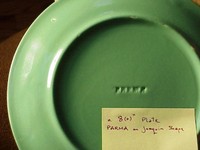 Here the mark on the green 8 inch plate which is (I suspect) [Joaquin],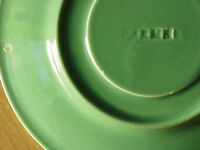 and on green [Joaquin] Saucer. Style and shape of these is same as other such pieces which are marked Joaquin. Interviews do indicate that Joaquin did indeed manufacture some Parma.... Date bracket would be c 1938 to no later than c. 1944, (probably by '43 - WW II shut them down for a spell) as this was the period of Joaquin's being in business.
We have little ephemera about PARMA. Which large pieces (too big for soap boxes) were available? Well, we can verify only that the 10"plate, some "platter", and a teapot were available, and the Creamer and Sugar. I reiterate, these would be for exchanged for wrappers and/or boxtops of PAR products. Plant manager Glaab reputedly also said it was "not a full line". And he is reported to have said that they used "whatever mould was on hand". Anyway we're not too hopeful about ever finding other larger serving pieces. You may see here, that I have found a Sugar - my only serving piece. Does any reader here know if there are significant serving pieces other than those which I mentioned?? Anyone with more information on this, or other history or evidence of manufacture, or different pieces of which we could show a picture are encouraged to please consider sharing photo(s) and information with us, if you would be so generous and kind.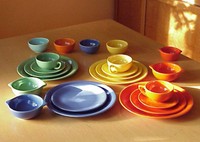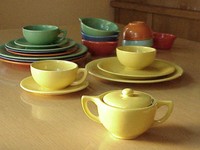 SOME of these plates and saucers are (probably) Joaquin manufacture, but others are not...and I personally suspect and believe most of the bowls and cups pictured here are not Joaquin, (??) but by yet another manufacturer. (There are others who content it was probably Pacific. Plausible. Could have been both, and key players in Pacific started and directed Joaquin - and Pacific and Joaquin wares had many similarities.) Parma was made by two, maybe even three companies. Gladding MacBean has a block letter PARMA stamp recorded "impressed on cups lugs and ramekins made for Gorden Allen in 1937 as a premium only" (according to in house GMB history by Otto Lund). There exist other tabbed bowls similar to but a bit different from those I have in my photos. (I may post image if I find I may borrow the photo.) Anyway, rambling on; One company or another was contracted and was manufacturing pieces for Par Soap. It was contracted by a Gordon Allen Co, for their Par Soap product. Cheapest bidder often got the contract for such "premiums"/"promotionals" as Parma (and many other promos/premiums/give-aways). I invite other collector/researchers to contact me and compare notes. Meanwhile here are some backstamps from above pieces. Thank you.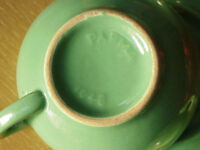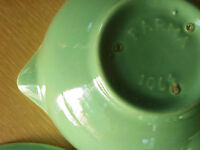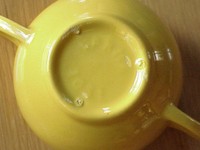 Numerals 1048 on cup (dry or glazed foot, also on "bowl" = cups sans handle; notice the row of bowls in background, one of my four is turquoise.); 1049 on saucer; 1038 on 8"plate; 1030 on 10"plate; difficult to see number on sugar; 1064 on tab handled bowls. Small bread plates exist but are not pictured. Sugar is the only serving piece I've seen, (except possibly something by Laurel!?**). Note: Handles of Sugar are molded, not applied (but they are applied to cups). (Sorry, before I repacked and stored these dishes, I neglected to get mark off flat-footed-mini-tab bowl or ramekin (orange) which can be seen in upper right corner of photo. They are to remain in my attic until I find and acquire the blue C&S, and Orange and Yellow Tabbed Bowls, then I could set my table and use them. Of course I'd especially like a Parma TEAPOT! Wouldn't that be nice?) Plates are sometimes somewhat irregular in size; (which makes for slightly untidy stacking.)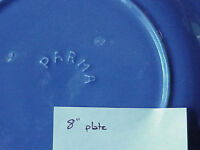 shape of this blue 8"plate also resembles Joaquin made pieces. (By resemble I mean appears to use same mould.)
Again, if you could share photos or information....do please consider it. Thanks so much! ~Pádraig
Sellers looking for VALUES ought consider that this was a short line, a cheap promotional, and as such it is my opinion they would be somewhat less in value than items from replete lines ('patterns'), or than those of more sought after patterns. I suspect, despite this, that a perfect teapot should garner much.
Also, someone with a blue cup and saucer for me would win more than just my affection.
footnotes:
(*I still question the other researcher's memory that it was actually a PARMA 'brand' promotional dish which he pulled out of the Oat box...or even the employee's memory whether t'was Parma rather than another premium by Joaquin found in cereal (or at carnival shooting galleries) but I don't much doubt that one of the premiums made at Joaquin would have. Still, If three company men, including manager as well as makers, are in accord recalling Parma as Joaquin product chances seem reasonable they aren't all mistaken.
(**Possibility of Laurel producing Parma is based on yet very scant and speculative evidence only - they did surely make premium wares, however.)