Opalescent Vase - Maze Pattern - Target Swirl Vase - Mystic Maze Vase - Swirling Maze

ID GUIDE, Part 7
MISCELLANEOUS OPALESCENT VASES (1898-1912):
Vases with Maze Patterns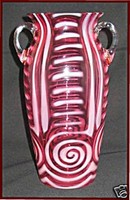 Target Swirl Vase, circa 1910
in cranberry opalescent glass, maker unknown

photo by lefty10
Introduction
This is Part 7 of a eight-part guide series on American pressed-glass opalescent vases manufactured at end of the Victorian Era, around the turn of the century (1898-1912). This section features vases with maze patterns, known by the names Target Swirl and Mystic Maze. To access other parts of this guide, use the links in the Table of Contents at the end of this page.
This guide series focuses on early opalescent vases not covered in our guides on the Jefferson, Northwood, Dugan, Fenton and Imperial glass companies. (To view our other guides, click on GUIDE INDEX.) These guides have been made possible by the many E-Bayers who have contributed photographs to this project. Please leave feedback by clicking the button at the bottom of the page.
Photographic Gallery
of Opalescent Glass Maze Patterns


A Swirling Maze cranberry opalescent pitcher,
made by Jefferson Glass of Steubenville, Ohio, circa 1903-1904.
photo courtesy of 5hills


Maze patterns were popular in Victorian glass. Opalescent glass collectors are generally familiar with the striking pressed-glass pattern known as Swirling Maze, shown above, invented by the Jefferson Glass Company of Stebenville, Ohio at the turn of the century. Jefferson issued its Swirling Maze pattern in a limited number of opalescent glass shapes, including pitchers, tumblers and bowls -- but not vases. Occasionally, however, old opalescent vases bearing similar maze patterns turn up on E-Bay. The origins of such vases remain a mystery. Part 7 of this guide series is dedicated to providing all available information on these pieces.




Target Swirl vase with pedestal vase,
in amethyst opalescent glass, circa 1910
photos courtesy of whtlegs


Target Swirl. This scarce opalescent vase pattern features a maze-like design consisting of parallel bars and spirals. Concentric rounded squares form a target pattern on the vase's base. Target Swirl vases have appeared on E-Bay in sizes from 5" to 8 5/8" high, and in four opalescent colors: in amethyst, blue and cranberry, as shown below, and also in white; as noted below, the pattern also has been recorded in a peach-cranberry opalescent. The pattern is a good find in any color.
The Target Swirl pattern was first documented by William Heacock, in Collecting Glass, vol. 2 (Antique Publications 1985). Heacock provided a picture of a 7 1/2" Target Swirl vase with a pedestal base, in a color he termed "peachy" cranberry (pp. 48, 70 & fig. 44). He wrote that the vase appeared to be mold blown and dated it at approximately 1910. Heacock also opined that the vase might be British in origin but noted that he was "concerned" about the tendency of American collectors to "lump all lightweight, mold-blown opalescent into a simplified English origin." Target Swirl vases are now referenced in the Standard Encyclopedia of Opalescent Glass (5th ed., pp. 155, 203; and 6th ed., p. 147). According to the SEOG's authors, the vases' maker still has not been identified, although the authors speculate that the Target Swirl pattern is British.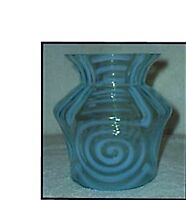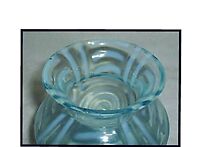 Target Swirl vase with pinched neck and flat base,
5" tall, in blue opalescent glass, circa 1880-1930
photos courtesy of 1glassnut

According to the 6th edition of the SEOG, documented shapes bearing the Target Swirl design include a tumbler; a bottle; a salt shaker in a metal holder; and both tall vase and squat vases (p. 147). Documented vases appear in at least four different shapes, with and without pinched necks, and with and without pedestal bases. At the top of this section is an amethyst opalescent vase with a pedestal base; an identical vase appears in the SEOG, 5th ed., at p. 203. Shown directly above is a blue opalescent vase with a pinched neck and flat base; the same shape appears in the SEOG, 5th ed., at p. 155. A third shape, with in a squat urn shape with a flat base, appears in the SEOG's 6th ed, at p. 147. The vase found by Heacock differs from all of these: it has a pedestal base, a wide mouth and a neck that narrows in the middle and then widens into a bulbous bottom.
To our knowledge, the striking piece shown at the top of this guide and directly below is the first documented example of the Target Swirl pattern in a handled vase shape: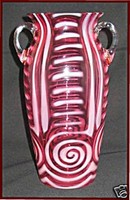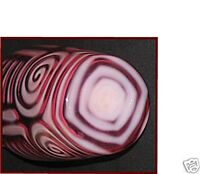 Target Swirl vase with handles, circa 1880-1930
8 5/8" tall, in cranberry opalescent glass

photos by lefty10

This cranberry opalescent vase, which was found by E-Bayer lefty10, appeared on E-Bay in June, 2009. The vase is 8 5/8" tall, with a 3" base and a mouth diameter of 3 3/4". The vase sold for and impressive $686. We would appreciate any additional information from European or American E-Bayers about the origin of this vase pattern.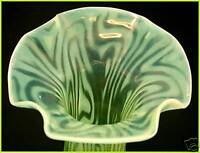 Mystic Maze vase, with detail of vase mouth
photos courtesy of curculiosglass

Mystic Maze. Like the Target Swirl vase in the preceding guide entry, the vase shown above features a maze-like design: canary opalescent lines alternate with lines of colorless glass, forming a pattern over the vase surface. The bottom of the base bells outward to a wide base, and the top has a flared, slightly ruffled mouth with heavy opalescence along the rim. Under ultraviolet light, the yellow-green swirls in the vase's design fluoresce a brilliant green from vase bottom to top. The vase shown here appeared on E-bay in 2008. It measures 6 7/8" tall and has a base diameter measuring 3 5/8".
The design is quite similar to the pressed-glass pattern of Jefferson Glass known as Swirling Maze, shown near the top of this guide. The Jefferson pattern is pressed glass, however, while the Mystic Maze vase has a pontil and is made of thin, blown glass.
A Mystic Maze vase is referenced in the Standard Encyclopedia of Opalescent Glass, 6th ed., at p. 98. The SEOG notes that little is known about the vase's origins and records the vase in canary-opalescent only. The authors feature the vase in the SEOG's section on vases made between 1880 and 1930. We could find the vase in no other available resource on early opalescent or early vaseline glass, and we would welcome additional information from E-Bayers about the vase.
Click here to continue on to Part 8. To access other parts of this guide, click on ones of the links below.
_____________________ o _____________________



Table of Contents - Opalescent Vases (1898-1930

Part 1: Jewels & Drapery vases
Part 2: Vases with honeycomb patterns
Part 3: Ribbed vases
Part 4: Vases with panels
Part 5: Vases with ring and spiral patterns
Part 6: Vases with basketweave patterns
Part 7: Vases with maze patterns
Part 8: Canary opalescent vases of unknown origin

Other ID Guides to Early Opalescent Vases (1898-1930)
Jefferson Glass Co. Opalescent Vases
Opalescent Vases with Carnival Twins
________ o ________
Many thanks to E-bayers 1glassnut, 5hills, lefty1 and whtlegs, for contributing photographs to this part of our guide. Rights to all photos belong to the photographers, and pictures should not be used without their permission. Text is (c) 2009 curculiosglass, all rights reserved. To locate any E-Bay seller mentioned here, just click on "Site Map" at the bottom of your E-Bay screen, and then click on "Feedback Forum" at the right top corner of the large menu that pops up. Type or copy the seller's name into the Feedback Forum's search blank. PLEASE LEAVE FEEDBACK ON THIS GUIDE BY PRESSING THE BUTTON BELOW.