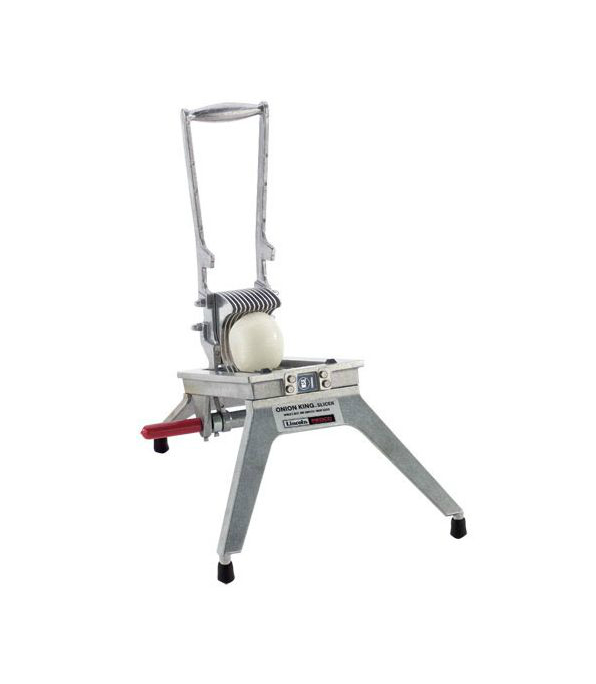 Slicing any vegetable can be a tedious task, but slicing onions is particularly onerous. When onions are cut, their cells are broken down and they release a chemical that causes our eyes to tear up. One possible solution for this problem is to wear goggles while slicing an onion. But, for cooks who want convenience, an onion slicer may be the better option. Onion slicers come in many different types that shoppers will need to know about before making their purchase. Shoppers will also need to look at factors like the material the onion slicer is made of, the slice width, and how easy the slicer is to clean.

Types of Onion Slicers
All onion slicers are designed to make slicing onions easier. While they all essentially do the same thing, there are many different types of onion slicers and each has its own pros and cons to consider.
Onion Slicer Type

Pros

Cons

Mandoline Slicer

· Can come with storage box attachment

· Usually has shredding blade as well

Requires more manual work

· Doesn't reduce tearing unless used with storage box

Alligator Slicer

· Quickly slices whole or half onion at once

· Can have dicing and chopping attachments

Can be difficult to clean
Blades may be hard to sharpen

· Only reduces tearing if used with storage box

Tower Slicer

Prevents tearing
Easy to use

· Plastic construction may crack or bend

Onion Slicing Guide

Creates even slices of onion
Easy to clean

Does not prevent tearing
Requires manual cutting

Food Processor

Requires a special attachment
Pricier option

Rotary Slicer

Can be electrically operated

· Good for slicing many onions quickly

· Has many parts that may be difficult to clean

Onion Scissors

· Can be used for slicing directly into a bowl

· Onion must be repositioned after each slice

Considerations When Buying an Onion Slicer
Once you have chosen which type of onion slicer you want to purchase, you will need to consider various factors to make sure that you get the best onion slicer for your needs.
Onion Slicer Material
Onion slicers generally have a plastic or stainless steel body. The slicers with plastic bodies will usually be much cheaper. However, they will not last as long as onion slicers that have stainless steel bodies. Stainless steel slicers also tend to be easier to clean because onion and vegetable residue doesn't stick to the material as much. Regardless of what type of material is used for the body of the onion slicer, the blades should always be made from a very strong metal. Stainless steel is the most common option because it resists corrosion and maintains sharpness fairly well.
How to Sharpen the Onion Slice Blade
An onion slicer can only work effectively if its blades are sharp. Before buying any onion slicer, take note of how the blades are sharpened. With some very cheap onion slicers, it may not even be possible to sharpen the blades. With some onion slicers, the blade may need to be professionally sharpened or sharpened with special tools. Most amateur chefs will want to look for an onion slicer that has removable blades that can be sharpened with a sharpening stone.
Onion Slicer Ease of Cleaning
If your onion slicer is too difficult to clean, you may end up not using it at all. To ensure ease of cleaning, look for onion slicers that have as few parts as possible. You may also want to look for onion slicers that are dishwasher safe.
Size of Onion Slicer
Some types of onion slicers come in a wide variety of sizes. This is particularly true of the rotary type of onion slicers. They can be very large electric devices that are meant for professional prep work, or they can be small, hand-cranked contraptions that sit on the counter. Likewise, food processors can come in various sizes for everyday and professional use. While it may seem nice to have an extra-large onion slicer, it is generally better to stick to a smaller size for home use. Otherwise, the onion slicer may be too cumbersome and you may not end up using it because it is too much of a hassle to take out and clean.
Onion Slicer Safety Features
Onion slicers feature very sharp blades that are capable of cutting through hard vegetables. Thus, it may be wise to look for onion slicers that have safety features to prevent your fingers from getting cut. Since electric onion slicers are particularly dangerous, shoppers may want to look for ones that have automatic safety stop features.
Size of Slice
With most types of onion slicers, there is unfortunately not much choice when it comes to the size of the slice created. Some mandolin slicers will have blades that can be switched out to create a different size of slice. Likewise, food processors may have multiple slicing attachments available for various slice sizes. With slicing guides, alligator slicers, and slicing scissors, the size of the slice usually cannot be changed.

How to Buy an Onion Slicer on eBay
eBay carries a large array of kitchen gadgets, including all types of onion slicers. When looking for onion slicers on eBay, it is important to remember that onion slicers are usually capable of cutting other types of produce too. So, instead of looking specifically for "onion slicers," shoppers will find more options by looking for " vegetable slicers."
To find onion slicers on eBay, shoppers can simply type in terms like "vegetable slicer," or a specific type of slicer into the search box. After hitting enter, shoppers will see category options to the left side of the screen. Alternatively, shoppers can go directly to the category for Slicers and browse through the selection.

Conclusion
Onion slicers make it easy to cut perfect slices of onion and many of them also prevent your eyes from tearing up. Most onion slicers will also work with other vegetables, so they can be a good multi-purpose kitchen gadget to have in the house. When buying an onion slicer, shoppers will first want to decide which type of slicer to get. Then they will need to look at the features of various slicers to make sure they are getting one that is durable and easy to use. eBay is a great place to start your search for an onion slicer because they have such a large assortment of onion slicers for everyone's needs.