Nkonde Nail Fetish Figures from Africa
Nkisi-The best known of Kongo art is the nkisi, a term which is untranslateable, but which refers to carved figures which are used for dealing with problems "ranging from public strife, theft and disease to the hope off seducing women and becoming wealthy." An nkisi generally contains relics from someone who has died, or clay from the cemetery. It also contains medicines. When there are nails or blades protruding, it is called an nkondi, which means "the hunter."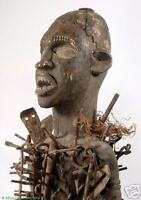 The nkonde are the most powerful of the nkisi. They were used to identify and hunt down unknown wrongdoers such as thieves, and people who were believed to cause sickness or death by occult means. They were also used to punish people who swore false oaths and villages which broke treaties.
To inspire the nkondi to action, it was both invoked and provoked. Invocations, in bloodthirsty language, encouraged it to punish the guilty party. It would also be provoked by having gunpowder exploded in front of it, and having nails hammered into it.

They were also used to literally "hammer out agreements"...with clear implications as to what would happen to people who broke the agreements. The nkisi are used by their owner or the nganga (sorcerer/spiritual specialist) to please the different spirits who are supposed to regulate the world. When a nganga believes that a figure has lost its power, it is discarded and may be sold.
Recommended Reading:
A SURVEY OF ZAIREAN ART-THE BRONSON COLLECTION by Cornet
TRIBAL ARTS OF AFRICA by Bacquart
AFRICA_THE ART OF A CONTINENT-Guggenheim Museum.
For fine examples of African Art, Carvings and Mask please visit our eBay store at Africa Direct
All text and images copyright Africa Direct, Inc. 2006