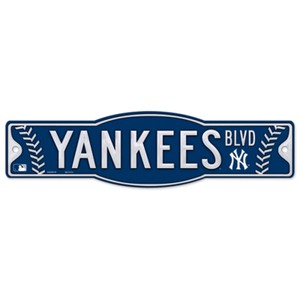 Baseball has been known as "America's Game" for as long as it has been a sport. American's have shown interest in the game of baseball since the mid 1800s and the popularity has only grown since then. Baseball is a game of statistics and percentages, but most of all; it is a game of records that players and fans alike cherish. Fans love to cheer for their favorite player when he is chasing down a record held by one of baseball's elite athletes. History is very much a part of what intrigues fans about this sport. Players of the past have set the standard for future stars of this great game. It has always been popular to follow a certain team or player depending on personal interests. Fans flock to the ballpark in numbers, sporting their favorite teams' gear, ready to cheer on their team.
On January 9, 1903, Frank Farrell and Bill Devery purchased a defunct Baltimore franchise of the American League for $18,000 and then moved the team to Manhattan where they were known as the Highlanders. In 1913, the Highlanders officially renamed themselves the "Yankees" after moving their home field to the famous Polo Grounds. It did not take long for the historical moments to start piling up for this dominant franchise, as George Mogridge became the first Yankee pitcher to throw a no-hitter in a 2-1 win at Fenway Park against the hated Red Sox. The New York Yankees are now one of the most successful sports franchises of all time. The club has won an astonishing 27 World Series titles dating back to their first in 1923. As of 2012, that is 16 more than the next closest franchise on the list, the St. Louis Cardinals with 11.
The Importance of Collecting Memorabilia
Baseball enthusiasts take great pride in their memorabilia collections. Whether it is that missing baseball card that would complete the box set, or simply framing a favorite player's autograph, collectors know the value of obtaining that "missing item." One of the biggest motivators for collectors, besides completing a memorabilia set, is reliving the memories that these items bring back. The nostalgia felt by looking at baseball collectibles makes the time and money spent seem well worth it. Baseball collectors also take great pride in showing off their stash to their friends and some can even make a living out of buying and selling memorabilia. There are many different avenues in which to purchase memorabilia. From trade shows, to garage sales, to online auction sites like eBay, there is no shortage of places to shop for baseball memorabilia.
Collecting Baseball Memorabilia
Whether an experienced collector, or just starting out, all collectors should take a number of things into consideration before purchasing a piece of memorabilia. First, it is imperative that the buyer choose what type of memorabilia to collect early on. There are many options when it comes to baseball memorabilia, so it is helpful to start with a certain goal in mind. It is also helpful to determine the focus of the collection upfront. Will the collection focus on memorabilia from the Yankees franchise as a whole, a specific player, or a unique type of item? Another factor to consider is the cost of the memorabilia and if it is within a realistic price range set by the collector.
How to Verify Authentic Memorabilia
Fraudulent memorabilia has been plaguing the baseball community for as long as memorabilia has been around. An estimated 50 percent of all sports memorabilia on the market is fraudulent, so it is extremely important to ensure the item being purchased is legitimate. Buyers should beware of the Autopen, which is a machine capable of producing hundreds, or even thousands of signatures on certain items. Autopen signatures often appear a bit wobbly, end in dots, or appear to look exactly the same on other pieces of memorabilia. Authentic signatures will be uniquely signed each and every time, with no two signatures looking exactly alike. If signatures appear to be stamped or mass produced, they're probably fraudulent.
Another way manufacturers produce fraudulent signatures is through the use of preprints, which are a bit easier to catch. A preprint is a color copy of a picture, so the signature will appear flat on the photo. All true pieces of sports memorabilia should come with a certificate of authenticity to prove its legitimacy. Major League Baseball recognizes that fraudulent memorabilia is a growing issue so they have put specific people in place to ensure that certain batches of signatures are authentic. These authenticators act as a third party present at the signing to prove items were actually signed by the athletes themselves.
Different Types of New York Yankees Memorabilia
The ball clubs' collectibles include: jerseys, baseball bats, baseballs, baseball gloves, baseball cards, yearbooks, jackets, pins, and cabinet cards, just to name a few. Other types of memorabilia that collectors might be interested in can include: figurines, books written by famous Yankees, calendars, watches, and jerseys.
Limited Edition Items
Limited edition memorabilia from the Yankees can be worth quite a bit of money. Limited edition items are pieces of memorabilia that were only made in small quantities making them more valuable to the collecting public. Some limited edition items include box sets of baseball cards, signatures, or even clothing. There are many other limited edition items on the market, including photographs, baseball cards, artwork, bobbleheads, figurines, belt buckles, and pins.
Historical Moments
The Yankees have had almost too many memorable moments to count. In the early days, Babe Ruth and Lou Gehrig made headlines followed by Joe DiMaggio, Mickey Mantle, and Yogi Berra. The Yankees have always been loaded with talent, and those are just some of the batters to put on the Yankees pinstripes. Arguably one of the most dominating pitchers of all-time, Don Larsen pitched a coveted "perfect game" in Game 5 of the World Series against the crosstown rivals the Brooklyn Dodgers. The Yankees continued their historic run in the mid 1990s, when they made it to the World Series six consecutive times, winning four. The heart and soul of those Yankees teams was superstar Derek Jeter. Along with other Yankees legends such as Mariano Rivera, Jorge Posada, and Andy Pettitte, the Yankees made history year after year.
With all the amazing talent produced over the years, hundreds of different types of historical memorabilia can be found. The 1880s and 1890s saw the rise in popularity of cigarette cards, which tobacco companies would include with their product as a form of advertising. These were considered the first type of baseball card, and since then the baseball card has turned into one of the most popular pieces of memorabilia for any team. Autographed memorabilia has always been popular throughout history, including signed baseballs, jerseys , and photographs. In today's market, Yankees fans get can their hands on just about any type of memorabilia they can think of, including adult and baby clothing, hats, shoes, slippers, bedding, and even home decor.
Find New York Yankees Memorabilia on eBay
To begin with a keyword search, visit the eBay homepage and type "New York Yankees" into the search box at the top of the page. If you already have a specific type of Yankees memorabilia in mind, such as an autographed World Series baseball, simply type that phrase into the search bar. eBay will populate search results to find exactly what you are looking for, making the process quicker and more efficient.
Alternatively, you can browse through eBay's categories, found on the left side of the home page. To locate New York Yankees memorabilia by navigating through categories, start with the Collectibles & Artcategory, and then the Sports Mem, Cards & Fan Shop category. Within this category are many different types of memorabilia to choose from such as original and reprinted autographs and game-used memorabilia.
Conclusion
With over 100 years to look back upon, the New York Yankees have epitomized what it means to be a successful baseball franchise. No other team in any other sport has been able to maintain their supreme reign quite like the Yankees have been able to do. The Yankees organization has always run their team just like a business. The high-pressure team mirrors the very city that it represents. New York is not a town for the faint of heart. Some of the most famous baseball players to have ever played the game have been known as New York Yankees, and some of the most valued baseball memorabilia is that of old Yankees legends.