This guide outlines the new Major League Baseball Players Association (MLBPA) rookie card rules. Rookie cards are often the most desirable and valuable of sports cards, so it is important to know whether your card is a rookie (RC), extended rookie (XRC), or first year card (FYC). This guide provides a brief overview of rookie card rules prior to 2006 and then discusses the new MLBPA rookie rules.

Rookie (RC) or Extended Rookie Card (XRC)? Life Before the New MLBPA Rookie Rules

Prior to 2006, most sports cards were classified as RCs or XRCs. The term RC generally applied to a player's first appearance on a base card of major card manufacturers like Donruss/Playoff (no longer licensed to produce MLB cards), Fleer (now owned by Upper Deck), Topps, or Upper Deck. Sports card price guides like those issued by Beckett, Sports Market Report, and Tuff Stuff denoted rookie cards with either a R or RC by a player's name. Likewise, collectors could usually determine whether a card was a RC by looking at the back of the card. If the back of the card only listed minor league statistics and was issued during the year the player first appeared in the major leagues, the card was most likely a RC.
A card was considered to be a XRC if it was released in an extended or limited set, most often once a player was drafted and prior to a player's first major league appearance. Examples of some of the most popular XRCs include 1986 Topps Traded #11T Barry Bonds, Just Minors Sets, Tristar, Upper Deck's Prospect Premieres sets, and USA Baseball's USA National Sets. While the RC versus XRC distinctions offered clarification in theory, in reality, neither card companies nor collectors could reach a consensus on exactly what cards were RCs or XRCs.

Rookie (RC) or First Year Card (FYC)? Life After the New MLBPA Rookie Rules

Over the past 10-20 years, the sports card market has arguably been flooded with many different sports card companies and numerous releases. While the existence of these different companies and releases offered card collectors a wide variety of choices, MLBPA felt that collectors were becoming increasingly confused about the difference between a RC, XRC, and insert. With new products being released nearly every week, even the most experienced collectors had trouble keeping up. As of February 2007, the NBA (National Basketball Association), NFL (National Football League), and NHL (National Hockey League) have not reached any type of decision concerning altering the definition of rookie cards.

Beginning with new releases in 2006, the only cards that will be deemed true rookie cards are cards issued during the first year the player has been placed on a major league team's 40 man roster. The new rookie cards will say "Rookie Card" on the front. Here is a picture of a 2006 Bowman rookie: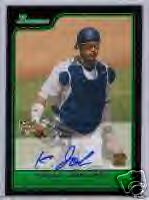 Baseball cards from a player's first year will be considered inserts, not rookie cards. These inserts will be distinguished by a notation such as "1st Year Card." Part of the reasoning behind MLBPA's decision concerning these first year cards is that these players have only been drafted recently and as such are still playing in the minor leagues, having never yet reached the major leagues. Here is a picture of a 2006 Bowman First Year Card: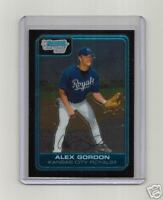 Conclusion
Like the RC versus XRC issue prior to 2006, it is not clear whether the new MLBPA rookie rules will eliminate or lessen collector confusion. For example, some of today's hottest players (Jeff Francoeur, Cole Hamels, Jeremy Hermida, Howie Kendrick, Francisco Liriano, etc.) made their first appearance on a card years ago, long before reaching the major leagues. In the past, these cards would have been considered RCs as they were the first time the player appeared on a card by a manufacturer. However, under the new MLBPA rookie rules, a 2006 Bowman Francisco Liriano card has the official "Rookie Card" notation on it. While Francisco Liriano made his first major league appearance in 2006, most collectors consider his rookie card to be his 2002 Bowman Chrome card, the first card he appeared on.
As is often the case with rules, there seems to be a discrepancy between the MLBPA's rookie card rule and reality. Collectors and sports card prospectors are still treating "First Year Cards" (like the 2006 Bowman Chrome Alex Gordon) as a player's rookie card, even though those players have not been placed on a major league team's 40-man roster. Cards that have the new "rookie card" designation often sell for less than cards released before the new MLBPA rookie card rules (ex., 2002 Bowman Chrome Francisco Liriano versus 2006 Bowman Chrome Francisco Liriano). In trying to reduce some of the "RC" or "XRC" confusion and balance the marketplace, it seems as if the MLBPA has only created more confusion.
RAINMANESQ'S SPORTS CARD CENTRAL busts cases of most of the popular baseball, basketball, football, and hockey products, so please keep an eye on our listings!
If you have found this eBay guide to be informative, please vote by clicking on the "yes" button below.
Looking for other information on sports cards? Please review our other eBay guides!