Know more about the New Rolex Milgauss characteristics and the difference between the two available references. See our reference guide, pictures and retail prices to distinguish one from another.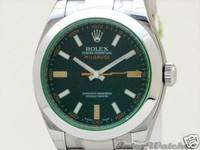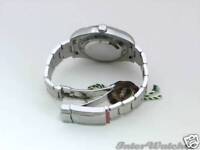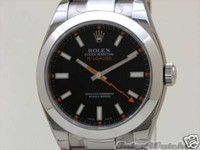 NEW ROLEX MILGAUSS - The Antimagnetic Watch
The Rolex Milgauss was presented at Basel 2007 in three different versions all featuring a lightning bolt shaped second hand. These
new Rolex Milgauss
come in a 40 mm bezel, with a COSC certifies 3131 automatic winding movement. It is also water resistant to 100 meters. This Rolex is sold in three available versions: with Ref.: 116400 GV black dial, green synthetic sapphire crystal and smooth bezel and the other two models with Ref.
116400
are presented with white or black dial and smooth bezel.
The Rolex Milgauss' main feature is its resistance to magnetism. If you expose a mechanical watch to a strong magnetic field, some of the parts in the movement become magnetized. This will cause the mechanism to run quite fast and require demagnetization. The Rolex Milgauss is able to resist a magnetic field of 1,000 Gauss. A watch is normally considered "antimagnetic" if it can ignore 60 Gauss, or 1717th of what the Rolex Milgauss is rated for. Rolex was able to achieve the 1,000 Gauss rating by encasing the movement in soft iron, which is known as a Faraday cage using Parachrom-Blu for the hairspring material
This watch was thought for scientific, engineers and doctors. It is definitely for those who need a watch that is able to resist the influence of the magnetic fields and that guarantees precision and quality.
The Milgauss Reference 116400 GV - Anniversary "Green Crystal" Watch
The 116400 GV is the most important reference among watch collectors and it belongs to the Milgauss Anniversary Model. The main difference between this watch and the 116400 is the first come with Green crystal and it is known as a Limited Edition model. About if it is or not a Limited Edition what we can say is that
Rolex
didn't promote this reference as "Limited" but few models were made since its creation. We can assure it's a hard-to-find model and it will become a collectible item. With its black face, white and orange elements the
116400 GV
caught the attention of watch buyers and right now is top seller in the watches market.
Milgauss 40 mm Retail Prices and References 2008*:
Ref.
116400
(with White or Black Dial and synthetic sapphire crystal):
$6200.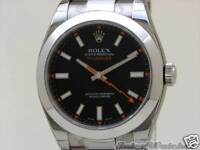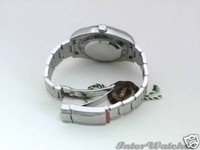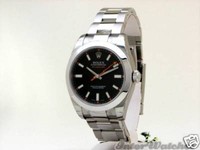 Ref.
116400V
or
116400 GV
(Black Dial and Green synthetic sapphire crystal):
$6575.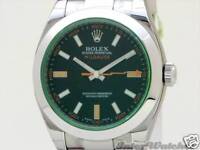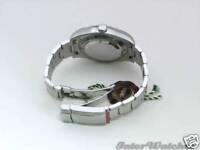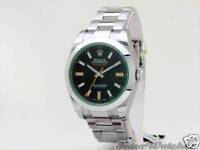 *Approximately Retail Prices from March 2008.