It has come to our attention that many people search eBay and the Search Engines for a natural way to heal and cure various skin problems such as scars, burns and rashes. People search for terms such as organic, herbal, herbs, natural. Why would people look for natural healing balms, natural scar healing, or natural scar treatment?
The reason is probably that more and more people suffer from all kinds of allergies from using products that include artificial ingredients, or that they have discovered that those products are just not good enough!
In the old days, when there were no medicines or creams to be bought anywhere, people learned how to use the gifts of Mother Nature. Through the centuries, people learned about the healing powers of herbs, and what effects they had on various diseases and ailments.
The Icelandic company Urtasmidjan knows the ancient story of the magical powers of the herbs, and has specialized in making natural skin care products such as creams, salves and oils from the organic healing herbs and other 100% natural ingredients. Their products are of the highest quality you can find!
Just see the Testimonials below!
The herbs they use are known for their wholesome properties on various skin problems, and their production is based on the old traditions along with modern knowledge and research on the herbs. The herbs grow in their natural environment, in clean air and unpolluted soil. In the Icelandic climate the herbs grow slower than where the climate is warmer, and researches have shown that the slow growth enhances the amount of active substances in them. Each herb is hand picked at the time when its strength should be the most and the whole process is a work of preciseness and care to ensure that the herbs' qualities will be best used.
Their SOLA product line includes a wonderful Anti Aging Silk Facial Oil, Healing Foot Salve, Hand and Foot Cream, Body Lotion, Body Massage Cream, Body and Massage Oils, and Oil for Lovers. All these wonderful and healing products can be found in our store Iceland Health and Beauty.
The SOLA Healing Ointment
One of their most popular products is the Miraculous Healing Ointment. It has healed burns, sores, sun burn, sun eczema, hemhorroids, and scars that even doctors had almost given up on! We have even heard from farmers that have used it on their cattle with great results! What more proof do you need?
See the Testimonial!
I needed to have an operation recently, but got an infection in the wound that had to be treated. I turned out to be allergic to the adhesive bandage and a sore broke out from it, and my skin also got burned after a radiation therapy. The cream I was given to heal my sores and burns did nothing for me so I needed to look for something else.
A friend of mine gave me her Healing Ointment, and after only using it for two or three days, my sores and burns were completely healed!
My friend's husband got a bad burn injury on his body, but after using the Healing Ointment for only a few days it was completely healed too!
Now I always make sure I have the Healing Ointment in case I need it.
G., Iceland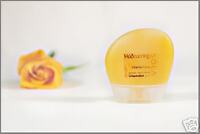 The SOLA Multi Active Vitamin Salve
Another one of their best sellers is the Vitamin Salve which has proved to be great for dry and cracked lips, for healing on cold sores, rashes and dry spots, and as an added benefit, it is also a wonderful and nourishing eye cream!
See the Testimonials!
I tend to get cold sores / herpes outbreaks on my lips, and last time it was unusually big and severe and broke out both inside and outside my lips. I bought a balm in the pharmacy, but it didn't have any effect what so ever on the sore.
Therefore I decided to try the Vitamin Salve. I used it twice a day, with immediate results. In only two days time, the sore was almost healed and only four - five days later it was completely gone! This is the best Cold Sore Relief I have ever used!
I have also used the Vitamin Salve as a Lip Balm, and the effects last way longer than any other Lip Balm I have used in the past. Now I never suffer from dry or cracked lips anymore.
S., Iceland
For many years I have searched for a good and healing Hand Lotion, but never found one I could use. Due to my work, I handle with money every day. They are loaded with Nickel, which I am allergic to, and that has caused severe cracks and sores on my fingertips that never seemed to heal.
When I saw the Vitamin Salve in the store, I decided to buy it and give it a try. It was like a miracle had happened, because the next day my sores were healed!
Now I am completely free from this problem, because I use the wonderful Vitamin Salve as a preventative when I feel my skin is getting dry and starting to burst.
T.T., Iceland
Why use the Icelandic Urtasmidjan's SOLA Products?
People who care about their own well being and their environment insist on natural herbal cosmetic products in order to protect and nourish their skin. Their healing products are are based on ancient knowledge along with modern technology, which ensures that they are of the best quality available!
Please go to our store Iceland Health and Beauty for more great products from Iceland, and our About me page for more information about our organization.