WHAT IS 100% MONGOLIAN CASHMERE, HOW IS IT USED IN SPECIALTY ITALIAN CAL KING, KING, QUEEN, FULL, TWIN BED BLANKETS, THROWS & BEDDING? WHAT IS THE BEST 100% PURE CASHMERE BLANKETS & BEDDING AVAILABLE TO BUY? IS THERE A DIFFERENCE IN CASHMERE GRADES AND TYPES?
We've all heard the term 'Mongolian' used to describe what are supposed to be the finest type of Pure Cashmere fibers in the world, but did you know fiber length, animal roaming height, and the harvesting process itself is crucial and can severely affect Cashmere Fiber integrity, feel, warmth, softness and durability of the final Bedding product? If you've been noticing that the 'Cashmere' products and Blankets you've felt recently can vary widely in texture, feel, silkiness and thickness, you're entirely correct. Mongolian Cashmere is indeed considered the world's finest grade of Cashmere, but that's only the beginning. Essential factors such as roaming height, harvesting, fiber length, manufacturer and loom or weave help define the quality of the Blanket or Luxury Throw you're purchasing.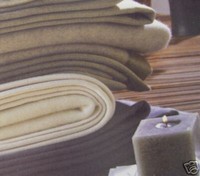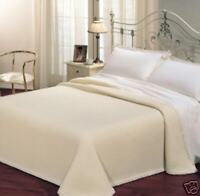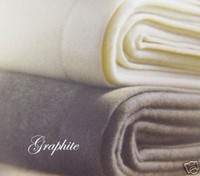 Let's start at the beginning, before the fiber is ever removed from these rare Kashmir herds. You may wonder just how important of a factor roaming truly is. Herd roaming height of the Kashmir herds is key, with the majority of this fine species remaining near an 8,000 foot level. Kashmir goats depend on the fibers particularly surrounding their neckline for survival. The higher the roaming level, the denser those fibers must be in order to properly maintain the animal's warmth and heat retention for survival. You'll find our herds roaming at ranges of approximately 15,000 feet, nearly double the standard. "Is there really a difference," you may ask. Imagine the difference of being out in harsh elements in a windbreaker versus a down-filled parka. Which would you prefer? Thicker fibers for the herds translate to thicker, denser fibers that will keep you warmest.
And so we move down the mountain. When our herds return for only a few short weeks each year, as the weather warms, the harvesting and fiber collection begins. Unlike collection of pelts or fibers such as pashminas, no herds are harmed in our fiber collection. Quite the opposite, as great care is taken in the harvesting process. Carefully hand-combed throughout the densest neck region, the longest and silkiest 2.0"-inch Cashmere fibers are gently removed through the use of a lengthy, metal combing tool created specifically for this careful process.
While fibers often found in garments or department stores are sheared, only hand-combing is utilized for harvesting, in order to carefully collect the precious batches of the absolute finest Pure Cashmere. Does shearing make a difference? You bet it does. While hand-combing is a rare, skilled and time-consuming process, it's the only process used in creation of our Specialty Cashmere items. Why? Because the common technique of shearing actually breaks the fiber and shortens its length. And how does that affect you? Shorter Cashmere fibers drastically affect silkiness, warmth levels, softness and durability. Shearing processes with shorter fibers can also aid or be the cause of pilling, also known as surface balling.
We've heard the horror stories of 'Fine Cashmere' products purchased through catalogues and stores-stories of immediate pilling and fiber breakage, and product breakdown. Our supremely smooth surface won't pill, and you won't be fighting with loosely bound edges or poorly finished hems. In fact, our virtually seamless bound edging is like none you'll find. Where others simply bind using inexpensive satin, poly or cotton poly blends, you'll find only the finest three-inch Pure Egyptian Cotton jacquard surrounding every edge of our Specialty Cashmere blankets.
You can tug, you can pull, and your blanket will still appear brand-new. All the while, you'll feel only the most superb, long-fiber, tight-woven Egyptian Cotton binding that is soft yet durable to the touch while naturally breathable, to quickly wick away potential moisture. We've also added an additional 10" to the size of a traditional King, for 110" x 90" of the most supreme coverage available. You and your partner can experience the ultimate night's rest, without a tug-of-war to gain your fair share of warmth.
Did you think we'd forgotten about the weave? One of the most important factors you'll find. We all know Italy is home to some of the world's absolute finest bed linens in existence. What you may not know is that 'Made in Italy' can refer simply to construction. From receipt of fiber collection, to inspection processes, to actual Italian weave, to binding-every step of these processes takes place in the manufacture of our items labeled Made in Italy. A true rarity. Our triple-inspection process of hand-combed fibers is like no other, and so is our product. Want the best night's sleep you've ever experienced? Experience our Specialty 100% Cashmere Blankets and Throws-you'll wonder how you didn't find us sooner.
IS 100% PURE CASHMERE AS POPULAR OFF THE BED AS ON? WHAT ARE IDEAL USES FOR 100% PURE CASHMERE LUXURY THROWS OUTSIDE OF THE HOME?
You'll quickly find a home outside of your home for our 100% Pure Cashmere Luxury Throw Blankets. Many use our Pure Cashmere Luxury Throw Blankets in the Car or Limo, on both short theater trips or long road trips. Cashmere Luxury Throw Blankets are also the ideal companion for train, air flights, jet or international plane travel, with the Cashmere fibers easily compressing for packing, expanding upon release. Cashmere Throws are extremely popular with Men who are seeking the perfect accessories, the most sought-after gift for the golfer in your life. Natural Plaid patterns provide a sleek design in subtle Mens' patterns elegantly suited to Golf, rich in texture and warmth without being overstated. Women endear Pure Cashmere Throws after Swim, Spa or Beauty treatments, as they for the ideal relaxation, softness and warmth available in a Luxury Throw Blanket. With wide dimensions and thick Gram Weights, 100% Cashmere Throws are ideal for outside Stadium Football or Soccer games, easily able to be wrapped around your upper body to provide maximum warmth in the lightest weight possible and without feeling heavy. 100% Cashmere Throws are also one of the most popular Luxury Gifts that can be given or received, available boxed and ribbon tied, for the ultimate presentation. And it's not just our Pure Cashmere Luxury Throws that can Travel. Our King and Queen Size Cashmere 'Bed' Blanket is most popular for Limousine road Travel, while our Full and Twin Size 'Bed' Blanket has found its place in holistic health. Our specifically smaller sizes Luxury Cashmere Blankets, such as the Specialty Twin Size, provides a fantastic fit for Massage Tables and even Physical Therapy Centers. Top Massage and Beauty Spa Treatment Professionals, such as Massage Therapists and Estheticians are enamored by our Twin Size Pure Cashmere Blanket, which easily transitions out of the bedroom and into the world of Health and Relaxation. Our Twin Size Blanket also roams and is extremely popular for the elderly or those needing transition Physical Therapy Rehabilitation or whom have Special Medical Needs, with frequent use of Wheelchairs.
And for the special Kids in your life, don't forget our Baby and Toddler Bed and Stroller Blankets. Our Baby Blankets transition easily from the bedroom to the Stroller or Bassinette in a heartbeat, with large dimensions for maximum coverage. Keep your Kids warm and toasty while strolling through the park, dining, shopping or simply being out and about.


MY HOME IS MY HAVEN, SO WHAT ABOUT THE BEDROOM AND LIVING ROOM-IS PURE CASHMERE REALLY THE BEST AND WHAT SIZES ARE AVAILABLE FOR THE BED?
The finest 100% Pure Cashmere Bed Blankets are available in a range of sizes to fit your every need, from hard-to-fit and Extra-Deep Pillowtop Mattress sizes to smaller sizes that are specifically cut to the dimensions you need. Cashmere Blankets in sizes to fit Supersize Cal King Mattresses, King Mattresses, Queen Mattresses, Full Mattresses and Twin Mattresses are available.
You can even identically match Pure Cashmere Luxury Throws that can be used on the end of the bed for added quick warmth or in your living room, elegantly draped over your favorite Sofa or Couch for special family times of cuddling by the fire, watching TV, playing games or simply relaxing. Specialty Girls' and Boys' Baby and Toddler 100% Pure Cashmere Blankets are also available for Kids, for the most elegant bedroom accessory that can be easily transitioned to the Stroller or Bassinette.
I SEE GRAM WEIGHT LISTED FOR BED BLANKETS, BABY BED/STROLLER BLANKETS AND SOFA/COUCH LUXURY THROWS. WHAT DOES GRAM WEIGHT REFER TO?
Gram Weight refers specifically to the Gram Weight per Square Meter and not to the total weight of the blanket. Gram Weights are a European term, assigned according to where the Bed Blanket or Bedding is made. Because the finest Cashmere Blankets are Made in Italy, you'll automatically see a Gram Weight reference for Italian Cashmere Blankets. A Gram Weight reference is actually designed to be extremely helpful to consumers. The HIGHER the Gram Weight number, the heavier and, generally, warmer the Blanket. Gram Weight is not the only determinant in choosing the Best Cashmere Bedding and Blankets, and consumers additionally need to check Fiber Length used, the country where the Blanket is made, Fiber Quality and store reputation to ensure authenticity.
Blankets, Throw Blankets and Bedding made in locations outside of the best looming mills, such as top mills in Italy, will instead list Ply as a determinant of quality. Beware of this type of listing as Ply is not the determinant of WEIGHT and does not denote the heaviest/densest Fine Bedding and Blankets. Stores that list Ply, with no Gram Weight listed, are typically guilty of hiding the fact that the Blankets may be sheer, very lightweight with limited Cashmere content and not heavy at all. Often the case, consumers need to remain aware of Gram Weights in order to make an informed decision. While Consumer Reports has delved into the area of lab testing for mainstream availability of Sheets Sets and Fine Linens for Bedding, Blanket Weight is an area that has not yet received similar attention. Because of this, many manufacturers use consumer lack of knowledge or awareness in how they present Blanket Bedding.
WHAT ARE THE BEST GRAM WEIGHTS FOR 100% CASHMERE BEDDING, CASHMERE BLEND BED BLANKETS, CASHMERE BABY BLANKETS & CASHMERE LUXURY SOFA/COUCH THROWS?
Typically, Good Gram Weights for Cashmere, Merino Australian Wool, Silk Blends or Cashmere and Merino Wool Blends begins near the 200 range. Lower Gram Weights typically do not provide substantial warmth levels for consumers in colder climates. With 180-200 Gram Weight Levels, the Blanket you are purchasing is going to be of a far lighter weight and is often used in combination with other Bedding for times when temperatures drop. These types of Gram Weights are designed to take the chill off, not to provide deep warmth levels like higher Gram Weights.
The Best Gram Weights for Cashmere and Merino Wool Blankets or Silk Blend Blankets is in the 300+ Gram Weight Range, with approximately 330 Gram Weight or higher falling into the top tier of Luxury Bedding Blanket products available. For 100% Pure Cashmere Bed Blankets, those falling into the tier of 380 Gram Weight are in the Top Luxury Tier. For 100% Pure Merino Wool or Merino Wool and Cashmere Blend Bed Blankets, those falling into the tier of 330 Gram Weight are in the Top Luxury Tier.
Keep in mind that Cashmere and Merino Wools actually allow the body to breathe and aerate while sleeping, so consumers are better to invest in higher gram weights when possible. Higher Gram Weights provide higher warmth levels when necessary, but can afford the sleeper breathability in warmer climates or during warmer times of the year. Believe it or not, Cashmere is actually one of the most popular fiber Blankets purchased during the Summer months because of its breathability qualities.
I'VE SEEN THE MAJORITY OF CASHMERE BED BLANKETS MADE IN NEPAL BUT HAVE HEARD THAT THE BEST CASHMERE BLANKETS ARE MADE IN ITALY. WHERE ARE THE BEST CASHMERE BED BLANKETS MADE, AND ARE ITALIAN BLANKETS REALLY THE FINEST?
You'll find that nearly every manufacturer creates their bedding in the locations where it is cheapest to produce large quantity. The country of Italy produces some of the finest Bed Linens available to the world, with looming and weaving processes that are unparalleled. Bedding, Blankets and Sheets Made in Italy are produced in fewer quantity than items made elsewhere, due to increased length in the production process. Authentic Italian Blankets, Sheets and Bedding are rare with limited quantities compared to Bedding made in other locations.
I'M USED TO USING 100% WOOL BLANKETS ON MY BED BUT HATE THE HEAVY FEELING ON MY FEET AND BODY-IS CASHMERE DIFFERENT & WHAT IS THE DIFFERENCE?
100% Cashmere Blankets or Cashmere/Merino Wool Blend Blankets are extremely different from traditional Wool Bed Blankets. The feel of 100% Cashmere, and even Cashmere and Merino Wool Blend Bed Blankets, is in a different realm when compared to standard Pure Wool blankets. If you're used to using heavy, traditional, scratchy Pure Wool Blankets, you won't believe you didn't transition sooner. Cashmere is the world's softest fiber, unparalleled in feel. Many consumers do not realize that Cashmere is also the lightest feeling fiber, so you won't experience that heavy, weighed-down feeling.
WHY ARE VENUS RISING LIMITED 100% CASHMERE BED BLANKETS AND LUXURY SOFA/COUCH THROWS AVAILABLE IN NATURAL COLORS? ARE DEEPER COLORS AVAILABLE?
We love color, and offer an in-depth range of Cashmere Bed Blankets blended with Merino Wool that we believe is unparalleled with over 30 rich to neutral tones. When it comes to 100% Pure Cashmere, however, the more natural the color, the better. You'll find our 100% Pure Cashmere Blankets and Throws available in a multitude of solids and plaids woven of natural-colored Cashmere fibers, for a reason. When it comes to 100% Pure Cashmere Blankets and Bedding, the more natural the color, the better.
Keeping fine Pure Cashmere fibers undyed protects the Cashmere fiber and keeps it as absolutely soft as possible, for many years. The finest 100% Pure Cashmere Blankets and Throws are heirloom Bedding Linens, designed to last a lifetime. By maintaining the integrity of the Cashmere fiber during the looming and construction process, the fiber is protected from chemicals or processes that could affect its integrity and softness.
VENUS RISING LIMITED 100% PURE CASHMERE ITALIAN BLANKETS: THIS 100% PURE MONGOLIAN CASHMERE ITALIAN BLANKET TOPS OUR LIST IN CUSTOMER-RANKED POLLS, THE MOST SUPREME BLANKET YOU'LL FIND!


And you won't even have to carry it back from Italy. Its fabulous good looks definitely don't hurt its fantastic reputation, but even the most stunning looks pale in comparison to this buttery-soft feel that is unlike ANY we've found available to the U.S. Our customers agree, they've never felt anything like it-this could just be the next best thing closest to your skin. Available in 4 entirely undyed solid colors, for ultimate softness and fiber preservation. And while other manufacturers use short, sheared 0.5" fibers, you'll find only the world's finest 2.0" pre-weave fibers used in our specialty blankets, for the silkiest feel on Earth.