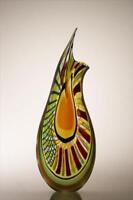 How to detect Fake Murano Glass - Is this Murano art glass vase from Afro Celotto the real deal? Well after a recent seizure of over 11000 pieces of imported mass produced Chinese Glass being sold as authentic Murano it really makes you wonder doesn't it? This incredible haul totalled well in excess of 16 Million USD and was confiscated by Italian police. These items included Jewellery and other glass products mixed in with the real deal, with some even carrying Murano labels and being sold as authentic Murano. One thing you won't find in our store is anything fake of even dubious and we give you an iron-clad guarantee of that. Since the year 1293 when Murano glass was first being produced and when the incredible art of glass blowing and the secrets behind it were fiercely guarded, the urge to copy or reproduce these exquisite items began. Authentic Murano glass carries a variety of identifying features but the one thing that will set your mind at rest is knowing your area of collecting, the techniques used by a particular glass blowing furnace / maker and the characteristics of the range of items they may produce. Here are some things to look for
1. Mass produce Chinese glass is quite often extremely heavy without clearly defined layers such as in Sommerso glass.
2. Look for the pontil mark on the base where the glass blower has snapped off the metal rod. A flat, ground base is sometimes a fairly strong indication that the item you are lookign at may indeed be mass produced and indeed by of Chinese origin
3. Does the item carry a sticker or label? Most authentic Murano Glass carries a label of the furnace or an etched signature on the base of the object. For example, the item above from Afro Celotto carries a diamond point etched signature and the year of production
4. Does your Murano art glass piece come with a certificate of Authenticty? Most genuine Murano art glass piece and especially the limited edition pieces such as those from Zanetti, Formia and Afro Celotto murano are all issued with a COA carrying the artists name, date of production and edition number such as 2/250 etc. COA's are also often faked so please be careful when products claim to be issued with a Certificate.
5. A certain sign that your piece is authentic and especially those such as Formia and Zanetti Murano that come from a commercial furnace with numerous Maestri working for them, is that they carry the VERTERIA ARTISTICA MURANO label whcih ensures that your purchase is 100% authentic.
This is just the tip of the iceberg when it comes to identifying Murano Glass and it's authenticity. We are authorised galleries for prominent Murnao furances such as Zanetti Murano, Afro Celotto, Formia Murano, Marco Busato and others so you can be assured that each and every item we have in our eBay store is totally authtentic and is issued with all the necessary documentation to protect your investment.