On Ebay, you usually see about 10 to 20 "Wells Fargo" brass or bronze belt buckles at any given time.
I hate to tell you this, but almost all of them are fakes. They have been made by various makers since the 1960s to the present, none of them authorized by Wells Fargo. According to the Wells Fargo website's History Section, on the Frequently Asked Questions page: None of these were made by or for Wells Fargo. In the 1970s, Wells Fargo issued ONE commemorative belt buckle and star-shaped badge. They are clearly marked on the back as COPYRIGHTED by Wells Fargo and Company. They were not made by Tiffany.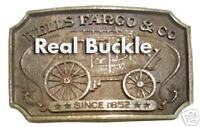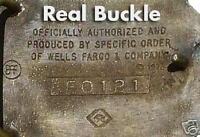 This scam started in the 1960s by an Englishman named John Fairchild. He went as far as to publish a book titled Tiffany & Gaylord: Express & Exhibition Belt Plates and back-dated the copyright page to 1950. He then started making fake buckles and used this book as a reference to authenticate them! He also made fake World War II memorabilia.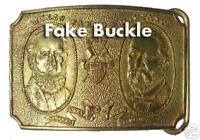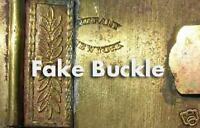 Most of these buckles have stamps on the back saying that they were made by Tiffany & Company. Many say "Tiffany & Company, 221 Regent Street, London England". Tiffany is a New York company and did not have a London store until 1986. It is on Bond Street. In addition, there are buckles "by": American Express, Butterfield Overland Stage, Adams Express, Western Union, Central & Union Pacific Railroad Co, and more, all fake.
As as far as any experts can tell, there were NO authentic belt buckles ever issued to any railroad or express company employees before 1970. Recently, some railroads have issued buckles to employees as safety or retirement awards, but they are clearly marked, and obviously not from the 19th century.
After Mr. Fairchild stopped, others stated copying his work, so there are now fakes of fakes circulating as well!
These buckles may be pretty, and look good on a belt, but they are not worth the price they usually get. If you want to bid on one, be aware that it is a pure fake, and not a collectible.
There is a site devoted to educating the public about these fakes; do a search for "bogus buckles". Sorry, but Ebay doesn't allow outside links in the Guides Section. There is also an out-of-print book dedicated to exposing these fakes titled New Buckles of the Old West by J.Duncan Campbell.