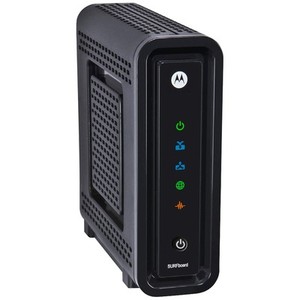 Over the last decade, the Internet has become increasingly available throughout the world. Now, even the shadiest-looking pub and most rural cottage restaurant offer free high-speed online access to visitors. Nevertheless, there are times when people find themselves in somewhere with high-speed online access. At such times, a traditional modem that can connect to the Internet using a regular phone line is very handy. This guide discusses the different types of dial-up modems available and explains how to purchase the right model.
What is a Modem?
With the spread of broadband technology, most people use the word "modem" to describe the device that sits between their computer and the Internet, serving as a receiver and transmitter of high-speed digital data. Although this is partly true, broadband "modems" should actually be called transceivers, adapters, or bridges. However, when broadband transceivers hit the market, the companies marketing them chose instead to use "modem," a term already already familiar to consumers.
Some readers remember the days when online access required dialing up a remote ISP server, waiting for the disharmonic sound of connection, and then watching as pages of the primitive web slowly loaded. Traditional dial-up modems convertdigital data generated by a personal computer into modulatedelectrical signals that can be transmitted over a regular phone line. Data stream speeds are significantly slower than those achieved by broadband connections, so dial-up online access has been steadily replaced by broadband. In 2006, only 36% of U.S. households used dial-up modems to connect to the Internet.
Why Use Modems?
Why, then, would anyone want to buy a traditional dial-up modem today? Would it not be like buying a velocipede from 1868, rather than a modern city bike? In most cases, this is true. The widespread use of broadband means that most people live where high-speed online access is available, and where a slower alternative makes no sense. However, there are still good reasons for owning a dial-up modem. Many parts of the world still have no cable or broadband Internet access. But telephone lines are found almost everywhere.
For example, it might be useful to maintain a dial-up connection at a summer house where a year-long high-speed connection would go to waste. Also, many people still use older computers and laptops not compatible with high-speed connections. In such cases, it is better to connect using technology the computer was designed for. Finally, users may enjoy the feeling of nostalgia they experience hearing the sweet sounds of dial-up modem connection.
Types of Modems
Hardware, DSP-based, and Software Based Modems
Modems are typically divided into three types, which differ in terms of processing power and speed. The three types of modem are:
Hardware modems
DSP-based modems
Software based modems (also known as softmodems or win modems)
The main difference between modem types is the way they process incoming and outgoing data. Hardware modems contain built-in hardware chips, which allow them to process most of the data internally, thus saving the normal computer processor significant performance losses. DSP-based modems have similar processing powers, but are not as effective as hardware modems, and place a greater burden upon the computer processor. Software based modems, as the name implies, are almost completely dependent on the computer's processor to send and receive data.
Modem Interfaces
Modems come in different form factors, or interfaces, some of which are internal and others external.
Internal Modem Interfaces: PCI and ISA
Internal modems are built into the computer and connected to the mainboard, either via PCI or ISA connections. Most modern computers come with built-in PCI internal modems, which are either DSP-based or software based. Internal modems are generally cheaper than external modems, but require that the user opens the computer and installs the modem inside.
External Modem Interfaces: Serial, USB, and PC Card
Though external modems are more expensive than internal modems, they are much easier to install. Serial modems were the most common form of external modem, before USB became the overarching standard for peripheral computer components. They are connected to the back of the computer in one of the available serial ports. USB modems, obviously, are connected to the computer using an USB connection, and are extremely easy to install and set up. Finally, PC Card modems are used in PC Card slots, most commonly in laptops.
Modem Speed and Standard: 56 kbit/s and V.90
As mentioned above, the speed of a dial-up modem is significantly lower than that of a broadband connection. The greatest possible effective data transfer rate for modems is 56 kbit/s, and is in fact only theoretically possible for home users to achieve; many factors, such as government rate regulation limits and phone line noise, restrict actual speeds to levels below this.
Prospective buyers of a 56k modem will come across what is known as the v.90 standard. This standard was developed as a solution to the many technological conflicts reported by users and ISPs between two preceding standards, X2 and KFlex. All 56k modems on the market today are of the v.90 standard.
Choosing the Right Modem
With all these options to choose from, how should one decide which modem to buy? There are a few key things to consider when choosing the right modem.
Computer Compatibility: Hardware, DSP-based, or Software Modem
First, decide whether to buy a hardware modem, a DSP-based modem or a software based modem. To a large extent, this choice depends on the user's computer specifications. As described above, modems differ in terms of how much strain they put on the computer's internal processor. Hardware modems take care of most of the data processing independently, and thus limit the performance required by the computer's internal processor. DSP-based modems also have data processing capabilities, but are not as powerful as hardware modems. And lastly, software modems, require most processing be handled by the computer's internal processor. Logically, then, it is best to choose a modem which does not restrict the performance of the computer. Slower computers and computers in the mid-range of CPU performance function best when used with a hardware modem or DSP-based modem. Only computers with high processing capabilities should connect to the Internet using a software based modem.
Interface: External or Internal Modem
The next thing to consider when choosing a modem is whether you want an internal or external modem. Each has relative advantages and disadvantages.
Internal Modems: Pros and Cons
Internal modems are cheaper than external modems, but need to be installed inside the computer. Although installation is not difficult, buyers uncomfortable with opening their computer and meddling with internal components should not choose an internal modem. But if installation poses no problem, internal modems have several advantages. They require no external power supply and consume less electricity than external modems. Internal modems also save desk space and eliminate annoying cables. They also do not take up an external port, which may instead be used to connect a printer, an external hard drive, or other device.
External Modems: Pros and Cons
External modems are more expensive than internal modems, but offer several advantages. First, they come with indicator lights which display information about the modem's status, and which may facilitate troubleshooting procedures. Also, in the case of modem failure, there is no need to reboot the entire computer. Moreover, the modem can easily connect to different computers by simply unplugging one and plugging in another. On the downside, external modems take up more desk space, and often come with inconveniently large power transformers.
Buying a Modem
The Market for Used Computer Components
As high-speed broadband is now the standard in most places, traditional dial-up modems are not as widely available as they used to be, but they can still be found in well-stocked computer stores. They are also widely available used. Keep an eye on classified pages in the local newspaper, recycled computer component stores, and garage sales. When buying a used modem, however, make sure that it is in good working condition and contains all necessary parts.
Buying a Modem on eBay
A great place to find new and used dial-up modems is at an online marketplace or auction site. eBay, for instance, has hundreds of listings for modems of different types and interfaces.
Searching for Modems on eBay
First, go to eBay's homepage and locate the category for Computers, Tablets & Networking under the Electronics tab on the left side of the screen. From there, you can access the sub-category calledHome Networking and Connectivity.
Type "modem," "dial-up modem," or "56k modem" into the search box (without quotation marks) and click the Search button to receive thousands of results.
Alternatively, go to the Modems section to browse listings for modems, and filter the results by type, brand, and condition.
When conducting keyword searches, click "Search title and description" to expand your results.
Finally, visit eBay's Search Tips page for more information on how to search with keywords.
Want It Now?
If you want to purchase a particular type of modem, you can post a listing under the Want It Now page so that people who have the product you need can contact you directly.
Purchase Checklist
When sellers put up a listing for modems on eBay, they usually include pictures and a description of the product.
The description should mention whether the modem is unused, undamaged, and if it is still in its original packaging. Of course, it should also mention the type, whether it is internal or external, and whether it is serial or USB.
Close-up pictures of the product are often included so that the customer can judge whether the modem is in good condition.
Take into account the delivery cost of the modem you want to buy. Most likely, shipping costs for a modem are not expensive, but you may want to ask the seller how it will be packaged.
Also, ask whether the modem will be insured during shipping.
Check the seller's reputation and feedback on the site before making your modem purchase. eBay has a five-star rating system which indicates the quality of experiences previous buyers had with the seller.
Once you receive the modem, don't forget to leave feedback so that other buyers will know if that seller is worth buying from.
Finally, remember when purchasing a modem on eBay to complete the transaction entirely using the eBay framework. Otherwise, in the unlikely event that anything with your modem purchase should go wrong, eBay will not be able to cover you under its eBay Buyer Protection program, which is there for your protection.
Conclusion
The days of dial-up Internet connections are gone in most places of the world. Still, there are situations when it is convenient to own a traditional dial-up modem. When buying a standard 56k v.90 modem, the main aspects to consider are 1) whether to buy an internal or external modem, and 2) whether to choose a serial, USB, or PC Card modem. Modems are not as widely available in retail markets as they used to be, but can still be purchased in well-stocked computer stores. Other places to look include newspaper classifieds or online marketplaces like eBay.