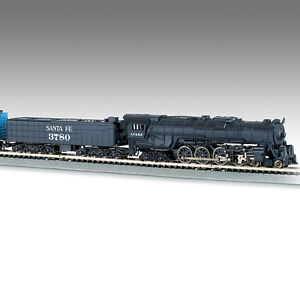 Model Trains
encourage the imaginations of children and train enthusiasts as they feature extensive detailing. Furthermore, a model railroad hobby is never complete since manufacturers continuously produce accessories, new train styles, and sizes. When beginning a model railroad hobby, be sure to review the different scales and gauges that are available.
Model Railroad Starter Sets
Novice train collectors may consider purchasing a starter set to begin their hobby, which will include the locomotive, or engine, to pull the train. In addition, the kit will have three to five main cars, such as a coal and passenger car, along with the caboose. A starter set will also have a track and a power pack, or transformer. The power device permits the collector to select the train's direction and speed. It also lowers the electrical current from 115 volts to a safer voltage of 6 or 20 depending on the train model.
Model Railroad Gauge
Gauge refers to the distance between the inside borders on the model train track. Collectors often use the terms scale and gauge interchangeably. Moreover, modelers can use trains that are the same scale on the same track. For instance, HO and OO scale trains will run on the same track size. In addition, their accessories are compatible. The gauge for model trains are standard and narrow.
Standard Gauge
The term standard gauge is used for both real world trains and models. With actual trains, most tracks feature a standard gauge, which is 4-feet 8.5 inches. Since different companies made trains for the standard gauge track, railroad companies could switch cars and share materials. As a result, model trains also feature standard gauge tracks. For instance, O scale train tracks are typically built based on a 5-foot gauge track while G trains use the same size, but the unit's construction makes the gauge look like the narrow size.
Narrow Gauge
A narrow gauge model railroad features track rails that are set closer together than a classic 4-foot 8.5-inch standard gauge. Real trains may have narrow tracks. Therefore, when model train manufacturers make the size, they are recreating their real world counterparts in a smaller size to scale. When collectors choose to purchase narrow gauge models, they will be entering a specialized division of model train collecting since manufacturers make the style with wheelbases that are not to scale. This feature allows the train to run on a standard gauge track. While shopping for narrow gauge trains, look for the small "n" listed after the scale description.
Model Railroad Scale
Scale is the size relationship of the model to real world trains. In most cases, manufacturers list the scale in fractions. For instance, a 1/24 scale features dimensions that are a twenty-fourth of the length, height, width, and depth of a real train. Manufacturers may also describe a model's scale as 1:24 or one to twenty-four. With model railroad sets, the scale description will list letters like N, O, G, and Z.
| | |
| --- | --- |
| HO Scale | With HO scale trains, the size is 1/87th the dimensions of a real train. Collectors in North America prefer this size while United Kingdom modelers often purchase OO scale trains. HO scale manufacturers offer a large selection of trains and accessories. In addition, the version is affordable, and if collectors belong to a modeler's club, then they'll have a number of HO layouts to enjoy. |
| N Scale | An N scale model railroad is 1/160th the size of an actual train. In addition, they are about half the size of the HO scale models. During the 1970s, the style started as a niche market but is now one of the most popular sizes in the world. The N scale is also one of the smallest model trains built, and its size permits the train to run continuously in a small area. N scale trains are big enough to maintain, control, and modify without a large cost or a great deal of difficulty. |
| S Scale | The S scale is unique because its size is 1/64. The track gauge is also exceptional with its size at 0.884 inches. Collectors will find the scale in both DC and AC versions. Several years ago, manufacturers almost stopped producing the edition. However, it is currently growing in popularity. |
| T Scale | When modelers choose TT scale, they'll have a train that is 1/120th the size of an actual train. In addition, the train size runs on 12mm gauge rails. |
| | As the smallest model train, the Z scale will appeal to miniature hobby collectors. With a Z scale model railroad, the size is 1/220th of a real train and approximately 3/4 the size of an N scale model train. When modelers have a small space to enjoy their hobby, they may consider buying a Z scale train. However, children and collectors with vision problems or agility issues may struggle to maintain the size. |
O Scale Model Railroad Sets
With an O scale model railroad, train enthusiasts will have a size that is 1/48th the size of an actual train. The version is one of the oldest sizes that modelers collect today. When novice model train collectors begin the hobby, they may find O scale confusing as the edition features a number of variations. For instance, O scale trains may run on a traditional two-rail track. However, some versions run on a track with three rails. With a third rail, the set features simpler wiring, which allows modelers the flexibility to make turntables, reverse loops, and wyes without causing it to short.
About G Scale Trains
When considering a G model train,, keep in mind that the version varies from all other model railroads. With other scales, the model train's size is in relation to an actual train while a G train's track is the only element that is based on the prototype. The G train size will vary from 1:20.3 to 1:32. In addition, model train merchants may list the version under both scale and gauge, so be sure to check both sections when shopping for the size. Manufacturers make the G size so that the model is a slightly larger scale in relation to the track, which causes the track to become narrow gauge. In fact, G train sets are the most popular collectible in narrow gauge modeling.
Model Railroad Accessories
As collectors begin accumulating their railroad set, they can add realistic accessories to enhance their hobby. Modelers may consider buying buildings, scenery, and roadways along with sidewalks, buildings, and tunnels.
| | |
| --- | --- |
| Buildings | When modelers begin shopping for realistic scenery to add to their train sets, they should purchase buildings. Accessory manufacturers create structures like homes, businesses, and schools along with holiday scene pieces that include haunted houses for Halloween and skating rinks to celebrate Christmas. Once collectors have acquired a complete town, they can decorate it for the holiday with twinkle lights and wreaths. |
| Tunnels and Bridges | With the addition of tunnels and bridges, a model train collector will have a diverse track that creates more visual interest. In addition, tunnels allow modelers to enjoy the engine's front headlight while tooting the horn inside the structure may create a realistic echo. |
| Scenery | By placing scenery around a model railroad train track, collectors will add more realism to their set. Options include trees, grass, and rocks along with hills and water features. |
| Roadways | With a large set collection, roadways are a fun addition since cars, trucks, and tractor-trailers can be included. In addition, consider placing sidewalks and pathways. |
| Scenic Backdrops | By purchasing scenic backdrops, modelers can add cityscapes, mountain ranges, and factory settings to their train sets. |
| Painting and Decals | Collectors who prefer to build and enhance their railroad sets can purchase paint and decals for the train pieces. Paints are available in colors that include yellow, red, and green along with silver and gold. If collectors need paint supplies, then they can also purchase brushes, applicators, and thinner. |
| Model Train Tools | Avid model train collectors may require specially sized tools to augment their hobby. For instance, the All-In-One basic kit has several knives of varying sizes and durability levels. Other materials include files, a ruler, and pliers. |
Finding Model Railroad Sets on eBay
Once shoppers decide to purchase a model railroad collection for themselves or choose to buy a set for their child's gift, then they will locate numerous options on eBay. After reaching the homepage, type in the specific train scale or gauge. The website will then display a list of options. If consumers prefer to search through eBay's listings, then they should select Toys & Hobbies from the homepage where they'll see an option for Railroads & Trains..
Conclusion
Model trains are collectibles that can be passed down through the generations as they are well-made and durable. In addition, vintage sets may be valuable. Once consumers choose to collect trains, they should review the multiple size options carefully to determine the best set for their personality and home space. Moreover, a model train will delight children and adults while creating a youthful atmosphere in a family room or den.