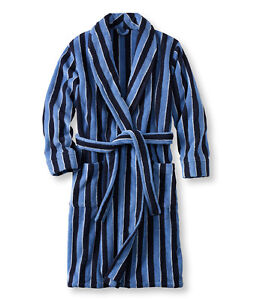 There is nothing better than coming home after a long day at the office and slipping into a soft robe for a comfortable evening at home. Luxury robes are made to be worn by men, women, and even children. Like all robes, men's robes are designed to be comfortable. Robes come in all different styles from a heavy fleece winter robe for cold nights to a soft summer robe for lazy mornings. Choosing the right robe can be somewhat difficult due to all the many options available and buyers often get cold feet when they see the price of a luxury robe in a department store. However, there is no reason why customers today should have to pay high overhead retail prices when the same products can be purchased from online websites like eBay for half the cost. By examining the size, fabric, and style of the robe, anyone can purchase the right men's robe over the Internet using eBay's auction system.

Sizing a Robe
Robes are designed to have a very loose fit so that they can be entirely comfortable. Robe sizes are determined by the width of the chest, and they are roughly equal to the same size found in men's coats. To accurately measure the chest size, have the man lift up his arms and measure across the widest part of the chest. The chart below lists the corresponding robe sizes to chest measurements. Alternatively, if the robe is being bought as a gift, check out of the size of the man's suit coat in his closet. The size of the robe should match with the coat size. When trying to choose a proper size, the fabric of the robe needs to be taken into account. Cotton, for example, tends to shrink, so if a man's measurements are at the higher end of the size range, it is best to buy the next size up when purchasing a cotton robe.
Size Chart
Having a plan of action or at least a reference guide for sizing a robe will allow anyone to feel comfortable not only in their robe but purchasing the right one as well. Understanding the correct chest size is usually one of the most important steps towards walking away with the best possible robe.

| Robe Size | Chest Size (inches) |
| --- | --- |
| Small | 34-36 |
| Medium | 38-40 |
| Large | 42-44 |
| Extra Large | 46-48 |
| Extra Extra Large | 50-52 |

After fully understanding the correct sizing of the robe, the next goal is to find a robe that suits the purchaser's sense of style as well as their chest size.

Robe Styles
Besides selecting a size, the style of the robe is particularly important since this will influence how the robe will be worn. Bathrobes are used after a bath or shower, and they are often made from plush microfibers that absorb all the moisture from the skin. A Turkish towel bathrobe is always popular with men since this fabric feels absolutely wonderful against the body. However, these robes are extremely loose and open, so they are not designed for wearing around the house. Summer and winter robes are a better choice for loungewear, since they are slightly longer around the hips and often have double ties to ensure that the robe stays closed. Many men also opt to wear lounge pants that match the robe along with a pair of soft slippers. For those who like a touch of style, a silken kimono robe fits the bill. These robes have a slightly wider opening around the chest area and long, straight sleeves. The entire ensemble is held together by a single belt.
Robe colors
The style of the robe will often influence the color. Bathrobes usually come in white, though sometimes colored options can be found by perusing auctions on eBay. Comfort robes for daytime wear like a summer or winter robe come in all colors and patterns so it is easy to find one that is appealing. Kimono robes traditionally come in print patterns, but modern design has led to this style being offered in solid colors as well. If the robe is being bought as a gift, be sure to stick with a color that the man likes. If his favorite color is unknown, browse through his closet to see what colors he prefers. Keep in mind when purchasing bright colors that they tend to bleed when they are washed, especially if it is silk.
Fabrics
The fabrics chosen for a particular robe depend on its style. As mentioned above, bathrobes typically use a plush fabric like microfiber that can wick away moisture. Summer robes are made out of lightweight, breathable fabrics. In the world of robes, breathable fabrics typically mean either cotton or a cotton blend. When shopping for a robe it is common to find cotton robes, cotton waffle robes, or cotton velour robes. Cotton is an excellent choice because it is a sturdy fabric with a gentle feel. Summer robes also come in either silk or satin, which is an exceptionally fashionable fabric that looks simply stunning. Robes designed for winter need thick, warm fabrics to keep the wearer comfortable. This means velour robes, fleece robes, or cashmere robes are a great option.
Cost
The price of the fabric will significantly affect the overall cost of the robe. Luxury fabrics typically include silk and cashmere. Buyers can expect to pay more for these robes than others, especially in department stores. Anyone who wants a luxury robe but doesn't want to break the bank purchasing one at a department store should use an online website like eBay, where outstanding deals can be found every day. Length can also affect the price, but most men's robes do not come in different lengths like women's robes do, so this is not a significant factor. The brand name will also influence the price point as well, with brand names like Nautica or Lacoste being more expensive.
Care
Since a robe is a pretty significant investment, it needs to be properly cared for. Cotton robes can be washed in a machine but only with cold water. Cotton should not be washed with hot water or dried in a machine since this makes the fabric shrink even more than it naturally does. Velour robes should be washed alone on a delicate setting, since other fabrics can get caught in the velour's pile and ruin its soft feeling. While most manufacturers will recommend to only dry-clean silk, this is only true if the color tends to bleed. Silk can be hand washed at home with lukewarm water and lightly pressed by an iron on a low setting. Cashmere can also be hand-washed, though this is difficult to do for a large robe. Most manufacturers recommend dry cleaning for cashmere.

Buying Men's Robes on eBay
There are several reasons why making a purchase on eBay is a better option than trying to buy a robe at a local department store. Most stores sell their robes for premium prices to account for their high overhead costs. Buyers do not have to worry about any of that when shopping on eBay. There is also an endless selection of robes on eBay that department stores cannot match simply because they do not have the room. eBay achieves its wide selection due to its auction platform which allows sellers to market a product for a starting amount. Buyers who want to purchase the item can place an initial bid, and make repeated bids if another buyer is interested in the same item. The auction system allows for many people to score terrific deals through eBay, even on name brand items that would cost a fortune elsewhere.
Finding Men's Robes on eBay
eBay is a large website and those who don't know where they are going can easily get lost. That is why it is important to use the search functions to help narrow down all auction results. Start on eBay's home page and use the search box to find items on eBay. If the customer has a specific item in mind, such as a Calvin Klein robe, type Calvin Klein men's robe into the search box to narrow down the auction results. For more broad searches, such as when size but not name brand matters, enter a term like medium men's robe into the search engine for the best results.

Conclusion
Purchasing an exceptional men's robe makes a great gift for any man who deserves comfortable loungewear. Wearers will find that it is easy to relax in any robe, be it a soft bathrobe to keep the skin dry, or a sleek silk robe and matching lounge pants to wear around the house. Finding the perfect robe starts with knowing the proper size. Once the size is determined, buyers can start shopping for different styles and fabrics. It is always necessary to keep in mind that the fabric chosen for the robe needs to be properly cared for to ensure that the robe lasts for many years to come and that the fabric will also help to determine the overall cost. The best deals for men's robes can often be found on eBay, allowing buyers to purchase impressive robes that they can wear day after day. Whether it is a robe for comfort or a robe intended to be stylish, choose the robe that fits best both size-wise and financially.