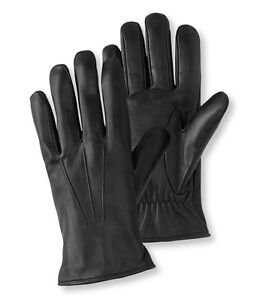 Warm hands are the most useful hands in the winter. From shoveling snow, to skiing cross country, or even taking a nordic trek having warm hands makes it possible to get a lot more done during the cold winter months. Along with proper motivation a pair of gloves is part of what makes it possible. In order to have warm hands there must be adequate coverage, and the best way to keep hands warm is to wear proper gloves. Not just any gloves, but a proper pair of winter gloves.
This guide will provide men with the information they need to find and purchase a pair of winter gloves that are appropriate for their needs or activities. This guide will go over what men should look for in a good pair of men's winter gloves, the best gloves for particular winter activities, the fit of the gloves, and how to decide where to buy the gloves they need for their activities.
About Winter Gloves
When a man is trying to keep his hands warm in colder weather or near freezing temperatures, a pair of everyday cold weather gloves will usually do just fine. Some of the leading makers of these types of gloves are Isotoner and Outdoor Research.
When browsing for the right pair of winter gloves, the buyer should think of the functionality of the gloves. For example, if a man is looking for driving gloves or a pair to keep a handle on things like a cell phone, the gloves should have finger grips. This will help when trying to make a call while keeping the hands warm. There are also gloves of this type with removable or "flip-up" fingers for the hunting enthusiast (perfect for bow hunting). But if the gloves are for everyday use it could cause problems for the buyer's fingers. For starters any gap or space in the glove can let in cold air or snow which can melt and soak the glove. It is recommended to wear a full glove unless it is absolutely necessary to remove the gloves. So the first thing men should think about is the functionality of the gloves.
Types of Men's Winter Gloves
Since winter gloves are fundamental to a variety of outdoor activities, there is a vast selection of hand wear available and some are for extreme activities such as mountain climbing while others are for skiing. There are four main types of gloves, including fleece, liner, soft shell, and insulated. Before making a purchase there are a few things to understand about the features and advantages of each type of glove.
Fleece Gloves
Fleece gloves offer tightly knit synthetic fibers for superior warmth. The degree of warmth is equal to the weight of the glove. Because the thickness of the glove makes a difference in hand coordination and finger dexterity, it is key to choose the right amount of warmth and thickness for the type of activity that the glove will be used for. These types of gloves are not water proof and provide little if any protection from the wind, so they are not ideal for skiing. Fleece gloves should be used for light activities in moderate or cold environments such as driving.
Liner Gloves
These tight fitting gloves are made of a stretchy knit type of material. Liner gloves provide warmth and comfort for moderate and high-energy activities. These gloves are typically water and wind-resistant. They are unique in their ability to be worn in light weather or coupled with heavier gloves in order to serve as extra insulation. These gloves dry quickly and even wick moisture away from the skin.
Soft Shell Gloves
Light and wind resistant, some soft shell gloves are even water resistant. They provide sufficient protection against water, wind, and even snow. They also provide exceptional warmth and are useful in low to moderate activity levels in cold climates and lower temperatures.
Insulated Gloves
Filled with insulating material, mostly man-made or synthetic fibers, insulated gloves are made to capture body heat. The outer part of the glove can be waterproof or water resistant without a seam and breathable. These types of gloves are popular in extreme weather conditions as well as wet weather. Choosing a style that is breathable will keep the man's hands dry throughout the day and wick moisture away from the skin.
Insulated Mittens
Insulated mittens are the same as insulated gloves except for one key factor: they only have two sections, one section for the thumb and a section for the rest of the fingers.
They give complete blood circulation for the fingers. Mittens keep and hold a lot more body heat than gloves, making them a superb choice to wear in cold temperatures. This type of hand wear offers less finger dexterity for certain tasks than gloves do.
Touchscreen Gloves
Touchscreen gloves can be used with the majority of touchscreen electronic and mobile devices. These can be worn while accessing electronic devices such as MP3 players, cellular phones, or the mouse pad on a laptop. They can also be used fully for outdoor activities.
The key to knowing which gloves to get is to know what activities the gloves will be used for.
The Best Gloves for Winter Activities
No matter the activity being performed, such as snowboarding, tubing, dog sled racing, or even shoveling snow, wearing the right glove is key to keeping the hands warm. Every type of glove used in a cold weather activity, without exception, should have a few layers, all made of different materials and designed for different purposes.
The Outer Layer
The outer shell should be waterproof using materials such as Gortex, nylon, a blend of polyester and cashmere, and other materials that are used in tandem to repel water.
The Insulating Layer
The next layer should be an insulating layer. Using the right combination of insulation can be difficult because of the wide array of complex materials available on the market today. Wool is a fan favorite and faithful standby, but the downside is it gets itchy, the odor (when it gets wet it can often make the wearer's hands have a less than pleasant aroma), and warmth (it does not provide adequate protection from the wind). There are more costly materials with brand names like Thinsulate, Polartec, and Primaloft to name a few, and the name of the insulation used, if it is a brand name, is usually sewn to the outside seam or inner lining of the glove.
The Inner Lining
The inner lining is the last layer to a properly insulated glove. The inner layer should wick away moisture to keep the wearer's hands warm and dry while working. A recent development in winter glove technology is the addition of heated gloves. These gloves can have a shelf life of up to five years.
Men's Winter Gloves Fit
When choosing the perfect pair of winter gloves for the wearer's needs, it is important to get the right fit for the buyer's hand. Gloves basically have four sizes, which are small, medium, large, and extra large. Because of the unique dimensions of every buyer's hands and the fact that the glove sizes may vary based on the manufacturer, a man should try on the glove and check the range of motion for the expected activity level that the man requires. The glove should be big enough to allow for adequate movement of the thumb and all of the fingers, yet be tight enough to allow for proper hand coordination and to block out cold air.
Remember that if a glove is too tight it can make the hands colder by restricting blood flow and circulation. Many gloves are equipped with a built in seam or some sort of seal at the wrist, which can vary from a simple elastic band or cuff, to a strap that can be tightened to cinch the glove once it is on to create an effective guard against snow, ice, and cold.
Where to Buy Men's Winter Gloves
Winter gloves are an essential part of the winter months and can be found at almost any type of department store. There are also various thrift shops, second hand stores, and discount stores that sell men's gloves. There are many online options as well where mean can purchase gloves. Men can find numerous brands, materials, and styles to choose from at online auction sites like eBay as well.
Buying Men's Winter Gloves on eBay
There are lots of options to choose from when buying men's gloves on eBay. However, it is important to know how to search in order to find just what you need. There are several ways you can search for men's gloves on eBay.
Keyword Searches
If you know what kind of men's gloves you want, you can simply type a keyword into the search bar. For example, if you want a pair of men's gloves that are leather, you can type "mens leather gloves" (without quotation marks) into the search bar to see thousands of results to choose from.
Advanced Searches
For a more refined search, you can use the Advanced Search feature. This feature allows you to search specifically by different options in men's gloves. Doing an advanced search allows you to narrow down your listings to exactly what you want to find.
Category Searches
A category search is done by using the categories to search for men's gloves. To do this, simply go to category Men's Accessories, and click on Gloves & Mittens. From there, you can choose Winter Gloves. Continue searching by categories to find the material, length, color, or brand you would like to get.
Knowing how to search on eBay will help you find the perfect pair of men's gloves with ease.
Conclusion
Keeping the hands warm in the winter time is the key to an event filled day. Having warm hands can give someone a sense of accomplishment by permitting them to complete many outdoor tasks even on the coldest days. Whether going across the country in a dog sled, building an igloo, or even shoveling the driveway, it is all done more easily with warm hands. All it takes is some motivation and a pair of gloves for the occasion to make it happen.
Finding a good pair of gloves is important in the winter. If wearing gloves can help someone finish an all day project sooner, it is worth the time and effort to find the proper gloves for the occasion. Choosing the right pair of gloves based on the type of glove that is needed and the materials used in making them is part of the solution to keeping the hands warm. Finding the right gloves at the right price is another part of the equation.