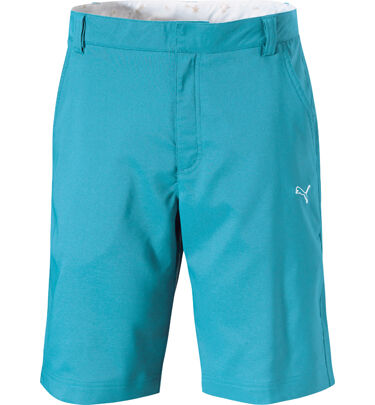 When playing golf in the summer, those on the links frequently wish that they did not have to follow restrictive dress codes that demand long pants. In response, the number of golf clubs that demand players to wear long pants during their times on the course is rapidly diminishing. Golfers now have the opportunity to enjoy warm summer temperatures wearing golf shorts while on the links. Manufacturers target different types of golfing athletes with the golf shorts they produce. The buyer has a large selection from which to choose the type of legwear that suits the golfer and his style.

Choosing Brand Name Clothing
Varieties of famous athletic wear manufacturers have introduced golf shorts product lines. The makers of these lines offer casual as well as more formal legwear.
Tommy Hilfiger
Tommy Hilfiger shorts usually feature a conservative cut. Colors are black or slate. Two slit front pockets allow for easy storage of golf tees. Two back besom pockets let the golfer keep his wallet close by. Garments frequently follow the loose-fitting Bermuda style and are made from cotton twill. A secondary line of golf shorts, known as the Buzz Off Insect Shield Apparel Line, comes in colors that are more vibrant. These informal shorts are treated with insect repellent by the manufacturer, which keeps mosquitoes and other bugs at a distance. If a golfer frequently ends up in the rough looking for a golf ball, these shorts may make the game a bit more enjoyable by keeping the pests residing in taller grass at bay.
Nike
The famous swoosh sets apart Nike shorts from the competition. The golfer finds a large selection of styles and features in this brand of athletic legwear. Standard shorts may have a flat or pleated front. They are usually made of 95 percent polyester and 5 percent spandex for added comfort. Going for a slightly more formal style, Bermuda-type golf shorts almost reach the golfer's knee. Some are made of Dri-Fit polyester fabric, which is designed to wick away moisture from the skin. Golfers opting for this material can find it in Nike shorts featuring solid bright colors, dark khakis, and pinstriped garments. For the golfer who likes to carry spare balls on his person as opposed to the golf bag, there are also cargo shorts made of the Dri-Fit fabric. The side pockets expand to hold a sleeve of three balls and other game accessories.
Cutter & Buck
This manufacturer is known for its famous plaid garments. Cutter & Buck shorts may come in basic blue with yellow and black plaids or a mix of sky blue, green, and white plaids. Cuts predominantly follow the Bermuda style. The company uses DryTec, which is a material made of 96 percent polyester and 4 percent spandex. The resulting garment is lightweight and highly breathable. More formal golf shorts feature solid dark colors, which make them appropriate for the golf course or the clubhouse.
Callaway
Already a famous name in golf, Callaway not only makes clubs but also offers a line of golf apparel. Men's golf shorts come in short, mid-sized and Bermuda-style lengths. Callaway shorts also feature a wide assortment of color choices. Black and navy are suitable for courses with more formal dress rules while khakis and plaids appeal to golfers on courses where there are only limited dress code restrictions. Casual shorts are made of 100 percent polyester, which ensures a comfortable fit. The fronts are flat. This legwear resists wrinkles, which makes the shorts suitable for quick wear straight from the dryer. Bermuda-style shorts that have moisture-wicking capabilities are made from 85 percent polyester and 15 percent nylon fabrics. Occasionally, these shorts may also be made from 100 percent polyester microfiber twill. The material is treated to be soil releasing.
Ashworth
Casual Ashworth shorts usually have a flat front. The DewSweeper line of shorts is wrinkle-resistant. The EZ-Tech line is not only wrinkle resistant but also resists shrinking and fading. More formal golf shorts are pleated and made from 100 percent cotton fibers. The back pocket is usually buttoned. Plaid shorts are available in a mix of 60 percent cotton and 40 percent polyester or 98 percent polyester and 2 percent spandex. Both types of materials are lightweight and comfortable for walking longer distances on the golf course.
Adidas
Another famous name among golf apparel manufacturers, Adidas shorts are well-known for their bright colors. The buyer should look for the ClimaLite line that is made from 100 percent polyester. It features a relaxed design and two back welt pockets. Adidas is also known for its plaids, which usually come in blue and beige tones.



Finding a Fashionable Style for Golf Shorts
Current fashion dictates that men's golf shorts end right at the kneecap. Younger golfers, usually teens and those under the age of 30, can get away with having shorts that go below the knee or stay above it. This age group generally also favors the cargo shorts over the more traditional styles. More traditional golfers oftentimes prefer to wear pleated shorts. Yet a quick look across the links proves that most male golfers in shorts prefer the flat front.

Ensuring that Golf Shorts Fit Comfortably
Prior to making a buying decision, the shopper should have accurate measurements to ensure a good fit. The first measurement is the waist. The buyer should measure around his natural waistline with a measuring tape. The tape should be snug but not tight. A golfer with a waist measurement between 32 inches and 34 inches will likely find shorts with a "medium" size demarcation. The next two-inch increment denotes the "large" size. Extra large shorts are considered those for a waist measuring between 36 inches and 38 inches.
Big and tall golf shorts offer further size options for men whose waistline or height is above average. Buyers should look to these products for waistlines exceeding 50 inches. Frequently, these kinds of shorts also offer additional design advantages. Sugar Bay golf shorts feature a hidden elastic waistband that adds up to 10 inches. To achieve this level of comfort, the manufacturer has done away with the traditional fly in favor of a drawstring waist. The material in front of the shorts is nevertheless sewn to mimic the appearance of a traditional fly.
The inseam measurement starts at the crotch and ends at the middle of the kneecap. The buyer should round to the nearest inch. Puma golf shorts illustrate that the most common measurements, depending on the height of the golfer, usually involve 10 inches for a pair of shorts that comes to just above the knee. For an average-sized golfer, an 11-inch inseam on a 34-inch waist is perfect for reaching the kneecap. Big and tall golfers need to look for inseam measurements in keeping with their heights. Young golfers who are looking for a shorter look should check out shorts with an eight-inch inseam.

Specialty Designs and Features of Men's Golf Shorts
As previously mentioned, manufacturers sometimes treat their fabrics to add comfort to the wearer's experience. A good example is the UPF protection that some golf shorts offer. While this type of treatment does not eliminate the need for the judicious application of sunscreen when on the course, it does help protect the legs from sunburn. Another useful feature is the grain print gripper tape some manufacturers attach to a contoured waistband. This small addition helps the golfer to keep his shirt tucked in for the neat look frequently demanded at the more upscale courses that allow shorts.
Other manufacturers add specialty features that are unique to their brands of golf shorts. Cases in point are Oakley golf shorts, which feature welded seams under the moniker of "Hydrofuse technology." Made of 89 percent polyester and 11 percent spandex, this type of seam actually weatherproofs the garment. Combined with O-Hydrolix fiber materials, players also note that the shorts wick away sweat and moisture for a much more comfortable fit. Costs for this type of specialty treatment put these kinds of shorts into higher price ranges.

Buying Men's Golf Shorts on eBay
The buyer first visits eBay's Sporting Goods section and then opts to Shop for Golf. From there, the shopper selects the Clothing, Shoes & Accessories category and narrows down the choices to Clothing items only. The buyer further filters the listings by focusing on those of the Men's department.

Conclusion
Choosing a good fit when buying men's golf shorts ensures a comfortable playing experience. Manufacturers offer styles ranging from traditional to conservative. Some makers of these types of shorts also provide an outlet for the more playful side of the wearer by featuring bright colors and plaids. Special creature comforts set apart the various brands of shorts from one another. The player should take the time to compare the specialty traits of the brands before making a final buying decision.