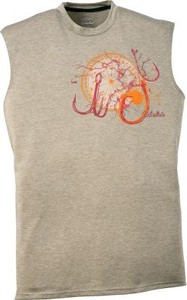 Wearing a sleeveless tee is a great way to keep cool on hot summer days, or to show off well-developed arms. Sleeveless t-shirts can be worn as part of a casual outfit or while working out. As casual wear, they can be worn on their own with shorts, jeans, or khakis, or they can be layered with button down shirts or sleeveless sweaters. Available in a range of colors, designs, and fits, sleeveless t-shirts are made in more or less the same way as regular short sleeved t-shirts. In order to find a sleeveless t-shirt that fits well one needs to try shirts on before buying, or measure for size. Size measurements can be taken from either one's body or from a favorite sleeveless t-shirt that fits well. In addition, the type of cut and style, the fit required, the t-shirt's material, and the possibility of shrinkage should be taken into account when shopping for tees. Sleeveless tees are available from clothing stores or online, from retailers and auction sites like eBay.

Finding the Perfect Fit
Because there is no international t-shirt size standardization, one should try tees on or take accurate measurements before purchasing. The most common measurement used is the circumference of one's chest. However, some manufacturers and sellers include a waist measurement to ensure that t-shirts fit perfectly all over the torso. One should also take the length of the shirt into account to avoid buying one that is far too short or far too long. Finding the right size is relatively simple: one can either measure the circumference of one's chest or measure an older shirt that fits well. Where one has lost or gained weight it is especially important to measure instead of simply selecting a size bigger or smaller than before.
Measuring the Chest
Measuring the chest may require the assistance of a friend or family member. The best tool for the job is a measuring tape made to measure fabric, but if one does not have access to this tool, one can make use of a piece of string and any other measuring device. A normal tape measure or a yardstick will work just as well. Whether using the string method or a fabric tape, the measuring device should not be allowed to droop as this will give an inaccurate measurement. The measurement should be taken with the tape or string held parallel to the floor. One should stand with one's arms at one's sides, keeping the body relaxed and in its normal posture. Avoid sucking in the stomach. Measuring the chest in this way gives the circumference of the chest.
Flat Measuring Clothing
An easy alternative to taking a chest measurement is measuring a tee that fits well. This should be an item that has been worn a few times, washed, and dried as this is an indication that it has settled into a permanent shape. For a looser fitting sleeveless tee, measure a loose fitting t-shirt; for a more fitted style, measure a tee that is more snug. Place the tee to be measured on a flat surface, like a table, and measure from armpit to armpit. Double this measurement to calculate the American standard size or the approximate circumference of the chest.
Measuring the Height of a Tee
The height of a t-shirt can be measured in a few different ways and may differ from seller to seller. One should confirm which method was used to find the exact length. However, a slight difference in measurement seldom matters as a tee that is an inch or two longer or shorter than expected probably will not look bad. Measurements can be taken from the waist to the place where the collar meets the sleeve, or from the waist to the back of the collar in a straight line. One can find one's torso height by measuring an old shirt or asking someone to measure one's torso from the neck or shoulder to the waist while standing up.

American Standard T-Shirt Sizes
Although international manufacturers do not comply with American sizing guides, one can use American standard t-shirt sizes as a starting point to find the right fit while browsing. Of course, American manufacturers and retailers may use these sizes. However, sizing tags may not be accurate and the wrong tag could land on the wrong garment, so it is best to try the item on or measure every time. Also keep in mind that sizes may differ across brands, so a medium in one brand may be the size of a large in another make. The table below can be used as a guide to find t-shirt sizes according to chest circumference.

| T-Shirt Size | Chest Circumference (Inches) |
| --- | --- |
| | 32-35 |
| | 35-38 |
| | 38-41 |
| | 42-45 |
| | 46-49 |
| | 50-53 |
| | 54-57 |
| | 57-60 |
| | 61-64 |

To calculate chest circumference from flat measured clothing, multiply the measurement by two. Similarly, working out flat measured sizes from a chest circumference is as simple as dividing the measurement by two. Where one is unclear about the measurement method used by the seller it is best to ask how the item was measured, or how the item is marked.

Additional Factors that Affect the Fit of Sleeveless Tees
An accurate chest measurement is the most important factor in choosing a sleeveless tee that fits, but one should take a few more things into account that determine the fit of a tee.
The Type of Cut and Style
Sleeveless tees are available in a number of styles and cuts. This includes roomier fits and slimmer designs. Fitted tees are also known as muscle, European-style, or body-conscious fits. They follow the outline of the torso more smoothly and are closely cut along the body, accentuating the upper body. These tees are also easier to layer or wear as undershirts when necessary. Those who prefer a roomier cut should look for looser styles and slightly bigger sizes.
The Type of Material Used
Some fabrics fit differently than others, with the difference most marked between natural fibers and synthetics or synthetic blends. Tees with extra stretch are form-hugging and cling to the body, while cotton is more inclined to drape. One should also bear in mind that pure cotton tends to shrink when washed, even if it is pre-shrunk. To make up for shrinkage, add an inch or two to the chest size to make sure it fits after being washed and dried. Follow the instructions on the tee's care label, especially relating to washing and drying temperatures, to avoid extra shrinking.

Popular Types of Sleeveless Tees
Sleeveless tees in solid colors, like dark blue, brown, black, or gray, are very adaptable as they can be worn with anything, from shorts to khakis. White tees also look good with just about anything, but they can double as undershirts when wearing dress shirts, and wearing a sleeveless tee eliminates the t-shirt line on one's arm. For a fun, laid-back look one should consider embellished, graphic, retro, vintage, or personalized tees. In addition, sleeveless tees are available in rounded crew neck designs and with V - necks.

Finding Men's Sleeveless Tees on eBay
Men's sleeveless tees are listed under Men's Clothing in eBay's Fashion department. The selection menus can be used to choose colors, material types, sizes, or brands, or the advanced search function can be used to narrow or expand your search results. Alternatively, you can type a keyword in the search box to find what you are looking for, narrowing results by category. Don't forget to check eBay Stores for more great deals.
Know Your Product
Before you buy, check the item listing's description and photos. Be sure to read the listing description from start to finish, paying close attention to details about the item's condition, measurements and sizing specifications, type of fabric and care instructions, and the colors available. If you have any questions about the listing, use the "Ask a Question" link to contact the seller.
Know Your Seller
eBay's seller feedback feature is designed to allow buyers a chance to leave sellers feedback after every completed transaction, giving new buyers an easy way to get to know the seller. In addition, seller feedback gives detailed information about the products and service buyers can expect from particular sellers. To find a seller's feedback details, click on the number next to the seller's username. Don't forget to take the number of sales completed into account.
Read the terms and conditions of sale before committing to a purchase. Some sellers have returns policies like those of regular retailers. Mistakes can slip in when buying clothes online and the ability to return items that do not fit will save money in the long run. You should read the fine print and take note of the returns period as well as the terms, taking care to stick to these. Never remove tags from clothing before you're sure of the fit.

Conclusion
Men's sleeveless tees are a cooler alternative on hot summer days. They allow men to show off well-developed arms, and can be worn comfortably as layers under other garments. The key to finding tees that fit perfectly lies in taking accurate measurements of both one's body and the new tee. However, fabric types and t-shirt styles should also be considered as they affect fit. Most eBay sellers have clear item descriptions and some have returns policies that allow one to return ill-fitting items, making it easy to find the right sleeveless tee for the right occasion.