By Matthew Dees

Mazzer was founded in 1952 outside of Venezia, Italia, by Luigi Mazzer. They manufactured coffee grinders, and quickly became one of the premier names in coffee grinders in the Italian market.

Throughout the 1960s and 1970s, the company worked hard to establish markets in countries around the world. By the early 1990s, Mazzer grinders were available in over 50 countries. They produce a substantial amount of grinders and related appliances globally - the company claims some 30,000 appliances made in 2001. Their products are also ISO9001 certified.

Too many people unknowingly purchase a coffee grinder that will keep them from enjoying a great coffee experience. The Mazzer grinders are in a league of their own. From the Major to the Mini, these coffee grinders have no equal for the home user. Being "Burr" type grinders, they grind consistently equal grounds with a "stepless" adjustment feature. That is to say, an unlimited amount of settings for the exact grind consistency you are seeking.
From coarse to fine, this grinder will give you grounds without variation of the setting you dialed in. OEM burrs are rated for over 600 pounds of coffee beans before needing to be replaced. To some, 600 pounds may not seem like much, but when you do the math of grinding even 2 pounds of coffee per week, this means years before you need to replace the burrs. Burrs are relatively inexpensive considering their longevity.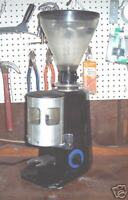 The expression of "Built like a tank" aptly applies to these grinders. They are built tough, as they were built for commercial use, but have come into favor by the home user because of their reliability and performance. One major repair depot on the east coast says that for every 20 grinders they get in for repairs, maybe one is a Mazzer. Mazzer grinders make up a sizable portion of commercial grinders in use today. Another coffee website, CoffeeTweek.com, reports the Mazzer grinder is their hottest selling item.

Sadly, the "tank" look is what they appear to be when all black or silver painted models appear on eBay. Hope is on the horizon however for the home user that wants a more aesthetic appearance in the kitchen.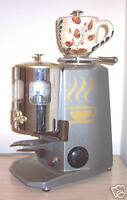 For some, the thought of spending $200 - $300 for a used coffee grinder may appear obscene, as that is more than what a great drip coffee maker costs, but it isn't the coffee maker that makes great coffee - it is the beans and the grounds. The Mazzer will provide the best grounds for your machine. Whether drip, espresso, or french, the Mazzer is the best grinder to find its' way to the home. It will outlive any coffee maker that plugs into an outlet and probably many that don't.
Be aware that most Mazzer grinders are big... and heavy. With the manufacturers hoppers, the Super Jolly and Major models will not fit under the kitchen cabinets. An area most of us use when setting up our coffee station. One small, family owned company makes custom hoppers that are smaller in size to correct the problem of large hoppers and can be found at http://tinyurl.com/4oherqs.

Be prepared to find a spot for your Mazzer Grinder that is still convenient, but not in the way of cabinet doors you want to open frequently unless you opt to purchase a designer hopper mentioned above. Due to the weight of the larger Mazzers (exceeding 20 pounds) it is not something you will want to be moving in and out of a cabinet enclosure.
The Mazzer "Major" model is a huge beast designed for the highest volume cafes, with big 83mm burrs and a 650 watt motor. The "Super Jolly" comes in at 350 watts, and features 64mm burrs. This is a workhorse commercial grinder, and is one of the most common ones found today in coffee houses and cafes. The Mazzer Mini is a performer workhorse with a 250 watt motor and 58mm burrs. It is also the smallest in both height and weight. With the hopper that comes as standard equipment with the Mini, it will fit under most kitchens' cabinets.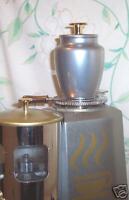 Mazzer grinders are fairly quiet. Much quieter than the lower priced models. You can actually carry on a normal conversation while standing next to one as it grinds away. For anyone familiar with the noise of a $50 grinder, this is appreciated by those of us who were able to throw away the ear plugs.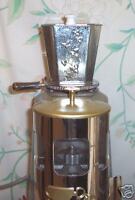 Mazzer grinders aren't for everyone. Some don't like the appearance and others would argue with statements of it being the best (which I suspect will reflect in the "helpful" rating of this review, when published). Only the true coffee lover can appreciate the quality of the Mazzer, but grinder owners will have their favorites for different reasons. Once having purchased one though, you'll wonder why you wasted money on cheaper burr grinders or, God forbid, a blade grinder.