MATA ORTIZ FIRING TECHNIQUES
Making Mata Ortiz is a unique combination of using clay with volcanic ash developed over the years through expermentation by Juan Quezada.
As a young boy, Juan discovered ancient painted pots in caves in the rugged hills near his home of Mata Ortiz. He spent years trying to replicate the pots using local materials. Once he learned the technique over 40 years ago, he was not content to be successful and taught others his craft. There are hundreds of artisan potters in Mata Ortiz today and their inspiration comes from the Paquime designs from centuries ago. No two pots are identical because each artist has his or her own technique; paintaing alone can take days.
Quezada used raw clay dug with a pick and shovel commonly found in the rugged foothills and river beds outside Mata Ortiz. His quest to perfect the technique took more than 15 years of experimenting with clay, ash and water. He also experimented with different fuels and buried the pots in a pit to fire them.
Clay is cleaned by soaking it in buckets of water for sever days. Once the clay is wet enough, it is poured through a strainer and cleaned, then left to settle in order to become solid enough to work with. Although white clay is the favorite, there are many colors of clay.
Mata Ortiz pottery is hand-made by wedging and kneading out air pockets from the clay rather than with a potter's wheel. The clay is formed in a tortilla shape for the base, and placed in a shallow bowl for support. A chorizo (sausage) coil is made from another lump of clay that is pinched and pulled to shape a new pot. The entire surface is smoothed by hand. After the pot is allowed to air dry it is sanded with sandpaper, polished using deer bones, stones or beans. Sanding can take hours or even days in order to give it the nearly mirrored surface making it a canvas for painting on the designs. Paint made from minerals and clays that are ground into powder to create a milky fluid is applied by hand with a fine brush made of 10 to 12 strands of human hair to create the designs.
Sometimes an early firing is done in an old iron stove at an extreme temperature followed by moving the pot to an outdoor surface oven that is built of an enclosure of combustible materials such as cottonwood bark or cow dung (thus the term "dung-fired" wich is often listed in the description of a Mata Ortiz pot). The firing process temperatures reach 1600 degrees F and make up to 20 minutes. The coals are knocked away after 30 minutes of cooling and after another one-half hour passes, the pot is cool enough to touch. Often the color of the clay changes during the firing process. Once the firing is complete, the clay-based paint is melded chemically with the clay of the pot itself. Potters' kilns are now being used in order to mass produce the pots; however, traditionally, a kiln is not used in Mata Ortiz.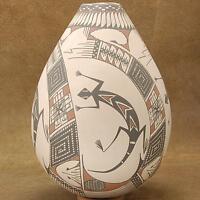 Visit SouthwestSimplicity to view an assortment of Mata Ortiz Pottery
Anthropologist, Spencer Heath MacCallum discovered Quezada's artwork which appeared to be prehistoric in a New Mexico Swap Shop. When inquiring he learned that they were contemporary pieces and Spencer set out to find the maker of these fine pots. He went to town after town showing photographs of the pots and was finally directed after a long journey to the small town of Mata Ortiz. This established Juan Quezada as a recognized, collected and appreciated artist internationally.
Additional, detailed information can be found at The Phoebe A. Hearst Museum of Anthropology, University of California at Berkeley. Fine Mexican Ceramics Art Gallery of The Woodlands, TX also has a myriad of information on the Mata Ortiz.
This article was written to provide a brief summary of Mata Ortiz Firing Techniques that have been used by the Mata Ortiz for many years. This article is provided by SouthwestSimplicity with acknowledgement of the research of others. We hope you find the article enjoyable and informative