MarX the Mercury - NYC - Dreyfuss Design

MarX Gray Mercury Passenger Set
modeled after the 1936 Cleveland Passenger Mercury
Here is an example of a popular steam locomotive the MERCURY. Produced from 1937 until the early 50's, Marx was one of the first to honor this streamline train design. This loco pulled everything from freights to passengers. Formed of heavy sheet metal with a tear drop metal smokestack and 0-4-0 wheel arrangement, it was quite versatile. It bears the Mercury nameplate on the sides and Made in USA, NYC Lines on the pilot. The earliest red and grey passenger Mercury does not have nameplates or even the holes for them. The wheels are tin plated, matching the original aluminum painted drivers of the real train. Coming in traditional black, red, gray, blue and a Golden Presidential style color, it is still quite popular today as a windup or electric model. It is cataloged as number 635 (or 233). It is nearly 9 inches long and weighs 1.5 pounds.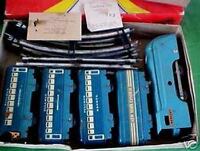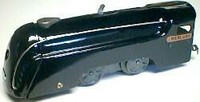 Blue Windup Whistling Mercury Black Windup Mercury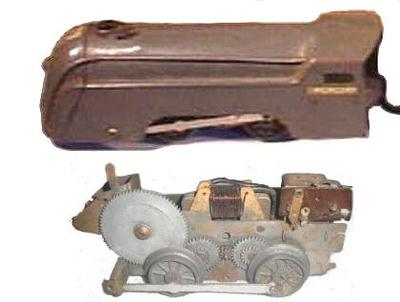 Sparkling Electrical Grey Mercury,
with 1st Marx double reduction motor.
Whistling-
Some of these Mercs have a special mechanical whistle that is quite unique! It is placed at the very front of the boiler underside. Better check if yours has one, it's really neat!
Sparkling-
Also mentionable is the sparkling device most Marx windups had. This idea was carried over to the Grey Mercury electric freighter, a design which is quite exclusive to this engine.
~☆ 1940's Golden Mercury Set - marketed as The Copper Queen ☆~
Pulling articulated passenger cars, it has a fixed coupler that is an integral part of the loco cab floor that would accept a coupler pin (talgo) that is formed through the roof/body of the cars. These have been affectionately called "Snake Trains", because the way they are connected makes them wiggle on curved tracks.
Pulling copper passenger cars, the engine would have been black and have a brass/copper (actually yellow varnish over tinplate) boiler front. !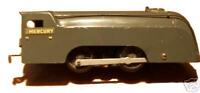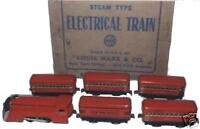 As a freighter it would have a rotating riveted metal hook coupler. However it could pull six inch red passenger cars in this form also, and could have a chrome(nickel plate) pilot. I think this is my favorite, with lighted white and red litho passenger cars!
And speaking of Red Mercs, there is even a 6v battery pack power version of the Merc.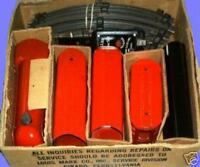 The only way that I know of that is was not used, was as an army train !
Which leads to the:
Louis Marx in Time Magazine
Those seeking a brief history of Marx toys and trains click below: