Hot Fix Rhinestones and Rhinestuds are a growing trend. Dazzle your clothing, shoes and accessories with Hot Fix rhinestones today! Learn how to create your own transfers using our step by step guide.
Rhinestones are all the rage these days. You can use Rhinestones to decorate shirts, pants, flip flops, hats, sunglasses, cell phones and so much more! You can use a hot fix bejeweler to apply them or your household iron.

Print your pattern and tape it to
a piece of cardboard.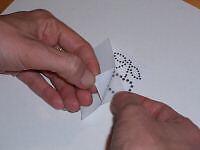 Cut a piece of transfer paper slightly
larger than your pattern. Peel the white
backing and save for later.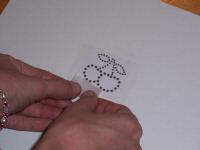 Tape the transfer paper sticky side
UP over the pattern.

Using tweezers, place the stones face
down, over the dots. Be sure the back
of the stones are facing you.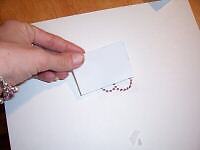 Peel the tape off the transfer paper
and re-apply the white backing.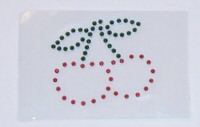 Tada! Your project is complete. Inspect
to ensure all rhinestones are in their
proper place.
What you need: Hot Fix Rhinestones, Rhinestone Patterns, Transfer Paper, tweezers, scoth tape and a piece of cardboard.

Visit our eBay Store, Rhinestone Fashions today to purchase all your Hot Fix rhinestone necessities.
Learn how to properly apply your Rhinestone Transfer using our step by step guide .