Entire Collection of Stencil Patterns - Click Here to View
About Seller with Links to Store and other Articles
Hand Paint Your Artistic Wallpaper Border with Stencil Patterns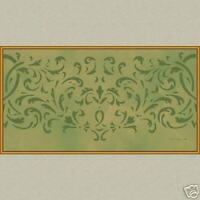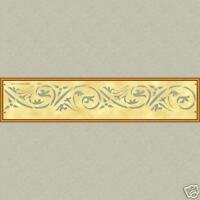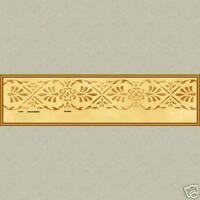 Creating your own wallpaper border will allow you the flexibility to choose size, the best colors and shapes for your design style. Add the finishing touches to what is missing in your room by making your own wall border. The best way to enhance and harmonize a room is to highlight the best features of your room with a wall border.
Are you tired of the mass produced wallpaper choices at home improvement stores, then make your own wall border. Select unique colors, designs, textures and materials that can bring your walls and ceilings together. Hand painted wall borders are exclusive and easy to install. Here are some tips on how you can create and paint your own wall border.
Three Stenciling Techniques
There are many different stenciling techniques. For this article, we will mention the dry brush method using a stencil brush. Whatever your design style, you will be sure to find the method best suited to your tastes. The most popular type of stenciling techniques:
Stenciled Wallpaper Borders applying paint with stencil brush.
Stenciled Wallpaper Borders applying paint with foam roller.
Stenciled Wallpaper Borders applying plaster with spatula.
Variety of Wallpaper Border Materials to Hand Paint, Stencil, and Emboss
There are many different types of surfaces and materials to stencil with hand painted stencil patterns. Take into consideration quality, color and texture when choosing from the many different material choices available to you in the market place. Here are just a few to choose from.
Pre-pasted Wall Liner (www.wallliner.com)
Canvas
Linen
Burlap
Cambric Cloth
Kraft Paper
Shoji Paper
Rice Paper
High Quality Decorative Paper (optional colored papers)
How To Make the Wall Border
First you need to choose the exact placement of your wall border. Making this first decision will help you determine the height of your border. For example, borders placed at the top of the wall need to be one inch for every foot of ceiling height. (10 inch border for a 10 foot wall). If window casings reach within 9 inches of the ceiling, a smaller design is necessary to complete the flow in one continuous design around the room.
Decide on the stencil design you want to use for your border. Designs should be simple but bold – try scrolls, acanthus leaves, floral patterns geometric shapes for the strongest impact. We carry custom-designed stencil patterns to help you create elegant wall borders.
It is recommended you mix and match colors according to color theory. Monochromatic, analogous, complementary colors all work for the best color combinations. You can even try metallic, brown and black to make a bolder statement. Look at your color scheme in the room when making your decision. Take into consideration the tone of your wood finishes, the finished on your light fixtures and the color combinations in your rugs and fabrics.
Wallpaper Borders
Wallpaper borders are timeless classics that will confidently absolutely turn heads in your home. Not only is this decorative wall treatment an exclusive finishing detail in your home, it is easy to install and very inexpensive to hand paint with stencil patterns. Wallpaper Borders are typically painted on your walls at ceiling height harmonizing with crown molding. Optional placement at chair rail height with, or without molding!
Supplies and Tools You Will Need
Pre-pasted wallpaper border liner (one spool per wall, typical size 10' wide)
Straight edge or knife
Sponge and bucket of water
Vinyl glue if needed
Level - A level is useful for creating horizontal stripes or vertical stripes on a wall. Also, keep in mind; you may need to use a level on a wall that is not quite square.
Stencil (www.stencilceilingmedallionsdesign.com)
Painter's blue tape - Use to tape adhere stencil in place, check your work and reposition stencil several times as needed.
Paper towels (prefer viva or strong thick paper towels) - Use paper towels to offload or rub excess paint from the brush. When using a dry brush technique, make sure you offload most of the paint until you can run your brush across your hand and the brush feels dry.
Small containers, plastic plate or paint tray - Used to add water, extender and to mix custom colors. Also, plate or tray is used to hold paint and load stencil brush.
Acrylic paint - Paints that are water-soluble, flow well and are sold by a wide range of manufacturers ranging from small craft bottles to artist's acrylic colors. Also, a wide variety of colors ranging from primary colors to an unlimited array of earth colors. As they dry very quickly it can sometimes help to mix in a small amount of acrylic retardant to delay the drying time. Keep in mind there are a wide variety of paints to choose from, I promote water-base paints, because they are easy to clean up with water, they can be thinned to various degrees with extender or water and they are fast drying. Whatever you choose, make sure you thin to consistency of ink and not too watery or it will bleed under the stencil.
Extender or acrylic medium
Acrylic retardant
Poster board - It is important to use poster board to make samples. Not only will you be able to work out several color schemes and techniques, but you will also be able to practice with the new stencils.
Additional Tools
Painter's Stir Stick to add water and extender to paint and also to mix custom colors
Water and water container for cleaning brushes and mistakes
Clean Rags (for cleaning up and for drying brush)
Instructions to Hand Paint Stenciled Wall Borders
Registration Marks
In the stencil industry, the triangle registration system is the standard. Registration marks are to help you repeat the design as well as align the design.
Figure Q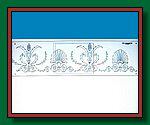 Borders will have four triangles (2 marks on the left edge and 2 marks on the right edge) as shown in (Figure Q.)
Loading and offloading your stencil brush
Figure W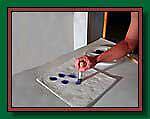 While always holding the brush straight up and down, dip the brush into the paint. This will allow for even loading of the paint. In a very firm and circular motion, blot off excess paint by rubbing the tip of the brush evenly on Viva paper towels. (Shown in Figure W.)
You must have a very dry brush in order to achieve translucent paint effects. After repeating this step 2 or 3 times, you will notice most of the paint is rubbed onto the paper towels. If you pass your brush quickly over your hand, it will feel dry. You may begin to stencil with your first color.
Stenciling Technique
Figure X
To get a translucent paint effect, you may begin stenciling by first concentrating paint around the outer edges of the cutout areas, constantly moving the brush in small firm circles as you continue around each cut out of the design. If you would like the effect to be as translucent as possible, the majority of the stencil brush should be on the Mylar. (Shown in Figure X.)
As you move toward the center of the cut out area, use a lighter pressure and a dryer brush. By fading out the color from the edge to the center, you will give shape to the design.
Practice this technique on a sample board first. You will learn to adjust your pressure and placement of the brush to achieve the depth of color you are after.
Figure Y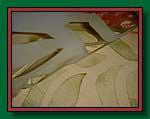 Each time you reload the brush you must go through the same process of loading and off-loading the paint onto the Viva paper towels. As you move along, make sure you check under the stencil in order to see accurately and also to maintain a consistent print.
As you lift one edge of the stencil you will check to see the color is strongest at the outer edges and more transparent toward the center. (Shown in Figure Y.) No paint should bleed under the stencil.
Figure Z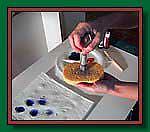 If your stencil brush is built up with paint or is too dry, swipe your brush across a moist sponge. Then rub excess moisture on Viva paper towels. (Figure Z)
Placement Options:
Chair Rail Border
A chair rail border continues along the walls of your room at the chair-height, typically 32 inches from the floor. Chair rail wall borders add pattern, and divides the proportions of the wall in dining rooms, stairways, hallways and kids rooms.
Wall Borders at Ceiling Height
A wall border at ceiling height edges the room where the ceiling meets the wall. Ceiling Wall borders add pattern, and a finishing frame to living rooms, dining rooms, kitchens, bathrooms and bedrooms.
Instructions to Adhere Your Wall Border
Start at the back corner of your room. Measure your wall border with two inches extra on either side. Choose long pieces of your border so you can use a single piece along each length of wall. Typically, wall liners are available in 10 foot rolls.
With a measuring tool or leveler, draw a horizontal line to be sure of precise alignment. Just draw small dots along the wall and then connect these dots using your yardstick and chalk (or pencil).
Using your sponge and water, activate your pre-pasted wallpaper border. If you painted your design on a thicker material such as canvas or burlap, use rabbit-skin glue or wallpaper paste to adhere to your wall surface
Hang the wallpaper border, allowing two inches extra overhang on the other wall. Using your damp sponge, smooth out air bubbles and remove excess adhesive.
A technique to obtain perfectly fitted seams. Overlap one strip of border over the other piece until pattern is perfectly matched. With a sharp blade, cut through both layers of border. The excess edges are then removed from both pieces.
In The beginning. plan ahead to be confident that you match your stencil pattern/wall border at the seams.
Go to Michaels Arts and Crafts Store to pick up your stencil paint and brush supplies. Create faux finish background paint techniques with Benjamin Moore or Behr products.

Designer's Historical Stencil patterns include wall borders, friezes, frames, allover damask stencil patterns, and ceiling pieces such as medallions, corner pieces, centerpieces, and frames. Wall and ceiling stencil patterns are frequently framed by bands and lines, and combined with freehand painting techniques.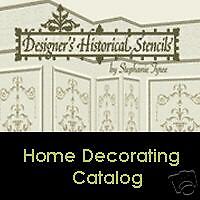 ~ Or ~ With $100.00 Stencil Purchase, Art Catalog for free. This is a savings of 20.00. Free Stenciling Instructions with each purchase.
While stippling the acrylic paint on to the substrate (wall, ceiling, floor, furnishings) through the stencil is a relatively easy process to learn, the production of the stencil itself demands a degree of design skill. The countless combinations of symbols, forms, and paint colors with this stencil technique means that your only limit is your imagination!
About Seller with Links to Store and other Articles
Ceiling Medallions, Ceiling Ideas, Designer Lighting, Ceiling light Fixtures, Ceiling Lighting Fixtures, Kitchen Lighting, Bathroom Lighting, Dining Room Lighting, Foyer Lighting Chandelier