NASCAR, ROCK CONCERT, SPORTS, IDOLS, HIGH SCHOOL, COLLEGE - Don't we all have our favorite stack of T-Shirts that we just don't want to part with.....even the ones that are too small.....we just want to keep them forever because they are nostalgic to us. Well, now you can keep them...in a way that will memorialize them, and also make room in your closet for more T-shirts - MAKE YOUR OWN T-SHIRT QUILT.
The purpose of this review is to provide a way to hold on to your favorite t-shirts and turn them into a T-Shirt Quilt. Custom made T-Shirt Quilts can be very expensive. There is no need to pay hundreds of dollars for a T-Shirt Quilt, when you can make one yourself for less then half the price. Even if you have never made a quilt before, these are very basic instructions to make a 36" x 48" quilt. As you gain experience, you can work up to larger size quilts like the one pictured below.
These instructions will make a 36" x 48" basic quilt. Additional T-Shirts can be added to increase the size of the quilt. Picture shown below was made into a Queen size quilt and also included sashing (fabric strips between the squares). These beginner directions do not include sashing strips.

12 T-Shirts
4 Yards Fusible Interfacing
1-1/2 Yards Fabric for the backing
1-1/2 Yards batting (optional)
One 12" Square Template (actual size is 12-1/2" x 12-1/2")
Scissors, Rotary Cutter and Cutting Mat
Iron and Ironing Surface
Thread and Sewing machine
Yarn or Embroidery Thread (optional)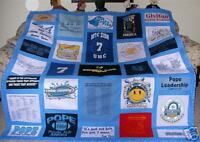 Once you've picked out the 12 T-shirts you want to make into your quilt, cut each t-shirts up the sides, separting the front from the back. This will allow the t-shirt to lay flat once the arms and neck have been separated.
Use the 12" Square Template and place it over the picture on the front of each t-shirts to see that the picture will fit within the 12" space - DON'T CUT ANYTHING YET. Take one of the shirt fronts and turn it face down on your ironing surface. Make sure it is laying flat, but not stretched out.
Next take your fusible interfacing and cut a piece slightly bigger than the 12-1/2" x 12-1/2" - I usually cut them about 14" x14" so I don't have to lay it down perfect. Lay it with the bumpy size down on your t-shirt, making sure that the entire area that you will be cutting out has the fusible interfacing attached to it. (The bumpy size is the glue, so make sure it's facing the t-shirt and not your iron!)
Now you will iron the fusible interfacing to the back side of your t-shirt front with a DRY iron (turn off the steam). Apply pressure to the entire area for at least 2 minutes. This interfacing will allow us to cut the t-shirt to the exact size we want without the t-shirt fraying or stretching out of shape once it's been cut.
You are now ready to take it off the ironing surface and place it picture side up on your cutting surface. Take your square template and center it up on your picture. Cut your square now using the template, making sure to hold it firmly in the center so it doesn't slide around.
You have now made your first raw t-shirt square. The size cut is actually 12-1/2" x 12-1/2". This is to allow for 1/4" seam allowing when you sew all the squares together.
Continue this same procedure for the remaining 11 squares. Once you have all 12 squares cut, you will lay out your squares 3 across x 4 down to determine the order you want to piece them together. Lay them out on the floor or bed and then step back to get a good look at them. Move them around until you find the placement you like the best. There is no right or wrong order - it's all done on what you like the best!.
Once you determine the order you want, you will need to stack up each row of squares. You should have 4 rows with 3 in each row.
Take your first row of squares and face the first and second square right sides together and sew a 1/4" seam down the right side of the squares. Next take the third square in that row and place it right sides together with the 2nd square and sew a 1/4" seam down the right side. You now have completed Row 1. Continue doing this for Row 2, 3,and 4.
Once you have all four rows sewn, you will now place Row 1 right sides together and upside down onto Row 2 and sew a 1/4" seam across the top side. next take Row 2 and place it right sides together and upside down onto Row 3 and sew 1/4" seam across the top side. You now have sewing the entire front together!
Take your t-shirt quilt front to your ironing surface and iron from the back side to press your seams.
Next you will cut a piece of backing fabric 36" x 48" and place it face up on a flat surface. Make sure it is placed flat and taught. Now lay your t-shirt quilt front FACE DOWN on top of the backing fabric. Pin your edges. Take to the sewing machine and sew the entire edging of your quilt with 1/4" seam - but leave a 4" space open to allow you to turn the quilt.
Once you've turned the quilt, you can either hand sew or machine sew the 4" opening closed. Iron the entire surface of the quilt from the back side (never iron the t-shirts fronts because some of them may be the sticky/gooey print ). You can tack the corners of each square so that the quilt front doesn't shift from the quilt back, but it is not necessary. If you choose to do this, you can take embroidery thread or yarn.
ALL DONE! YOU NOW HAVE A TREASURED MEMORY ALL SEWN TOGETHER IN ONE CUDDLY BLANKET. ENJOY!