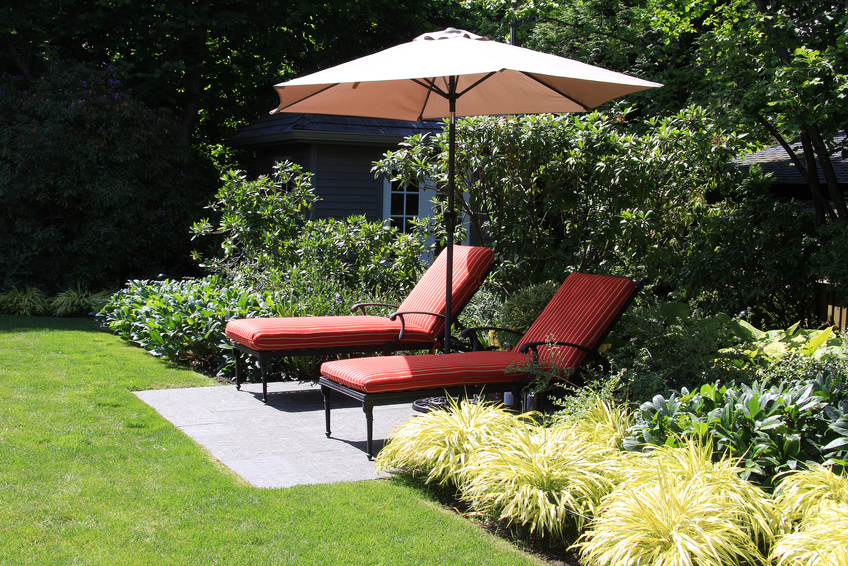 Many people enjoy an outdoor lifestyle, and protection from overexposure to direct sunlight is as important as fresh air and exercise to maintaining good health. A patio umbrella provides essential shade for relaxing outdoors or dining al fresco. Choosing the right umbrella involves more than just picking the right colors to suit the outdoor decor. It is important to select a style that suits the specific situation.
Domestic Patio Umbrellas
Standard domestic quality patio umbrellas are larger versions of regular parasol styles of rain umbrellas. The design of the pole passes through a hole at the center of a patio table and usually fits into a weighted umbrella base that holds the umbrella in place. These umbrellas often have lightweight aluminum frames and poles, and they use polyester blend fabrics for the shade cloth. Frames may use a crank system for opening the umbrella, but more commonly, they use a simple sliding collar that locks the fully extended shade cloth into place.
| | |
| --- | --- |
| Table Diameter (inches) | Umbrella Diameter (feet) |
| 30 to 36 | 6 to 8.5 |
| 38 to 48 | 9 to 10.5 |
| 54 to 60 | 11 to 13 |
Domestic patio umbrellas come in a range of sizes, and it is best to match the size of the extended shade cloth to the dimensions of the table that it shades. Too small an umbrella provides inadequate shade, while a large umbrella is unstable and may blow over in the wind.
Traditional Market Umbrellas
Traditional market umbrellas originate from designs used to shade outdoor market stalls and are defined by their square or octagonal shape and the solidly constructed frame. Market umbrellas most commonly have attractive and sturdy wooden frames and heavy cotton sunshade cloths. The central pole of the market umbrella passes through a central hole in the patio table into a weighted base for stability. The design may also include air vents in the shade cloth that allow air to pass through it to reduce the risk of overbalancing. Heavier market umbrellas use a crank or a pulley system to extend the frame. The durability of market umbrellas makes them a practical choice for areas where they will be in use for long periods.
Cantilever Umbrellas
Cantilever, or offset, umbrellas have the support pole set to the side of the shade cloth frame. This allows the umbrella to hang over a table without being set into its center. The umbrella is next to the table on its own permanent counterweighted stand. Owners adjust its position over the table using a simple set of levers. Materials used in the construction of a cantilever patio umbrella are usually lightweight, like an aluminum frame and polyester shade cloth fabrics. A cantilever umbrella is useful for providing shade over smaller tables that do not support a heavy market umbrella. They allow the use of an oversized shade cloth without losing the necessary stability. This style of patio umbrella also suits outdoor settings without a table or where a central pole will be an awkward obstruction.
Decorative Patio Umbrellas
Outdoor umbrellas come in a wide variety of decorative designs and styles. Many market umbrellas feature product logos that add style to an outdoor setting. There are also umbrella designs made to resemble pagodas or the roof of a grass hut. They add a stylish touch to an outdoor setting. Some patio umbrellas also include LED lighting inside the frame that supplies gentle light in outdoor areas in the evening. The most important factors to consider when choosing a decoratively designed patio umbrella are the durability of its construction and the quality of the shade produced by the material of the shade cloth.
Sunshades
A sunshade, or a shade sail, is a practical choice for smaller or confined areas. These simple designs often have a weighted base that holds a single pole to support a basic shade cloth stretched over a rigid frame. This style of patio shade is suited to seating areas, such as the side of a pool or a sundeck. Sunshades are lightweight and easy to move to follow the shifting sunlight.
How to Buy Patio Umbrellas on eBay
There is a choice of reliable sellers on eBay who offer a range of different styles of patio umbrellas available for sale. The easiest way to find the right one for your patio is to type "patio umbrella" into the search window on any page on the site. Add details like colors, specific styles, and your preferred price range to refine the search results for precisely the range of products that you are looking for. Many vendors offer convenient shipping. The cost of purchasing patio umbrellas on eBay is often more affordable than the prices in retail outdoor furniture stores.