Select the Right MP3 Watch (MP3 Player Watch) for You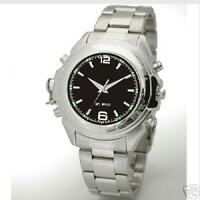 NStar MP3 Watches
After selling thousands of MP3 Watches of more than six brands and more than ten models, it is time for me to guide our customers for shopping MP3 watches. SurprisingGift Online ebay store.
MP3 Watches are the latest fancy MP3 Players thanks to its small sizes and easy-to-carry features. Almost all MP3 watches are built with flash-based USB memory, allowing one to use the MP3 watches as mobile USB Drive to carry everyday computer documents, music, or presentation. Below, we highlight some key selection criteria for buying a good model MP3 watch for yourself.
Multi-Functions of A MP3 Watch
With the same name of MP3 Watch, different models come with quite different functions. Some models can only be used to play music or as USB flash drive in addition to its time-keeping function. Other advanced MP3 watches can be built-in many more useful functions:
Features Function description
Built-in Digital Voice Recorder with built-in Microphone ||can record voice, no Mic needed, recording quality varies.
Built-in Line-in recorder ||can record any audio signals from CD Player, Radio, Cassette Player, recorder player, TV, DVD, etc. So one can convert the CD collections directly to the MP3 Watch without using computer!
Built-in FM Radio || Listen to FM radio
Calendar ||show the date
LCD screen ||Show the lyric of songs
Most low-price MP3 watches do not have any of above extra features. Since voice recorder is a very useful feature that allows you to record lectures, presentations, conversations. We usually recommend one to buy a model with voice recorder.

Supported Music formats
Suggestion: Check if it supports WMA
Most MP3 watches support MP3 format music files. Others support additional WMA, WAV and ADPCM formats. Support for WMA format is sometimes very useful as many online music store only buy WMA format music. Even though you can convert those WMA files to MP3 format before downloading to the MP3 watch, it is somewhat tedious. Below is a list of music formats from major online music stores. One can see that most use WMA format.
Service||File Type||iPod Compatible
iTunes ||AAC||Yes
NapsterWMA||No
RealPlayer Music Store ||Real AAC ||Yes
MusicMatch||WMA||No
Wal-Mart||WMA||No
BuyMusic||WMA, MP3||No
eBay Digital Music Downloads||Mostly WMA||No
Quality of digital voice recorder
Suggestion: check Sampling Rate 8Kbps or 44.1 Kbps
Some MP3 watch brands such as Xonix MP3 watches have a built-in voice recorder, but the recording format is ADPCM format, whose recording quality is very low (sampling rate is only 8Kbps) compared to the most advanced voice recorder at 44.1 Kbps such as the NSTAR MP3 Watches. The advantage is that low quality recorder can record long-time conversations. For example, 1GB Xonix MP3 Watch can record 72 hours of voice. The problem is that since the battery lasts only 8 hours for one recharge, recording 72 hours doesn't make much sense. On the other hand, the 1GB NSTAR MP3 Watches can have 5 times better recording quality and still record 14 hours. It is thus more desirable.

Flash Memory Size
Suggestion: the best price/function ratio is 512MB model MP3 watch. It can is enough for most usages. The writer of this guide has a 512MB NStar MP3 watch -:)
The memory size determines how many music/songs and computer documents you can store on your MP3 watch. It is also the major factor related to price. So one needs to make a compromise between the price and the capacity according to your own usage.
Memory Size||How many songs it can carry (WMA CD quality 64Kbps)||How many songs it can carry (high quality MP3 format 128Kbps)
assume each song lasts 4 minutes.||high-quality Recording time (44.1 Kbps MP3)||Recording time (8Kbps ADPCM)
128MB||4 hours (60 songs)||2 hours (30 songs)||6.5 hours||9 hours
256MB||8 hours (120 songs)||4 hours (60 songs)||13 hours||18 hours
512MB||16 hours(240 songs)||8 hours (120 songs)||26 hours||36 hours
1GB||32 hours(480 songs)||16 hours(240 songs)||52 hours||72 hours

EQ music Mode
To enhance some music performance, the EQ feature is very useful. Check if your MP3 watch model supports EQ mode selection including: Pop/Rock/Jazz/Classic etc.
Battery Time and Recharge
Suggestion: check AC adapter or buy AC charger

MP3 watches usually use different batteries for the MP3 Player and the watch function. So don't worry the watch will stop when your MP3 battery run out. Battery time is very critical for MP3 watches. There are two types of power supply for MP3 watches. One uses built-in Lithium rechargable battery. Another uses external AAA battery which can make the watches very small. Most popular MP3 watch models use built-in Li-battery.
There are two ways to recharge your MP3 watches with Li-battery. One simple way is to connect your MP3 watch to the USB port of your computer and it automatically recharges. Another way is that you can connect your watch to the AC wall power using an AC Adapter (Search "AC charger MP3 Watch" on ebay to find them). This is very useful as you travel around without carrying your computer.

Jack size for earphones
Tips: you can use your cell phone earphone for your MP3 watch
Most MP3 watches use the small 2.5 mm jack size for earphones while most headphones and earphones use 3.5 mm jack. Some models provide a FREE 2.5mm-3.5mm jack adapter to solve this problem. Optionally, you can listen to your mp3 watch with your cell phone headset. So if you lost your original earphones of MP3 watch, just go to your local cell phone store -:)

Brand, Brand, Brand or Price, Price, Price
suggestion: price is more important than brand when buying MP3 watches
As a new type of gadgets, the prices of MP3 watches on the market vary significantly, ranging from $100 to $600 for the 1GB model. There are only a few brands out there and there is no dominating brand yet. But honestly, most of them have similar quality as they are made of same types of IC chips. Many of the brands are made by the same factory if you compare their looks and designs. Since the major MP3 watch IC chips are only a few, the quality difference is marginal. In this regard, price is more important than Brand for most consumers.
Our conclusions: