Is Your Magnalite Cookware Genuine?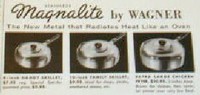 Magnalite by Wagner was hand poured and cast in Sidney, Ohio. (1934 - 1999) It is considered to be some of the finest American made cookware ever produced. Genuine Magnalite cookware is in high demand by collectors and daily users, alike.
From an Original Magnalite Care and Use Instructions Booklet... Magnalite [cookware] is made from aluminum and a special magnesium alloy which is an excellent heat conductor and reacts well to change in temperature, it is "cast as thick as two silver dollars" and "cooks food from all sides-it's like having an oven on top of your range (heat radiates from every part of Magnalite not from the bottom only.)" Can be taken from refrigerator to the oven.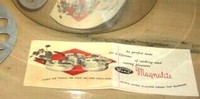 1934 - The Wagner Manufacturing Company of Sidney, Ohio developed and introduced the first blended Magnesium and Aluminum cast cookware line as WagnerWare Magnalite. (Mag-Ware)
1979 - The Wagner Manufacturing Division of General Housewares Corp, developed and introduced the first hard anodized cast cookware line as GHC Magnalite Professional. (Mag-Pro)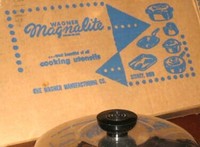 To be Genuine Magnalite, the cookware will be made of a magnesium aluminum blend and the bottom will bear one of the following stylized trademarks:
Wagner, WagnerWare (Wagner Ware) or GHC Magnalite



Today, Wagner Manufacturing is a division of American Culinary Corporation, producing authentic Wagner, Griswold and WagnerWare cookware, made in the USA.
Resources & Additional Information
Wagner & Griswold Society
5409 State Hwy 23
Norwich, NY 13815
Griswold & Cast Iron Cookware Association
223 Summit Circle
Lakeville, PA 18438
American Culinary Corporation
38364 Western Pkwy
Willoughby, OH 44094
====
Please note: American Culinary Corporation (Wagner, Griswold, WagnerWare) is NOT associated or affiliated with the World Kitchen, LLC (aluminum clad) reproduction of "Magnalite Classic" cookware, made in China.