The emotional satisfaction of getting something at the cheapest price is almost like a drug. People will go to any length to get it. If you want to see online commerce happen, take one of your popular sales items like a Disney Snow Globe and offer it for sale for $10 less than people can get it anywhere else.
It will be worth it, believe me, if you can establish yourself as one of everyone's regular stores. Pick a subject , hobby, collectible, you like and SPECIALIZE IN IT ! Try to be the biggest , best, and cheapiest seller on e-Bay for that item with the best selection of different makes, models, years, ect. Once your buyers realize how much better of a selection you have than others they'll shop with you first next time they go shopping on e-Bay. Branch out when you think you are at your peek with an item, secondary sales categories can quickly become your main source of profit. I started with sportscards, then added drug rep promotional pens (well over 100,000 pens sold on e-Bay in the past 2-years as my SECONDARY category that I started out knowing nothing about !) and now have many outlets that keep payments rolling in everyday when one market might be out-of-season or in a poor sales month.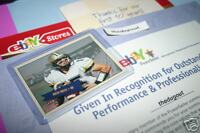 If you use lower prices to make your site a habit with some group of consumers, you can likewise lock up a valuable piece of real estate. (Hint: start today.) Lowering prices is not just a good trick to jump-start sales. It also makes economic sense in the long run. It's much cheaper to sell large amounts of items through e-Bays e-Stores than with live auction listings. If you split the savings with the consumer, you both win.
Well, hope this tip is helpful ! Please visit my e-Store, you can find my user id and e-Store info, along with my feedback and POWERSELLER status in the upper right hand corner of this review. By clicking on my e-Store you will go straight to my homepage with easy to search categories ! :0)
Thank You,
Scott
thedugout
THANK YOU FOR OUR FIRST 10-YEARS OF E-BAY SALES !!!!!