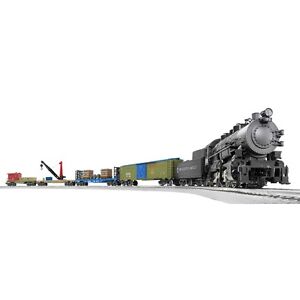 Lionel model trains are an American classic that date back to 1901. Despite a number of ownership changes and varying levels of popularity since then, Lionel trains have seen a revival in the past two decades with a number of new innovations. Choosing the Lionel railroad products that will provide the most enjoyment is a matter of personal taste, and selecting from among the many sets allows full customization of a train that is unique to its owner. Whether it is a starter set or rare vintage Lionel trains, collecting and building Lionel trains is an American tradition that provides countless hours of enjoyment.
Discover the History of Lionel Trains
Joshua Lionel Cowen, an inventor with an entrepreneurial spirit, first introduced Lionel trains to the world when he set up an electric train in his store window to attract customers. Instead of perusing merchandise, most customers wanted the train itself, and Cowen began to build model trains to keep up with demand. Soon production of the trains flourished to include different makes and models. An effective way to categorize Lionel trains is by time period.
Pre-War Lionel Trains (1901-1942)
In 1906, Lionel released a three-rail track it called standard gauge. Soon, other companies such as Ives and American Flyer began to build trains that ran on standard gauge, which they called wide gauge. After World War I, Lionel, along with Flyer and Ives, began to manufacture smaller trains, called O-gauge, in addition to their standard-gauge lines. Lionel weathered the Great Depression, releasing inexpensive products such as Mickey Mouse sets. Pre-war trains can be recognized by their metallic construction, colorful appearance, and hook couplers.
Post-War Lionel Trains (1945-1969)
After World War II, Lionel concentrated solely on producing O-gauge trains. This era saw trains that were less colorful than their predecessors, with an increased emphasis on realism. New innovations to the brand included sets that did not require tools to assemble as well as trains that produced actual smoke. This was accomplished by dropping a small tablet or drop of oil into the locomotive's smokestack. The couplers also changed during this time. Post-war Lionel train couplers come in two varieties. The first have a spring-loaded pin under the coupler, while the second are long and resemble a "G" shape. The latter of these couplers do not open.
General Mills and Richard Kughn (1969-1995)
In 1969, the Lionel name was sold to General Mills, and new trains were developed as part of General Mills' Model Products Corporation. During this period, trains became slightly less detailed, and plastic gradually replaced most metal parts. In 1982, the company relocated its production to Mexico, a move that resulted in heavy criticism from collectors. Fans cited a decrease in quality as a chief concern with the brand's direction.
Lionel was sold again in 1986, this time to real estate developer Richard Kughn. In the following years, the company returned to many of its old designs and renewed the focus on realism. One of the innovations in this period was a new form of audio called RailSounds, which developed as part of Kughn's collaboration with noted train enthusiast and musician Neil Young. Young also contributed the Trainmaster Command Control system to the Lionel brand, which allowed users to operate their Lionel train sets by remote control.
Current Era (1995-Present)
Richard Kughn sold Lionel to an investment group in 1995 that included Neil Young and Wellspring Capital Management. This new ownership group incorporated the company's original name, and became known as Lionel, LLC. At this point, Young owned 20% of the company and helped continue the company's push towards realism with an emphasis on classic models.
In 2004, Lionel, LLC created a train based on the popular children's book and film Polar Express. The train enjoyed immense popularity and became an instant collectible. Lionel, LLC continues to release new and innovative designs today, as well as replacement parts for its older, vintage models.
Choosing a Lionel Train, Track, Amp, and Accessories
To put together a Lionel train set that will provide lasting enjoyment, it is important to purchase items that are appealing to the collector's personal tastes. Some collectors take interest in trains from a specific era, others look for collectible Mickey Mouse sets, and still others build collections around trains with certain road names, such as Union Pacific, Southern Pacific, or Great Northern. Of course, it is also possible to purchase a Lionel starter set and be up and running in no time.
Lionel Train Locomotives
When collecting, it is usually best to begin with the locomotive. Some locomotives produce smoke and whistle sounds. Others feature Magne-Traction, magnetic wheels that allow an engine to pull more cars. When looking at pre-war steam engines and cars remember that couplers from this era aren't compatible with post-war couplers. For beginners, modern-era diesels (rather than post-war) such as the GP-7 or GP-9 are a quality choice. Look for a locomotive with three positions: forward, reverse, and neutral.
Lionel Train Cars
Once an engine is obtained, decide which kinds of cars are desired in order to build the rest of the collection. There are several different types of rolling stock available, including boxcars, refrigerator cars, gondolas, flatcars, and cabooses. Each of these has its unique types and variations. Searching images of these cars online can provide a strong idea of which cars are desired for a particular set.
Lionel Train Power Source and Controls
Both single-throttle and double-throttle transformers exist for Lionel trains. The 1033 transformer from the 1950s is an appropriate choice for a single-throttle transformer. A powerful transformer (around 190 watts of power) allows for plenty of future expansion. If collectors want a modern control system, consider TrainMaster, the sophisticated radio-controlled (R/C) system that allows users to control multiple trains on a single track.
Lionel Train Accessories
Lionel is well known for its accessories. Beginners may be interested in track-side signals, such as 151 semaphores and 252 or 152 crossing gates. It might also be interesting to add a 45 gateman shack to the set. Obtain a structure such as the 125 whistle shack or 445 signal tower. Lighting, in the form of a searchlight or flood towers, adds atmosphere to any set. The possibilities for accessorizing a particular set are numerous, so look around and find the accessories that will best complement the specific set.
Lionel Train Track
Lionel train track is recognizable because it has three rails. Gauge refers to the distance between the rails. The common gauge for modern Lionel trains is O-gauge, which measures 1¼ inches between the outer rails. Lionel O-gauge tracks come in two kinds: O and O27. It takes eight pieces of track to make a circle. An O-gauge circle has a 31-inch diameter, and an O27-gauge circle is 27 inches in diameter. Although O27 trains will run easily on an O track, running O trains on O27 track is more problematic. Because O-gauge train cars are longer, they can derail or get stuck in the turns of the tighter O27 track.
Identify and Determine the Value of Vintage Lionel Trains
The identifier on vintage Lionel trains consists of four numbers. Users can find them on the bottom or right side of the train. After determining the product number, look up the train in a guide, such as Greenberg's Pocket Guide, to get more information. Other manufacturers, such as American Flyer and Marx, printed numbers on their trains as well. Marx trains, which look similar to O-gauge Lionel trains, used three-number identifiers rather than four numbers.
Knowing the value of trains is important for beginning enthusiasts as well as seasoned collectors. Demand often determines the value of a train. Some vintage Lionel trains sell for close to their original price, while others go for much more depending on rarity. The collectors market is highest for trains made before 1969. Particular road names such as Lionel Santa Fe or Lionel Union Pacific may be in higher demand, increasing their value.
As quality increases, so does value. Broken or missing parts, large scratches, rust, or chipped paint all have a negative impact on value. However, trains in poor condition are often valuable sources for parts. Remember that the grade of a train refers to the condition of the exterior finish as well as all interior components. If parts have been replaced or restored, this should be clearly noted. Here are the guidelines for condition as established by the Train Collectors Association (TCA).
| TCA Condition Grade | Explanation |
| --- | --- |
| Mint Condition C-10 | Lionel trains in mint condition are completely new, unused, and have all original parts. |
| Factory New C-9 | Lionel trains in factory new condition are new and unused with all original parts. They may show evidence of slight defects in the manufacturing process, wear from shipping and handling, or test runs at the factory. |
| Like New C-8 | Lionel trains in like new condition have no scratches or blemishes and are in original condition. They may show signs of age or light use. |
| Excellent C-7 | Lionel trains in excellent condition are clean, not rusted, and have only very small nicks or scratches. |
| Very Good C-6 | Lionel trains in very good condition have some scratches but no dents or rust, and they may have had minor parts replaced. |
| Good C-5 | Lionel trains in good condition have some scratches, dents, and signs of use. |
| Fair C-4 | Lionel trains in fair condition are well worn and may have dents, rust, or warping. |
| Poor C-3 | Lionel trains in poor condition are damaged but good for parts. |
| Restoration Required C-2 | Lionel trains below poor condition require replacement of parts and exterior restoration to be of value. |
| Junk C-1 | Lionel trains in very poor or unusable condition are considered valuable only for scrap parts. |
The value of Lionel train parts also increases if they come in the original packaging. Any train or accessory that comes in a sealed blister pack is highly valued by collectors. Among collectors, the value of a Lionel box can sometimes be greater than its contents. Boxes have been known to sell for over $1,000 depending on scarcity and condition. Ratings for boxes are New, Like New, Excellent, Very Good, Good, and Fair.
As with all collectibles, the grade of an item is largely subjective, and is usually determined by an agreement between both buyer and seller. Be cautious of sellers who grade their items unrealistically high. For example, as a consensus among most collectors, like new condition pieces or higher from the pre- and post-war eras are nearly nonexistent.
Find Lionel Trains on eBay
After determining which type of Lionel Train to shop for, go to the eBay home page and click the All Categories link. From there click the Toys & Hobbies link and search for Lionel. The Categories list on the left side of each page will help narrow down the listings by item type. Search eBay listing titles for specific words. For example, to find Lionel Santa Fe trains, type "Lionel Santa Fe" (without quotation marks) into the search box.
Visit eBay's Customer Support pages for more tips on searching with keywords. If keywords are not producing the desired results, try shopping eBay Stores and following the Toys & Hobbies link in Stores Directory. Alternately, inform the eBay Community about a desired item by creating a post on Want It Now,, or save a search on My eBay and eBay will send an email when a match becomes available.
Buy Lionel Trains With Confidence
Before making a purchase, be clear on the exact train pieces being bought. Research sellers, and understand how eBay and PayPal protect purchases. Carefully read the details in item listings, and figure delivery costs into the final price. If the train is an expensive one, be sure the seller will insure it when it ships. If more information is needed, ask by clicking the contact link under the seller's profile.
Always make sure to complete transactions on eBay with a bid or Buy It Now option. Transactions conducted outside of eBay are not covered by eBay protection programs. Never pay for a train or any product using instant cash wire transfer services through Western Union or MoneyGram. These payment methods are unsafe when paying an unknown party.
Research sellers to feel positive and secure about every transaction. Check their feedback scores, as well as the number of transactions they have completed. What percentage of positive responses do they have? What do buyers say in their feedback? Did sellers receive praise? Most top eBay sellers operate like retail stores and have return policies, sometimes including money-back guarantees. Always check the terms and conditions of a transaction before buying.
Questions about a particular listing should be directed to the seller. Experienced sellers will want to satisfy questions in order to encourage buyers to return for future transactions. When a quality model train seller is found, inquire about an eBay Store, especially if the seller specializes in a favored era or model of train. As a collector, forging a relationship with more experienced sellers who reliably get experts to appraise their items can provide increased peace of mind.
In the unlikely event that an item is not received, or is not as described, eBay Buyer Protection will cover the purchase price plus original shipping.
Conclusion
Lionel trains have a long and remarkable history. The brand has seen several changes in ownership that has influenced everything from the style of the cars to the country in which they were made. Today, Lionel, LLC continues to make cars modeled after the company's most popular series, dating to before 1969. Regardless of the size, type, or complexity of the set desired, Lionel trains enable people of all ages to connect through one of America's oldest and most beloved hobbies.