Lexus Navigation Update Date Version 12.1 is now available for purchase - SEE OUR LISTINGS FOR DETAILS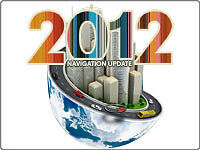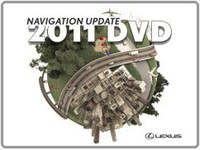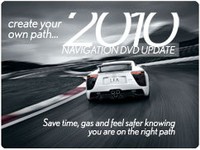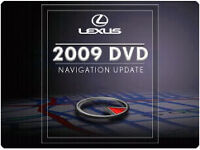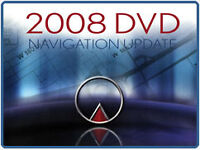 Check available listings for the latest 12.1 Lexus navigation update.
Your Lexus Navigation System - this guide is to explain the complexities - or rather simple versions of the Lexus Navigation Update DVD's and Hard Drives from Lexus and how this will affect you buying decision here on eBay. SC430, ES330, ES350, RX300, RX330, RX350, GS300, GS350, GS430, GS460, LS400, LS430, LS460 IS300, IS250, IS350, IS-F, GX470, GX460 and the LX470 & 570 Navigation System.

Lexus navigation systems (commonly referred to as Nav or Navi) utilize the Global Positioning System (GPS), a network of more than 20 satellites orbiting the earth. Through a GPS receiver, the navigation system communicates with four or more of these satellites to determine the distance to each, utilizing the information to deduce the vehicle's location. Thus, when combined with a computer and monitor, a GPS navigation system can place a vehicle on a map at any particular location and trace the vehicle's path as it moves. In addition, such systems can provide additional applications including various types of routes and points of interest, as well as intersections and freeway entrances. This Lexus system offers voice guidance, the latest technology and a large, easy to use multi-display screen.
The Lexus Hard Drive (Generation 1): Lexus' hard drive based navigation system was introduced with the 1998 model year and was used through the 2000 model year. This navigation configuration is commonly referred to as Generation 1. The Lexus Navigation generation one technology can be found in the 1998, 1999 and 2000 model years for the GS300, GS400, LS400 and the LX470 (started in 99').

The hard drive in Generation 1 system has a does not exceed the 2.0 GB capacity. The map database information supplied to Denso by NavTek is now much larger and exceeds the storage capacity of the hard drive. This system cannot be re-engineered to hold more data.
The final hard drive map database available now, is the 2005 version to which was released July of 2004. This hard drive continues to be available for those Lexus owners with older updates in there vehicle. Again, updating your navigation is strictly on a voluntary basis only.
6.1 (2006 Calendar Year, released October 2006)
7.1 (2007 Calendar Year, released October 2007)
8.1 (2008 Calender Year, released October 2008)
9.1 (2009 Calender Year, released October 2009)
10.1 (2010 Calender Year, released October 2010)
11.1 (2011 Calender Year, released October 2011)
12.1 (2012 Calender Year, scheduled release October 2012)
13.1 (2013 Calender Year, tentatively scheduled October 2013)
Q & A

Q - How do I check the map version in my Lexus?
A - Generation 1 users, press [MENU] --> [Map Info] --> See screen display for mapping version
Generation 2/3, press [MENU] --> [System Option] --> See screen display for mapping version
Generation 4, press [MENU] --> [Map DVD] --> See screen display for mapping version
Generation 5, press [MENU] --> [Map DVD] --> See screen display for mapping version
Generation 6, press [INFO] --> [Map DVD] --> See screen display for mapping version




Q – How do I install my new navigation disc?

A – While we would recommend your local dealer to perform the installation, we have found many of our users prefer to install the DVD navigation update themselves. All navigation DVD navigation discs are to be inserted in the navigation computer, similar to a typical home DVD player. Refer to our installation guide shown on the product page to reference your vehicle.


Q- What's on the Update?

A – Each annual update made available by Lexus increase the amount of navigable roads, digitized miles and the number of POI's (Points-of-Interest). This will be similar to upgrading your regular road maps.

Q – What generation is my navigation?

A – You may refer the application chart, What generation is my navigation?


Q – Can I upgrade my navigation to the next generation?

A – No. The Lexus Navigation System is only installed in Lexus vehicles by the factory. The Navigation System installed in Lexus vehicles at the factory is not available for purchase as an after-market dealer-installed option.


Q - What should I consider before updating my DVD Navigation System?

A - 1. Updates are completely voluntary and are not necessary for optimum performance. 2. Most drivers will not experience a significant mapping change with an Update. Just like most people do not change their regular maps every year, most people do not need to update the Navigation maps every year. 3. You should be aware of the release timing of future Updates. For example, updates typically become available in the Fall. If the Fall is only a few months away, you may want to wait for the next Update, rather than getting the currently available Update which will no longer be "the latest" after a few months.


Q – How is my navigation system updated?

A – Starting with 2001 model year vehicles, the updates are performed by the dealer installing a DVD update disc. The system is not designed so that a customer can update the software.


Q – I live in Hawaii – do I have coverage?

A – Mapping information is now available, but on Generation 5 and Generation 6 navigation systems only.


Q - What should be used to clean fingerprints on the navigation screen?

A- Use an eyeglasses cleaning cloth for cleaning fingerprints from the screen. Do not use any cleaner containing ammonia to clean the screen.


Q - Is the Navigation System screen legal in all states?

A- The Navigation System Owner's Manual states "Use this system only in locations where it is legal to do so. Some states/provinces may have laws prohibiting video screens within sight of the driver."It is up to each individual state to interpret if the state's laws apply to the Lexus Navigation System. One thing to consider is that the "Screen Off" function may be selected which will cause the screen to go black. The voice guidance feature can continue even with the screen off.
What Generation Navigation is in my Lexus?
Shown below is a list of Lexus models shown with the generation of navigation technology equipped in each.
Generation 1 (Hard Drive)
1998-2000 GS300
1998-2000 GS400
1998-2000 LS400
1999-2000 LX470
Generation 2/3 (
U01, U02, U03, U04, U05, U06 & current version U07
)
2001-2005 GS300
2001-2005 GS400
2001-2003 LS430
2002-2003 ES300/330
2001-2004 RX300/330
2001-2003 LX470
2002-2005 IS300
2002-2004 SC430
2003-2004 GX470
Generation 4 (U21, U22, U23, U24, U25, U26 & current version U27)

2006 GS300
2006 GS430
2004-2006 LS430
2004-2006 ES300/330
2005-2006 RX330
2006 RX400h
2004-2007 LX470
2005-2006 SC430
2005-2006 GX470
Generation 5 Navigation (U3
1, U32, U33, U34, U35, U36 & current version U37
)
2007-2009 GS350
2007-2009 GS430/460
2007-2009 GS450h
2007-2009 ES350
2007-2009 RX350
2007-2009 RX400h
2007-2009 GX470
2006-2009 IS250
2006-2009 IS350
Generation 6 Navigation
(USB Dongle Update Only)
2010-2013 GS350
2010-2011 GS460
2010-2013 GS450h
2010-2012 HS250h
2010-2013 ES350
2010-2013 LS460
2010-2013 RX350
2010-2013 RX400h
2010-2013 GX460
2010-2013 IS250
2010-2013 IS350
2010-2013 LX570
**The next scheduled navigation update (Version 12.1) is to be released early October, 2012. Check our listings**