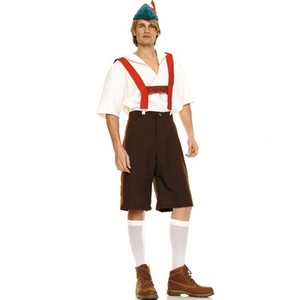 Lederhosen (properly pronounced "LAY-der-hoe-zen") are short or knee-length leather pants that have suspenders and a front flap. Lederhosen originated in German-speaking countries among the Alps, including Austria and especially Bavaria, which is the largest state in Germany and is located in the south of the country. They are not, as is often assumed, traditional national costumes. Rather, they have historically been worn for hard physical work, and today they are mostly leisurewear for working-class men.
"Lederhosen" means "leather breeches" in German, and the pants are made of leather or suede because the materials are durable and easy to keep clean. They remain regionally popular, and are considered evidence of masculinity and muscular strength, much like the kilt in Celtic countries. In order to be considered lederhosen, the breeches must feature cuffs, suspenders with a crossbar, a front flap with two buttons, and sometimes a small pocket for a knife. The specific details and styles of embroidery will typically vary according to region. This buying guide presents some of the history of lederhosen, discusses what to look for when purchasing them, and gives instruction on how to find and buy them in brick and mortar stores and online sites like eBay.

History of Lederhosen
Lederhosen have been worn by Germanic men in the Alpine areas, including Bavaria, Austria, and northern Italy, since the 17th century when they were worn for work in the fields. When cloth and wool trousers became more popular in the subsequent century, lederhosen began to be worn less frequently. Their decline of their popularity in fashion is also attributed to their association with lower-class peasants and working people, which people of means wanted to avoid. Lederhosen were revived by Joseph Vogel, who championed the preservation of traditional Bavarian values, and encouraged proud men to wear them everywhere. This included a recommendation to wear them to church, despite the objection of church officials who claimed that the garments were too sexy for such a setting. They enjoyed a full resurgence of popularity after the Bavarian King Ludwig II declared his appreciation for lederhosen in the mid-1880s.
The garments were especially prevalent in the countryside of Salzburg, where Emperor Franz Joseph and his royal court often vacationed during the mid-19th century. They adopted the clothing worn by the country folks there, and soon lederhosen (and women's dirndls, or dresses with a bodice, a blouse, a full skirt, and an apron) became very fashionable throughout that region of Europe. They are not often seen in Switzerland or southwestern Germany, however.
Lederhosen Today
Many people are most familiar with lederhosen from the classic musical film "The Sound of Music," which takes place in Salzburg. Others continue to associate the garments with Oktoberfest, but the garments long precede both the movies and the autumnal celebrations of Germanic beer and culture. They are a source of regional pride and masculine virility in Alpine regions, and they are worn by men while gardening, working outdoors, hiking, attending folk festivals, or going to beer gardens. Nowadays, some women wear lederhosen, with very brief shorts to achieve a certain level of sex appeal. There is historical precedent for women to dress in practical lederhosen, since female farm hands and milkmaids have been doing so for centuries. There are lederhosen for children, as well, which are simpler than adult versions are and can be found in a variety of bright colors.

What to Look for When Buying Lederhosen
Lederhosen can be found in shops all over the Bavarian regions of Europe, but for the shopper who does not want to travel that far, they can be found online in many different styles and colors. They are made in various lengths, from short shorts to mid-thigh lengths to breaches that end at or near the knee. There are lederhosen that are ankle-length, which are usually worn without the typical suspenders or braces.
The breeches themselves usually come in earth tones, ranging from black to grey, from dark brown to light tan. The traditional Bavarian shirts that are worn with lederhosen are typically either solid white or are made in a gingham-style checkered pattern, most commonly in bright colors.
Intricate embroidery on the trousers and suspenders is an important feature to look for in lederhosen. Traditionally, the embroidery represented a certain region, and it has been a point of local pride in rural areas and small villages. People often owned several sets of lederhosen, some for everyday work and leisure, and special sets for special occasions.
Lederhosen Accessories
The proper shoes are important for completing an authentic set of lederhosen. Wearing sneakers with them is definitely frowned upon, for instance. The preferred footwear is called Haferlschuhe and is often sold along with the lederhosen. They are to be worn with grey or cream-colored socks that are either ankle-high or knee-high. These Loferl style of socks are ankle-length and have a separate band that goes around the calves.
Traditional jackets that are worn with lederhosen are called janker and are usually worn for special occasions like weddings rather than casual for Oktoberfest celebrations. They come in subtle colors like green, brown, or grey and are typically made from wool. Felt hats are also worn for festive occasions and are often decorated with badges and pins or a special ornament called a Gamsbart.

Lederhosen Explained
In addition to the iconic short pants with cross-barred suspenders, there are many elements to traditional lederhosen, including specific kinds of shirts, socks, shoes, hats, and accessories. The chart below explains the different features of lederhosen, plus information about Bavarian dress for women and children.

| Lederhosen Item | Description |
| --- | --- |
| | Short lederhosen are leather or suede pants that reach to the mid-thigh or above the knee and were originally worn while hunting or working in the fields. Some are embroidered with fanciful stitching to make them appropriate to festive occasions. They feature cuffs, a front flap, H-shaped suspenders and are available in a variety of earth tones, most commonly in various shades of brown and green. |
| | Longer lederhosen, reaching to the knee, are sometimes referred to as "knickerbocker" or "kniebund" lederhosen. This style is older than the shorter version is, and it was originally worn only for special occasions. They are typically made of deerskin, they usually feature lacing on the side and at the knee, and they have suspenders or braces that are generally V-shaped and embroidered. |
| | Bavarian shirts come in plain white or in a variety of brightly colored checkered patterns in reds, blues, purples, pinks, and greens. Some sport embroidery decorating the shirt's button-down front and in designs that feature Bavarian details like edelweiss and animal or hunting motifs. Others are fashioned to slip on over the head with a horizontal breast latch. Bavarian shirts are designed to be comfortable, easy to care for, and durable. |
| | These Bavarian jackets are traditionally made of lambswool and feature decorative buttons that are made of buckhorn or metal. The wool is specially processed to achieve excellent temperature-regulating properties. |
| | Made from wool or velvet, Bavarian vests are an important element of traditional attire. They are often worn for festive occasions, but they are also popular for more casual wear. They come in green, red, grey, black, and many shades of brown. |
| | The shoes that are traditionally worn with lederhosen are extremely sturdy and comfortable, and they are superb for hiking and other outdoor activities. Made of sturdy leather with side-tie laces and heavy soles, they are sometimes called Haferlschuhe. This name comes from the moniker "half shoes" that was bestowed upon them by British tourists in the nineteenth century. |
| | Traditional Bavarian socks are made of high-grade cotton in neutral colors such as white, beige, or grey, and they are generally knitted in intricate patterns. They come in two variations: Haferl socks, which are regular knee socks, and Loferl socks, which are made in two pieces that include an ankle-length sock and a separate piece that covers the calf for warmth and style. |
| | The hats that go with traditional Bavarian dress are also derived from hunters' equipment. Outdoorsmen wear hats to shield their eyes from the sun and to protect their heads from the rain. They are made of loden cloth, which is a loosely woven, water-resistant felted wool that are usually found in grey, black, or green colors and are decorated with pins, badges, feathers, and other ornaments. |
| | This hat accessory is made from the beard of an Alpine elk or from the hair of other Alpine animals like deer, badgers, and wild sows, typically dark with light tips. The lower end of the tuft of hair is enclosed in an ornamented metal cone, which allows the upper end of the tuft to spread in a brush-like fashion. The Gamsbart is perceived as accentuating the manliness of the wearer. |
| Women's Attire | Women traditionally wear a dirndl, which is a dress with a lace-up bodice that is worn with a low-cut blouse and an apron. There are also lederhosen for women that tend to be quite short. |
| Children's Lederhosen | Lederhosen for children replicate the details of the adult garments, including the leather short pants with suspenders, front flap, and even knife pockets. They also come in a variety of colors. |

With the information that has been presented in this guide and with the details in the table above, any shopper will be well prepared to purchase individual articles of lederhosen and Bavarian clothing or find and buy a full ensemble of these classic garments.

How to Find and Buy Lederhosen on eBay
Although lederhosen can be found in many costume shops and specialty stores, online sites like eBay will often have the greatest selection and ease of purchase.
Searching for Lederhosen on eBay
It is very easy to find just the right lederhosen on eBay. Begin on the homepage and simply type "lederhosen" into the search bar. On that page of results, you can refine your search by clicking on the Category filters to find the listings that are most applicable to the items that you need. You can also narrow the selection by narrowing your results based on the condition of the lederhosen that you are looking for (new, used, etc.), on the color that you want, on your desired price range, or even on particular sellers.
Keyword Searching
If you know the specifics of what you are shopping for, you can begin with an even more carefully targeted keyword search. For instance, if you know you want brown suede lederhosen, type that phrase into the search bar on the eBay homepage and you will go directly to a results page full of items from which to choose. As another example, if you are looking for a lederhosen that are knee-length or longer, type in "kniebund" and you will see plenty of options.

Conclusion
Whether they are worn for occasions like Oktoberfest, for a Halloween costume, or for getting in touch with one's own ethnic heritage, lederhosen are comfortable, durable, affordable, and readily available at retailers like eBay. With their roots in the rough-and-tumble hunting and farming cultures of German-speaking Alpine areas like Austria and the Bavarian regions of Germany, lederhosen are considered attire that emphasizes the wearer's virility and manliness. The pants are made from leather or suede with cuffs, a front flap, and suspenders or braces with a cross bar, and they are traditionally worn with special Bavarian shirts, socks, shoes, and hats. Some are embroidered with whimsical designs that often denote certain regions.
Although lederhosen are often available in department stores and specialty shops as Oktoberfest celebrations draw near, the best selection will typically be found at online stores like eBay, where shoppers can find garments and accessories for all sizes and every imaginable occasion, from an ethnic wedding, to a beer garden event, to a "Sound of Music" sing-along. With the information that has been presented in this buying guide, the savvy Herr, Frau, and Fraulein will be able to find just the right lederhosen for just the right price.