* I wrote this Guide in 2006 to tell you about Collecting Brilliant Glowing Persimmon Orange Manganese Glass which changes colors under a Blacklight *
Similar to Vaseline (Uranium laden) Glass - which glows shades of green in a black light - Manganese laden glass glows orange (various orange hues) in a black light.

Here is Fascinating Information about Manganese Laden Glass:
The first known glass with orange glowing properties was Ancient Egyptian glass, particularly purple glass, which was found to contain manganese. Manganese causes it to glow vibrant orange and / or peach and / or tangerine under a blacklight. This glowing component - Manganese - has been added to glass objects for many centuries - to achieve particular coloration in natural light, not necessarily to make it fluoresce. Many amazing manganese laden items were created in various countries over the years. Manganese glass, like Vaseline glass, is highly sought after, collected widely and becomes more scarce and valuable with time. Today, serious collectors have large glass cases, in their homes, with blacklights to show off their incredible collections. The amazing luminescent qualities of this type of glass are quite exciting and vivid.
Please see an everchanging array of Manganese glass offerings in my store - by clicking on the link below:
and... Here are some fabulous examples of incandescent manganese art glass I have sold on ebay over the last few years: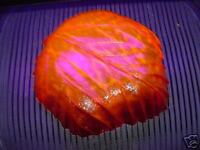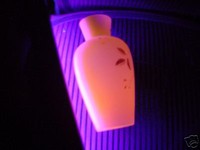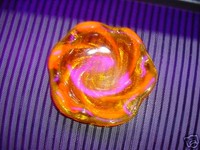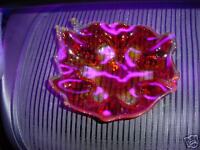 photos 1 through 1O:
Fenton glass bowl

Japanese Vintage glass Bottle Vase

Art Deco Modern Large Glass Bowl

Incredible Glowing Signed Art Glass Flowers

Blenko Art Glass Bowl

Blenko Glass Freeform

Signed Italian Murano Large Art Glass Leaf Bowl

188Os - 19OO Exquisite Enameled Bohemian Art Glass Vase

Fenton Glass Ashtray or Bowl

Very Rare Signed - Sand Etched - 1959-196O Blenko Art Glass Leaf Bowl
Copyright 2006 2007 2008 2009 2010 2011 2012 2013 2014 The Winged Phoenix