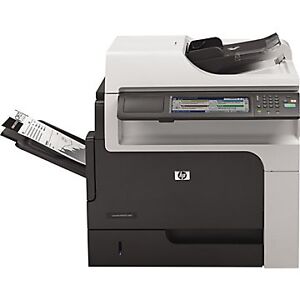 Print high-quality documents and photos at top speeds with a laser printer. Whether you're a desktop publishing pro or just need a professional-quality printer for your home office, you can find the perfect laser printer and laser printer accessories on eBay.
Select a Laser Printer That'll Work for You
Laser printers can save you time and money when printing large volumes of work. Although they typically cost more than ink-jet printers, laser printers can produce more prints at faster speeds. Also, laser toner typically costs less per printed page than ink cartridges used by ink-jet printers. Popular brands of laser printers include Brother laser printers, Dell laser printers, Epson laser printers, HP laser printers, Lexmark laser printers, Minolta laser printers, Samsung laser printers, and Xerox laser printers. Choose the type of laser printer that best fits your needs.
Color laser printers: If you print a lot of graphics-heavy materials, such as brochures, you may want to choose a color laser printer. These printers use CMYK toner, which combines cyan, magenta, yellow, and black to create all the colors of the rainbow.
Once you decide on the type of laser printer you want, you'll have to choose a laser printer that best suits your printing environment.
Personal laser printers: If you need a laser printer for your home office or small business, a personal laser printers may fit the bill. These can print hundreds of pages a day. If you want everyone in your small office to be able to use the same printer, set up a print server on a dedicated computer, or buy an external print server.
Laser printers for workgroups: If more than 10 employees will be sharing one printer, consider a workgroup laser printer.
Network laser printers: Connect a high-speed network laser printer directly to your local area network (LAN) so that everyone in your office can use it.
Stock up on laser printer supplies
When buying your printer, make sure you get everything you need to set it up and start printing. You can find all the supplies and accessories you need on eBay. Look for premium paper, black laser toner or color laser toner, printer cables, printer cleaning kits, and printer repair kits.
Evaluate Laser Printer Features
Most importantly, make sure the laser printer you buy will work with your computer's operating system. Many printers are cross-platform performers, but some may work only with Windows-based PCs.
Resolution: Resolution is measured in dots per inch (dpi), with higher resolution offering better image quality. Look for a minimum resolution of 600x600 dpi for plain text, and 1200x600 dpi to 5760x1440 dpi for photos.
Speed: Laser printers are capable of incredibly fast performance. Some printers can shoot out upwards of 20 pages per minute. However, manufacturers usually base their stated print speeds on pages printed at the lowest quality setting, so your printer's performance is likely to vary. Color printouts take longer than black-and-white printouts.
Paper handling: Choose a printer that can handle the types of paper you want to use. Some models can print onto heavy stock, transparencies, and labels. Most will print text and images to letter-size paper, legal-size paper, and envelopes, depending on the print options you choose. If you plan to frequently print to different-sized paper, look into a printer with several paper trays, and note the capacity of each tray. Many laser printers feature large paper trays for high-volume jobs. High-end printers may offer multiple output trays, collators, and automatic staplers. Also, if you tend to scan or copy multiple sheets of paper, look into a multifunction printer with an automatic sheet feeder (ADF), so you don't have to feed each sheet of paper individually.
Memory: Like your computer, printers have an onboard processor and memory. With more memory, your laser printer can handle numerous print jobs without error. Memory is especially important if you are printing graphics-heavy color documents. If your printer doesn't have enough memory to handle these intensive jobs, it may slow down your computer. Some laser printers allow you to add memory later—look for one that supports memory upgrades.
Connections: Check that the printer comes with the correct cables to connect with your computer. Printers commonly use USB 2.0 to connect to a single computer or, in the case of network laser printers, a network connection cable.
Find Laser Printers on eBay
Once you know what type of laser printer you want, go to the Computers & Networking portal, click the Laser Printers link under Printers, and start searching for items on eBay.
Keyword search: Search eBay listing titles for specific words. For example, if you want to find color laser printers, type "color laser printer" (without quotation marks) into the Search box. Click "Search title and description" to expand your results. Visit eBay's Search Tips page for more tips on searching with keywords.
If you can't find exactly what you want, try shopping eBay Stores, tell the eBay Community what you want by creating a post on Want It Now, or save a search on My eBay and eBay will email you when a match becomes available.
Buy Laser Printers With Confidence
Before making your purchase, make sure you know exactly what you're buying, research your seller, and understand how eBay and PayPal protect you.
Know your purchase
Carefully read the details in item listings.
Figure delivery costs into your final price. If you spend a lot of money, make sure the seller will insure the item when it ships.
If you want more information, ask by clicking the "Ask seller a question" link under the seller's profile.
Always make sure to complete your transaction on eBay (with a bid, Buy It Now, or Best Offer). Transactions conducted outside of eBay are not covered by eBay protection programs.
Never pay for your eBay item using instant cash wire transfer services through Western Union or MoneyGram. These payment methods are unsafe when paying someone you do not know.
Know your seller
Research your seller so you feel positive and secure about every transaction.
What is the seller's Feedback rating? How many transactions have they completed? What percentage of positive responses do they have?
What do buyers say in their Feedback? Did the seller receive praise?
Most top eBay sellers operate like retail stores and have return policies. Do they offer a money-back guarantee? What are the terms and conditions?
Buyer protection
In the unlikely event that you don't receive your item or it is not as described, eBay Buyer Protection will cover your purchase price plus original shipping. Learn more.