This is a guide to help educate buyers about the Lane Cedar Chest. John Lane bought a box plant in the little town of Altavista Va. in 1912 and encouraged his twenty one year old son Ed to try his hand at making chest. John or Ed weren't exactly sure how this endeavor was going to turn out so they decided not to put their name on the chest and instead called it the "Standard Red Cedar Chest". In 1951 the Lanes enjoying a decent success, moved into making occasional tables,from there they began making case goods in1956, accent pieces in 1965. Then in 1972 the Lane's purchased a small but very prosperous recliner chair company in Tupelo Mississippi and went on to become "Lane home furnishings", Lane is now owned by Furniture International, who also owns Broyhill, Thomasville, Drexel Heritage and Maitland Smith.
Because of their quality and fine workmanship the Lane Cedar Chest all gain in value with age, especially those made before 1940. The Struggling little company got an economic boost during World War I and again in World War II when the then nationally advertised brand, drafted the all American girl, Shirley Temple to help them convince every GI leaving for the front to buy his girl a "hope chest."
Lane Cedar Chest vary in value depending on age and condition, some sell for several thousand dollars while others can be purchased for under a hundred dollars. When purchasing a Lane chest of any age the first this thing you want to do is verify it's authenticity, this can easily be done by verifying the serial number and the style number which is burned into the wood on the bottom of each chest. You can also tell the age of the chest by reading the serial numbers backward, for example, serial #591403 actually means,
Manufactured March 14th, 1959 ( see pic)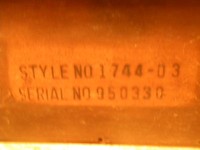 This important trademark was to prevent cheap imitations from being sold as true Lane chest and driving the price and value down. Today the Lane Name still means quality and many of the chest that were for so long called "Hope Chest" are now virtual "Treasure Chest".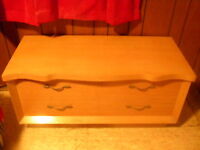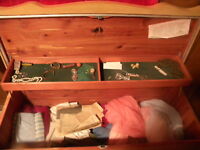 Antique Cedar Chest