Selling books on eBay is a fascinating undertaking for both the seller and the buyer. Book buyers, particularly those who are seeking rare, out of print, antiquarian and historical books, are knowledgeable about what they are seeking. With this in mind, book sellers must be equally fit for the task of providing very important information about the books they are offering. When focussing on the areas of history, government, international studies, military and wars, your potential customers are enthusiastic hunters who are looking for 1) very specific types of books, or 2) books that fall within their area of interest or expertise. Your audience can consist of many types of buyers and collectors: students, academics, libraries, scholars, history buffs, war veterans and international historians. As you become more familliar with your wide array of buyers, you will know how to create listings that are most beneficial for them.
There are two very important factors to consider when placing a book of historic interest up for bid: Content and Condition. Content covers the actual text and literary content of the book. Condition explains factual information about the specific physical book that you are selling; the kind of binding, the condition of the pages, the book's status as either in print, out of print, rare, scarce or many of the other factors that reflect the desirability of the book itself. Both of these catagories, when researched as fully as possible, will give your seller all the information that he or she would need to when trying to find just the right book.
Content:
Content is the reason people search for books at the start. In the specific area of History books, scholars and enthusiasts alike are often searching out volumes that will complete their knowledge of a particular time or place in history. This makes your potential buyers an interesting and sometimes unpredictable group. Sometimes, it is difficult to know if a history book that you'd like to sell is of much importance to the public, and therefore can't be sure if it will indeed sell. It is very helpful to do some searches through eBay to see what books are of most interest to buyers. An eBay search for Books: Antiquarian and Collectable is a great place to begin. This is where you'd be selling out of print and rare books. A quick glance through the listings shows you the broad range of interests that book collectors have, and what they consider a fair price for books of a particular subject. This is a picture of a rare policital party handbook that was printed in Singapore that was sold at a high bid, with a photograph of the content on one page: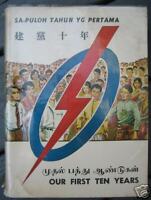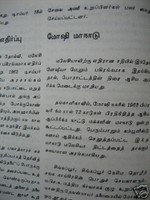 This is a prime example of a very particular text that was of interest to many different potential buyers. Part of the importance of the book was the fact that its content was printed in four different languages, making it a rare find, and in this case, also an important political book from the early 1960's that had fallen out of print.
It is very important that you know the content of the book you are selling. History books are a great choice for selling because history is all around us. The internet provides a vast array of resources with which to find out about the subject of your book. You must also peruse the book itself for key factual information about its content. Sellers would like to know exactly what is covered in the book they are buying. Some great ways to summarize content are: 1) listing the names of the chapters in the book's contents, 2) including (with quotation marks) a line or two from the text's preface 3) reading through a few chapters of the book and writing your own 3-4 sentence summary of the text. Don't assume that your buyer knows everything there is to know about the book your selling. Let him or her know that you've done your research and want to pass along as much information about the book as possible.
Condition:
The term condition covers many of the important physical characteristics of a book. There are a number of reasons why a book's condition is important to a seller. To begin, students and amateur historians may be looking for very specific kinds of books: books published in a certain country, books that are first edition, books that are in pristine or 'mint' condition for a library, books of any condition as long as it fits their research needs. In any case, it will be vital to your sale to describe your book's condition with as much detail as possible. Using photographs is a great way to begin; listing that important and rare book requires clear, detailed photographs that show the true condition of the book. In this example, many photographs were used to show the book's condition: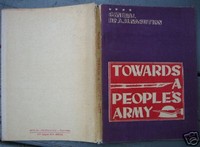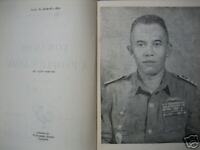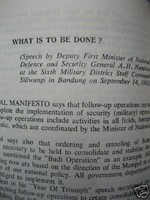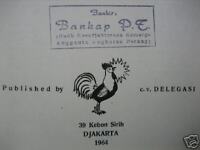 Here we see four views of an Indonesian political pamphlet, in order: 1) book with front and back cover and spine, 2) front title page with author's photograph, 3) photograph of the text, and 4) publisher name, year and country. Using this much detail with photographs will tell a potential buyer exactly what you are selling, how well the book has been kept (particularly using a photograph of the covers and spine), and what information is known of the book's origin (place of publishing and year.) For persons who are studying particular political, historic or military-related topics, this data is very important - they may require a very specific edition of a book, or want to know if you are selling an expanded later edition of the same volume.
In the same vein, it's important to point out flaws that your book may have. High-end book sellers have generally agreed on certain terms to describe a book's overall condition: Mint would be a book with no flaws, which would make the book very rare. Very good, good, fair: All these terms work like a sliding scale. A book in fair condition is one that has a number of flaws, but is still an important enough work to sell for its content. The terms rare and scarce are also important, although they can mean more or less the same thing. A rare book is one that has only been printed once, or is a particular version of a book that had a very limited printing, and therefore highly prized. A scarce book may not be as special as one that is rare, but it is a book that only has a limited amount of actual copies. It may have been, at one time, in many libraries, but as time has passed, it is extremely hard to find and therefore scarce. Without a doubt, history book buyers are interested in these kinds of editions because they cannot buy them from everyday book stores - they have to be 'found'. This is an example of a book that has become scarce since its original printing: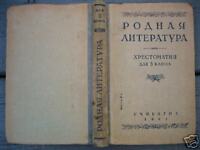 This Russian children's book was at one time an inexpensive mass-market school text for middle school readers. It was printed in 1941, and because so many copies of books from that period were lost during the second world war, it has become very scarce.
Helpful Hints
Here are some hints that would help those interested in selling Historical books:
Know your subject: Learn as much as you can on your own about the content of your book before you list it. Learn some of the general facts concerning your subject. An example of this would be geography. Many books make mention of geographic locations that have changed names or ownership due to the outcome of wars and the influence of one country's government over another. This occurs in many cases: Manchuria, a region of China, was briefly called Manchukuo when it was an occupied territory of the Japanese Empire. The sub-continental island of Ceylon is now called Sri Lanka.
Describe your book's condition completely: In exact detail, explain the condition of 1) The covers and spine, 2) whether or not the book has a paper dust jacket, 3) the condition of the book's pages, 3) the strength of the book, or the tightness or looseness of the pages 4) the wear or color of the pages, 5) if the book has been marked or highlighted, and 6) the publisher, date, edition and place of printing.
Understand your potential collector: When you search through eBay's listings, note the kinds of books that people need, and books that seem to meet that need. You can begin by using a simple search for a well-studied topic of history, such as the American Civil War. Read the descriptions of content and condition, noting if buyers have asked questions and if they've been answered by the seller.
Enjoy your subject! It's very important to remember that selling historical books means you are entering into a community of information sharing. Books are knowledge, and by offering them to your audience, let your enthusiasm for the subject come through in your listing. A very short listing with little or no description of the books content will only attract one kind of seller: someone who is already familiar with the book. That reduces your potential buyers dramatically. Increase and generate more interest by showing your interest.