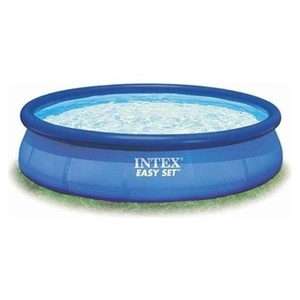 For parents and adults looking to provide affordable fun in the sun for children, there are few options better than a quality kiddie pool. Those who are looking for the least expensive kiddie pools online have no better place to shop than eBay, and they can get a great pool at a great price when they know how to use eBay to find and buy kiddie pools.

All About Kiddie Pools
Modern kiddie pools have been around since about the middle of the 20th century when plastics became more prevalent and the cost for fabricating plastic items dropped dramatically. Even so, "kiddie pool" is a term that can apply to a wide variety of different items. There are no set standards that identify a pool as a kiddie pool, but generally speaking, a pool can be labeled a kiddie pool if it meets most of these specifications:
water depth of no more than three feet
a height or width of less than 15 feet
no filtration system
designed specifically for children's use
Of these characteristics, the lack of a filtration system and a design intended specifically for children are the most important.
Most kiddie pools today are made of plastic or vinyl. Hard plastic kiddie pools, which were mainstays in the kiddie pool category for generations, continue to be popular, especially for those who have very young children. There are also many inflatable kiddie pools on the market today that are "built" simply by inflating them with air.

What to Consider When Shopping for Kiddie Pools on eBay
Before buyers put in a bid on a kiddie pool on eBay, they should have a good understanding of the features they want and need in a kiddie pool. As they browse the kiddie pool listings, shoppers should keep these factors in mind:
Storage Space
Kiddie pools are almost never set up year-round, except perhaps in the warmest of climates. Thus, the amount of storage space required when the pool is not in use is a key consideration. In most cases, hard plastic kiddie wading pools take up more storage space than inflatable pools because they cannot be collapsed when the pool season is over. Inflatable vinyl kiddie pools do not take up as much room in storage because they collapse and fold up into a compact bundle for storage when users deflate them.
Kiddie Pool Fun Features
In the past, kiddie pools were little more than large tubs filled with water. Today, however, there are kiddie pools available with features to rival traditional in-ground or above-ground pools. Here are a few features that buyers might find on kiddie pools:

| Feature | Feature's Purpose | How It Works |
| --- | --- | --- |
| Slide | Allows kids to slide down into the water for a fun splash | Usually incorporated into the body of the pool itself (hard plastic and inflatable pools) or is a separate attachment (inflatable pools) |
| Sprinkler | Gives kids a refreshing shower while they are in the pool | Usually a part of the pool body to which a hose is attached |
| Canopy | Provides shade to young swimmers | Usually attaches to the side of the pool |
| Padded Flooring | Provides cushion against the hard ground | Usually incorporated into the body of the pool itself |
| Hanging Toys | Allow infants to entertain themselves while in the water | Usually attach to the sides of a kiddie (baby) pool |
| Play Center | Provides multiple areas of play and several play possibilities with rings, balls, and more | Incorporated into the pool body itself or can be attached manually |
Aesthetics
The pool's appearance is likely to be a concern for many shoppers. Fortunately, gone are the days when kiddie pools were basic solid-colored rings of plastic. Today, there are many aesthetic possibilities when it comes to kiddie pools. Shoppers can find pools that are multi-colored, constructed in a whimsical shape such as a dolphin or starfish, or decorated with images of sea life.
Size
Size is one of the most important concerns when it comes to kiddie pools. After all, the pool needs to be big enough to meet the needs of the buyer. The more kids that use the pool, the bigger it must be. However, size is also something to keep in mind when it comes to the ease of setting up a pool. Large pools that hold more than fifty gallons of water take a long time to fill, and they may take a long time to inflate. In any case, most buyers who purchase an inflatable kiddie pool will be better off in the long run if they also obtain an air pump that can help them inflate their pool rapidly and with little effort.
As far as gauging the size of pool needed, a pool with a capacity of about 150 gallons can easily accommodate three average-sized children with a depth of water of just under two feet. The same pool can hold one average-sized adult and one average-sized child.
Refill Frequency
Closely related to the size of a kiddie pool is the frequency with which it needs to be refilled. The more water the pool holds, the more expensive it will be to fill it, and the less likely an owner will be to empty it after every use. Traditional hard plastic kiddie pools are relatively easy to empty and refill for each use, but owners of larger pools will probably want to leave their pool set up and filled for most, if not all, of the pool season each year.
However, when kiddie pools are not emptied after each use, the cleanliness of the water becomes a concern. Over time, algae and other contaminants will find their way into the water, contaminants that the filter and cleaning system in a traditional in-ground or above-ground pool are designed to take care of. Because kiddie pools do not normally have an automatic filter and cleaning system, owners who do not empty their kiddie pool after each use need to be vigilant about keeping the water clean. This means that they will have to periodically add the appropriate amount of chlorine and algaecide to the kiddie pool water. These products, as well as other pool cleaning tools, are also easily obtainable on eBay, but users should read the directions on these chemicals carefully so that they can use these substances safely with kiddie pools.
New Kiddie Pools vs. Used Kiddie Pools
Shoppers can find both new kiddie pools and used kiddie pools when they visit eBay. Understanding the basic differences between each of these options can help buyers decide which kiddie pool to purchase:

| Consideration | New Kiddie Pools | Used Kiddie Pools |
| --- | --- | --- |
| Cost | Generally more expensive than used kiddie pools | Generally less expensive than new kiddie pools |
| Condition | Unlikely to need repairs | May need repairs |
| Manufacturer's Warranty | Likely to have a warranty of some kind | Unlikely to have a warranty |
| Cleanliness | May not need cleaning before its first use | Will likely need cleaning before its first use |

Buyers should always ask the seller questions about the condition of a kiddie pool and whether it has a warranty of some kind. This is particularly essential when looking at a used kiddie pool since there is a greater chance of existing problems with a used pool than with a new one.

Using a Kiddie Pool
Once shoppers have decided on the type of kiddie pool that they want, it is vital that they know how to use the pool properly both to extend its life and to avoid accidents. These tips can help any pool owner use a kiddie pool safely and ensure that it lasts a long time:
Kiddie Pool Set-Up, Storage, and Care
Inflatable pools should not be overinflated because over inflation can stress the pool walls, leading to air leaks and reduced pool life.
No kiddie pool should be dragged across the ground. Dragging can crack hard plastic pools or cause inflatable pools to be punctured by jagged objects, leading to leaks.
Kiddie pools should be stored in a covered area, preferably a shed, basement, or garage to prevent damage from the elements during the pool offseason.
Kiddie Pool Usage
Parents, babysitters, and others who are supervising kids in a kiddie pool should never leave the children unattended while filling the pool or while the kids are enjoying the water in a full pool. Even though these pools are shallow, drowning is still a risk.
Kids should never be allowed to jump or dive into a kiddie pool lest they injure themselves.
Pools should only be left set up if there is a fence or other blockade to prevent other children from wandering into the yard and falling into the water.

Finding and Buying a Kiddie Pool on eBay
It is quite simple to find and purchase a kiddie pool on eBay. Shoppers have two main ways to find the pool they are looking for. First, shoppers can type "kiddie pool" into the search field located on any page of the site and hit the "enter" key or click the search button. This will return all the currently available kiddie pools on eBay. From there, shoppers can narrow their search results by price, auction ending date, and so on by selecting the appropriate qualifier from the pull-down menu on the search results page.
The other way shoppers can find kiddie pools on eBay is to visit the Home & Garden category page on the site. After navigating to this page, shoppers will want to click the Yard, Garden & Outdoor Living link on the left side of the page. After navigating to the Yard, Garden & Outdoor Living page, buyers should click on the Pools & Spas link on the left side of that page. Finally, they should click first on the Pools link, followed by the Inflatable, Kid Pools link, also located on the left side of the category pages. This will give shoppers a list of all the kiddie pools that sellers are listing under the category of kiddie pools, and buyers can narrow this list of results by price, condition, and other factors by checking the appropriate boxes and selecting the right link on the pull-down menus.

Conclusion
Enjoy fun in the sun and stay cool with an affordable kiddie pool. Do the research, ask the right questions of the seller, and sit back and relax as the kids have their fun with the perfect kiddie pool that has been purchased on eBay.