I don't have a large yard, .68 acres, of which I mow about a half acre. I'm just really hard on things. I don't abuse my equipment, I just push things to their design limits. I'm a pilot in the Marines; that's what we do.
For that reason, I don't buy cheap stuff. Unfortunately I have deep pockets and short arms. I take pride in having a finely manicured lawn, but if I spend more than two hours a week of my precious free time on the lawn my wife starts getting jealous. This dictates the need for some better than average equipment. I knew I'd be doing a lot more with this tractor than just turning tall grass into short grass. I also anticipate having this tractor a lot longer than my current home, and I don't plan on mowing less than an acre from here out. It had to be a John Deere garden tractor.
I love my lawn and can certainly appreciate the value of a fine tractor, but a young single-income family of four can't exactly justify a $5,000 lawn mower. So the options are to either settle for a MTD, Craftsman, an L-series Deere (marketed by John Deere, but made more cost effectively in a former Murray plant in Tennessee, separate from the real ones), or shop used. Buying a new John Deere is a fairly painless event, as long as you 1) have the money and 2) are willing to part with it. Buying used equipment is quite a different thing.
The purpose of this review is to give you the tools you need to make a sound purchase on a used John Deere residential garden tractor. I'm going to touch a little about making the actual transaction on eBay, but the real focus here is on the tractors themselves. And since there's no blue book for lawn mowers, I'm going to attempt to give an estimated fair value of each example. I'll state what I'd pay for a tractor in good working condition with no cosmetic damage, with no attachments other than a deck--basically something you can depend on that you wouldn't be embarrassed to park next to your neighbor's shiny new MTD, which it will far outlast. Bear in mind that prices of these machines can vary greatly depending on condition and options or extras; the older the machine, the greater range of prices. Also remember liquid-cooled is better than air-cooled, and liquid-cooled diesel is best.
There's no salesman to tell you what you need, so you must know exactly what you want and how much you should expect to pay. Late autumn is the best time to get a good deal (when lawn mowing is no longer a regular weekly chore). Know how to spot a lemon. Most John Deere residential products are made to last a generation. Treated properly, they will. Used commercially or carelessly, steer clear. You have to broker the deal in a way which protects you from getting screwed. If it looks too good to be true, it is. And finally, you need to figure out how to get it home. Don't forget to factor the cost of shipping or gas to go pick it up yourself.
Research: The John Deere website is the first place to look for information on new or non-current late model equipment. There is a selection tool which gives you a good starting point when determining your needs. When buying used, you need to be flexible. If you find a tractor priced to sell which is more than you need, as long as it fits in your garage and between your trees, why not? The difference in manuverability between a 12 horse, 38" mower and a 20 horse 54" mower is not as significant as say, a Ranger shortbed vs an F350 crew cab. It's not like gas mileage is a factor. For information on equipment made in the 70s and 80s, check out weekendfreedommachines.org. But the best source of research I found were the actual eBay ads. Sellers like to focus on the features and details which make the product attractive to you.
After months of window shopping, These are the widely produced series I narrowed my choices down to:
Old 200 series (210, 212, 214, 216)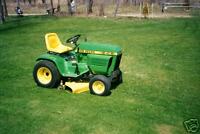 This photo posted by Bill Bargy on weekendfreedommachines.org.
These tractors were made in the 70s and 80s. They were made for more than just mowing, with a vario-drive (infinitely adjustable) transaxle (belt driven) which handles tilling, plowing, etc. The model number reflects the horsepower (210=10hp). These tractors have a countersprung mechanical lift assembly which uses a lift rod to raise and lower rear mounted implements such as a tiller or sleeve hitch (a hitch which can be raised and lowered for using plows, cultivators, etc, sort of like a 3 point hitch). The lift rod is an option which may not come with the tractor, but is easily added. They have an enclosed rear frame. Earlier models have a screened engine cowling; later models have a louvered cowling. Electric PTOs were available. For a good working model, expect to pay $700-1200.
1990s 240/245/265/320 series

These tractors were the second generation 200 series, which featured Kawasaki engines, and offered a hydrostatic transmission in the 245 (14hp),265 (17hp) and 320 (liquid cooled). The lift mechanism and hand-speed control moved to the right fender, which is a love-it-or-hate-it setup. The 320 has a hydraulic lift. Optional attachments include 42" snowblower, 48" blade, 30" mechanical tiller, and sleeve hitch. Unique feature is tilt-steering wheel. Uncommon series, usually sell for $900-1500, which is a great value for a rugged tractor.
Mid to late 90s GT200 series (GT242, GT262, GT275)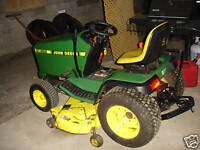 A slightly ligter-duty option, sold at the same time as the 245/265 tractors, the GT series went back to the old faithful long-lever lift. GT242 has a 14hp Kawasaki, GT262 and GT275 have a 17hp kawasaki. GT242 and GT262 have gear-drive transmissions, GT275 is hydrostatic (foot-controlled). These tractors aren't as common as the older 212/214 or newer GT series, and usually sell dirt cheap. I bought this fully functional GT262 for $500. The attachment on the rear is a sleeve hitch, which allows you to use gardening tools (miniature farm implements) such as cultivators, plows, and harrows, or landscaping equipment such as grader blades or box blades. Every 200 series Deere garden tractor will accept a sleeve hitch for the landscaping and gardening attachments. The bigger 300 and 400 series will use a 3-point hitch.
21st century GT200 series
John Deere Photo
Similar frame to the old GT series, but the front lift mounts (for snowblower or 48" blade) are integrated rather than bolt-on. Series features 15-20 hp 1 and 2 cyl Kohler, Briggs and Kawasaki engines. These have a countersprung mechanical lift system, initially hand-operated and later foot-operated. Big upgrade from the LT series is the foot-controlled tuff torq K71B hydrostatic transaxle, which is a substantial unit, made for pulling plows or carts full of green firewood. Some have hour meters. Closed rear frame, fully welded. Price generally ranges from $1500-1800 for single cylinder, $2000-2500 for twin cylinder (with a 48" or 54" deck).
80s/90s 300 series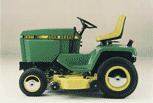 John Deere photo 318 .
Big brother to the old 200 series, these tractors benefit from hydrostatic transmissions (hand operated) and hydraulic deck lifts. The flagship of this line, and probably the most sought after John Deere garden tractor is the mighty 318. This tractor is shaft driven, with an 18hp Onan engine (hard to find parts for). It incorporates dual spool hydraulics, which allows you to use the optional power lift/angle blade (very common on eBay). These tractors have an open rear frame, and a category 0 3-point hitch and rear PTO are available. This opens up a whole new world of utility. It also has dual rear brake pedals, which allows you to turn on a dime or stop a spinning tire to transfer torque to the tire in contact with the ground. 318s in good condition generally go for $1800-2500. Most but not all old 300 series have power steering, evident by the actuator behind the left front tire. Later in the series came the 322 and 332. The 322 was basically identical to the 318 but had a 3 cyl water-cooled Yanmar gas engine. The 332 has a 3-cyl diesel. These tractors are more in the $2800-4000 range. The 330 diesel is similar to the 332 but no power steering and single vice dual hydraulics. Any diesel in good condition under $3,000 is a great buy. There is a John Deere loader available for this series. Avoid the 317, which had the Kohler KT-17. Lubrication problems often caused engine failure, especially if used on sloping ground. Kohler fixed the problem with later Series II KT-17s with full pressure lube (always a good option).
Late 90s 325/345
Hydrostatic with hydraulic lifts, 325 had a 17hp Kawasaki. Great tractors, however the K70A transmissions are no longer in production and parts are hard to come by. These tractors were built on the same heavy-duty frame as the 245/265 tractors, but ditched the manual fender-handle lift in favor of a hydraulic lift.
Late model GX300 series
John Deere photo.
Basically the same tractor as the 325/245, but used the same K71 transaxle as later GT series, but with a differential lock. Significantly higher pricetag than GT series. These are directly comparable to new X500 series. Mostly going for $3500-4500. Although this is a heavy-duty garden tractor, 3-point hitches are not available due to the closed rear frame. Same sleeve hitch as used in GT series bolts onto back and has its own manual lift handle. A lot of people who use these tractors with gardening attachments opt for the electric linear actuator Hayes Enterprises sleeve hitch.
425 445 455 series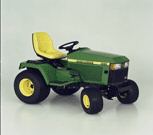 JD photo.
After the old 400 series came these bad boys. Four-wheel steering was an option, in addition to power steering and available 3 pt hitch. Hydraulic deck lift standard. Also features a foot-operated hydrostatic tranny. Most have a 54" or 60" deck. These monsters also have a 47" 2-stage snowblower available, and a front-end loader. 425 has a 20hp Kawasaki 2cy; 22hp for the 445; 455 is the 22hp diesel version. I'd expect to pay $2500-3500 for one of these. Attachments are shaft-driven.
Late model X series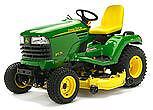 JD photo.
As the 400 series evolved, so was born the X400/500 series (now known as X700). Larger than GT or GX series, 4x4 available, 4wheel steer avail, diff lock, limited (height) category one 3-pt hitch available, front end loader, 3-pt shaft driven tiller... Basically the most capable residential use garden tractor on the planet. Big bucks (way out of my price range). Most of these come off the showroom floor optioned well over $10,000. You might be able to get a 2wd for half that now. This tractor bridges the gap between lawn mower and compact tractor, but leans toward the ultimate mower side, with less turf damage (virtually none) compared to a CUT. The price can vary widely on these, based on the options. They are mostly in the $5500-9000 range. Note the spikey heavy duty all purpose tires (HDAP) which give better traction than turf tires, but don't tear up your grass like bar tires (these are available on the new X500 and X700 series).
Lemon Goggles
Guys who care about their stuff don't leave it out in the elements. You want to buy a tractor which has been kept in the barn, garage, or shed its whole life. There are plenty of them out there. Showroom-shiny paint on a 25 year old tractor is a bad sign. Don't buy some old rust bucket which sat out in a field for ten years, got spray painted with a rattle can then placed on auction--these tractors are powder-coated from the factory. Unlike cars, northern tractors tend to be less rusty, due to being more likely kept inside. Be weary of "complete restorations." You don't know what it looked like before they started, or if they knew what the heck they were doing. Ideally, you want a tractor which shows its age, but also shows the care it was given. On a 20 year old tractor the paint should not sparkle, but it should still have a little shine to it. The paint should be worn away on the footrests, with maybe a little surface rust "patina" in that area. The seat should have some minor cracks in the corners, and you should expect the sides of the deck to be a little scuffed. But that's about it. The old guy who sold his house with the big yard to live in a retirement home is the perfect seller (I found him). The seller who claims it ran when it was parked in '92 and has the engine cowlings and deck somewhere in the yard is not the ideal seller. Preferably, the deck should be free of holes or welds. The blades are replaced as they wear away, but the deck sheet metal eventually thins and corrodes from the inside out on high-time machines (it's only 0.1" thick to start with) Most high-end tractors have hour meters. What constitutes low hours on a lawn tractor? Any premium John Deere garden tractor should last 1500 hours without any major rebuild. Have faith in your fellow eBay buyers (sellers have to earn your trust): you can usually spot a good deal by the number of people who are bidding on it. It seems like even dead-beat bidders only bid on worthwhile items. If you see few or no bids after several days, it's usually due to a too-high opening bid or a lack of positive feedback.
Broker the deal; don't get screwed
Once you've studied the item and contacted the seller to get as much info as possible, decide how much you're going to spend based on the selling price of similar items over the previous months. Tractors are typically cheaper in the non-mowing season (but the selection is fewer). I'd recommend entering a conservative bid early on, just to keep the buyer from cancelling the auction from lack of interest (encouraging a cheap local sale); then enter your serious bid about an hour before the item closes. Only bid on one tractor at a time. Get ready for the price to shoot up 20% in the remaining 5 minutes. If it's the one and only and you're worried about being outbid, work out a BUY IT NOW with the seller. For something large and expensive like this, you should contact the seller and work out the payment plan before bidding. Full payment on pickup is ideal for the buyer, but the seller may want some security. It is not unreasonable to pay 10% within a day or two of auction's closing, then pay the rest upon pickup. Almost any lawn tractor will fit in a full-size (8' bed) pickup. Remove the deck if larger than 42", since the wheel wells on most pickups are spaced 48" apart to allow just enough room for a 4x8 sheet of plywood or drywall. If you want to have it shipped via less than load (LTL) carriers, the seller will want full payment prior to shipping. Any time you see extras like tillers, plows, snowthrowers, etc, the buyer will probably be reluctant to separate them (just to simplify the process of selling his old stuff), even though it hardly increases the final price. It can be good or bad to get a tiller or plow with a tractor: good because you get two fantastic implements which you know are compatible, and probably at a very fair price; bad because you know the tractor was used for the big jobs its whole life, and may be a little more tired than a similar model which was used just for mowing (more of a factor with an old, high-time machine; no big a deal with a less than five year old model).
It doesn't take Sherlock Holmes to spot a scam. Usually the fraudulent seller will say things like "Email me at bogusjoe@ kred.com because my eBay box is full," or "Buyer will cover all shipping costs." Who's going to cover the $500 shipping fees on an $800 tractor? There was one here recently who was offering to have the item shipped via air-freight at his cost. The item was a 6,000 lb compact tractor. Just use your head, use the "ask seller a question" link rather than direct email, and watch for low bidding activity. If you do buy a tractor from someone with very low or negative feedback, work out a deal where you pay the full price at pickup. If you have low or no feedback, buy and sell some cheap items while you're researching and pay/ship promptly to build some positive feedback history. If the seller has less than 95% positive feedback, proceed with caution.
Good, friendly communication is the key to a smooth transaction. Just remember to be patient, a little skeptical, and bid decisively when that right one comes along. I like to be on eBay ten minutes prior to an auction's end, but if you bid what is truly the most you'd pay for the item, if you lose, you just need to accept that it was out of your price range. Once you lose the auction, it's gone. Second-chance offers are almost always a scam.
If this review wasn't any help to you, please send me a message with what you would like to have seen. Also, if you have some more detailed information on a specific model which you think should be included here, send it my way so I can improve this guide.
Hope this was helpful. Good luck!
-Chris