Filtration specials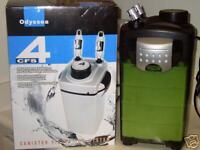 I am an aquatic biologist and have both an online store+plus ebay store plus I have had a retail store for 20 years. Today I want to give some input on the Odyssea csf aquarium canister filter by Jebo. First some background on Jebo corp. They produce aquarium products out of China under the Jebo name, Lifetech(838 canister) and Odyssea name. They are a great company and produce many fine products for the aquarium industry. I have been retailing and wholesaling there products for over a year. They are fairly new to the americas but have been selling world wide and are very populars, for many years. They were not too popular in theU.S as there packaging was to foreign looking. The Cs4 canister has been upgraded to look more american and is gaining popularity. The canister is multistage filtration(external) with different filter baskets to hold bio media, carbon, and fine and coarse filter pads. It must be packed well with no gaps or the water has a tendancy to flow around the media. It does over 300 gh and has a nice waterspray kit to aireate and circulate water.I have sold over 200 units and have two negative remarks to make about them. 1) is the inlet and outlet valves have a tendancy to crack and leak water if you are not careful, and 2) parts are not always available. However Jebo corporation has been excellent with us in supplying replacement valves at no charge for defective ones. Also now each time we order a group of products they give us replacement parts, so they are remedying their problems Overall it is a user friendly filter, you have to change it very little and is very ecocomical to buy.I give it a 3 star rating.
Update we have recently added the new private label Jebo canister filter to our inventory, the Newport B 28, It is the 06, Lifetech 838 canister with new upgrades and packaging for the independent retailer.It has better intake and outake valves, and better plastic for more durability.Check out our other guides for setup of the Jebo canister filters, as most of the time the units have no directions with them.Jebo canister filter setup and troubleshooting.
Update a lot of people are emailing me with some problems on their canister filters, 1 they say they are hard to clean, 2 they do not aireate enough for their larger aquariums. My recommendation is this, add one of the JEbo internal filter units to your tank in conjuction with the canister filter. They are a magnet drive submersible powerhead with a filtering attachment and air injection system. They range in flow rate from 125gh to 600gh.They prefilter the water in your aquarium of fish food and larger debri, so you have to clean your canister only about every six months. Also they increase surface aireation by using and air injection unit, so they help keep your tank cleaner and more oxygenated. This solves both problems and allows for a better more maintenance free aquarium. We sell these units seperately or in package deals with our canister filters.Internal filters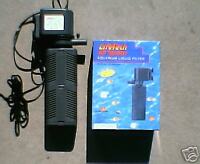 If your planning to use the canister filter with a saltwater aquarium and would like more information visit the link we have on Saltwater setup basics.Saltwater marine aquarium basic setup info.
Check our inventory under aquarium filters if you need parts or filter media for the Cs4 or lifetech filters, we now have all parts in stock.cansiter filters + parts and media