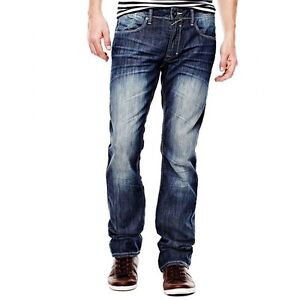 These days, jeans are not just for kicking around the house or doing dirty work. Designer jeans have become hugely popular, with versatile, edgy designs that can easily transition from daytime to evening. Paired with heels, a beaded top, or even a worn set of sneakers, your jeans can make a bold fashion statement. For many, buying jeans can be a frustrating experience. With such a wide variety available in stores, many women do not know what to look for or where to start. By understanding the way jeans are made, evaluating your body type, and thinking about your overall style, you will be more likely to purchase jeans that are just right for you.

Understand the Cuts of Jeans
Jeans come in a number of distinct cuts. Determine which style is right for you before buying. Certain cuts are more appropriate for some occasions than others. Your body type and personal comfort level may also play a role in what cut of jeans you choose. The following chart explains the various cuts of jeans available.

| Jean Cut | Description |
| --- | --- |
| Low-Rise Jeans | Fit low on the waist, perfect for showing a slender waist. Great for petite women who have trouble filling out styles with more material. |
| Ultra Low-Rise Jeans | Fit even lower on the hips. A daring and often impractical look. |
| Mid-Rise Jeans | Fit closer to the natural waist. This is the most versatile style that is good for nearly all body types. |
| High-Rise Jeans | Fit above the natural waist, at the base of the ribcage. Perfect for very tall, thin women. |
| Boot-Cut Jeans | Slim through the hips and thighs, flaring away from the calf just enough to be able to fit over boots without having a lot of excess material. |
| Flare Leg Jeans | Similar to boot-cut jeans, but the leg openings are even wider to give a dramatic bell shape. |
| Straight-Leg Jeans | Feature a more relaxed fit in the hips and thighs with legs that go straight down without tapering or flaring. Great for more voluptuous women who do not want to add bulk. |
| Skinny Jeans | Skinny jeans feature snug hips and legs tightly all the way to the ankles, leaving just enough of an opening for feet to fit through. |
| Boyfriend Jeans | Feature a loose, slouchy fit that is similar to men's jeans. |

There are many styles of jeans to consider. The style you choose may depend on your body type, comfort level, and the overall tone of your outfit. If you want an easy, relaxed look, wear boyfriend jeans paired with a ribbed tank top. For a night out on the town, choose skinny jeans and pair them with strappy high heels and an off-the-shoulder top. Jeans are very versatile and can be right for almost any occasion.

Know the Different Washes of Jeans
Denim comes in a variety of washes, which are also known as shades. The right wash for you may depend on the occasion, the rest of your outfit, or simply your personal preference. Some people prefer light or dark denim, but there are a few varieties in between. The most common washes of jeans are:
Stonewashed: Stonewashed jeans are light in color and feel softer than other jeans. They are meant to look and feel broken in. This wash is achieved by tumbling the jeans with a pumice stone to soften them.
Dark: The deep indigo color of dark jeans make them the ideal jeans for a night out on the town because they are not as casual as lighter shades of denim and can easily be dressed up. Dark denim often feels thicker or stiffer than lighter shades.
Classic: Nothing remarkable is done to classic wash jeans. They are crisp, clean, and feature a moderately dark shade of blue.
Acid: Acid wash jeans feature a look that is faded with flecks of a darker shade in the material. This look was especially popular in the 1980s.
Dirty: With a slightly brown tinge, dirty wash jeans are meant to look a little grungy.
Distressed: Holes, shredding, and crinkles create the highly worn appearance of distressed jeans. They are usually a light shade of denim to look more authentically worn in, but there are also darker varieties available for those who like the distressed look but prefer a darker shade.
Select the Right Jeans for Your Body Type
With so many designer jeans on the market, such as True Religion jeans, Citizens of Humanity jeans, Diesel jeans, Blue Cult jeans, Chip and Pepper jeans, Joe's Jeans, and Seven for All Mankind jeans, it is important to do your homework and select the right pair of jeans for your body type. Flattering your figure with the right jeans may increase your confidence and make your entire outfit look better. The following chart provides an explanation of different body types and which styles of jeans flatter each one.

| Body Type | Jean Styles | Suggested Brands |
| --- | --- | --- |
| Slim | Slimmer body types look great in a variety of jeans. Look for jeans that run straight from the hips through the knee, with a slight flare at the leg opening. Low-rise jeans with a high back and lower front are another flattering choice. Or, if you are looking for a snug fit, choose jeans that are tight around the waist and backside. | Jeans from Seven for All Mankind, including the Bootcut Stretch jeans, Crystal Pocket jeans, A Pocket jeans, and Flynt jeans are great choices for slim body types, as are Blue Cult jeans and Paper Denim jeans. |
| Curvy | If you have many curves to accentuate, choose jeans that run straight from the hips through the knee with a slight flare at the leg opening. A wide boot-cut silhouette is also flattering. Avoid jeans with large flares at the bottom. Coupled with wider hips, wide flare-legs will make your legs look very short. | Consider either distressed jeans from Chip and Pepper, ultra-dark jeans from Joe's Jeans, or Juicy Couture jeans to flatter your curvy figure. |
| Athletic | If you have athletic legs and narrow hips, consider a low-rise jean with a contoured waistband. Legs that taper out to a graceful and generous boot-cut are also flattering without giving you the retro bell-bottom look. Or, to give the appearance of wider hips and a fuller backside, choose a cigarette - style jean. | For athletic types, consider Seven for All Mankind, Diesel, or Paper Denim jeans. If your legs are particularly muscular, consider buying jeans in a size larger than you would normally wear and get them tailored to fit your frame. |
| Full-Figured | Choose a traditional five-pocket style of jean that is not too snug and has a little give to accommodate your body. Go with a mid-rise jean and steer clear of much lower rises, which will give you the appearance of being larger than you really are. Exaggerated flare-leg jeans should be avoided in favor of straight-leg jeans or a boot-cut. | Many jeans from Gap, Levi's, or Old Navy are woven with spandex, so that they stretch nicely to your frame. Citizens of Humanity jeans are also hugely popular due to a mix of 2 percent Lycra and 98 percent cotton denim, which results in a slimmer, taller appearance. |

Remember that a slight flare at the leg opening, such as a boot-cut, will help to balance a wider or fuller figure, as well as make your legs look longer. Exaggerated flare-leg jeans will make curvier body types look short and heavy, but they work well on a slimmer body type. Always opt for jeans in darker shades, as they have a naturally slimming effect. Choosing the right style of jeans to flatter your figure will increase your comfort and complement your overall look.

Measure Yourself for the Perfect-Fitting Jeans
When buying jeans, it's all about the fit. To get the best fit, you will need to measure yourself correctly. Measure your waist and hips with measuring tape, and make sure to leave the tape slightly loose. Note that your actual waist measurement will not equal jean waist size. For example, a person with a 26-inch waist typically wears jeans with a 28-inch waist. To get your inseam, take a pair of pants that fit well and measure from the crotch down. Refer to the seller's sizing chart to see which size is best for you. Most brands have sizing charts available on their official websites. Remember, despite sizing charts, some jeans will run smaller or larger than others. For example, Seven for All Mankind jeans tend to run smaller than Citizens of Humanity jeans. So, when buying Seven jeans, opt for a size larger than you might normally choose.

Find Jeans on eBay
Once you know what type of jeans you want, go to the Fashion portal on eBay, click Women ' s Clothing, then click Jeans, and start searching for item listings. Make the searching process easier by using product filters and keyword searches.
Use filters: Use the filters on the left side of the page to quickly narrow the number of item listings. A few of the filters include size, price, style, wash, and brand.
Search by keyword: Search eBay title listings for specific words. For example, if you want to find Chip and Pepper jeans, type "Chip and Pepper" (without quotation marks) into the Search box. Click "include description" to expand the results. Visit eBay ' s Search Tips page for more advice on searching with keywords.
If you are unable to find exactly what you are looking for, shop in eBay Stores, tell the eBay community what you want by creating a post on Want It Now, or save a search on My eBay, and eBay will email you when a match becomes available.

Buy Jeans With Confidence
Before you purchase jeans on eBay, make sure you know exactly what you are buying, research your seller, and understand how eBay and PayPal can protect you. Following a few simple guidelines will make a difference between a good or bad experience.
Know the Purchase
Carefully read the details in each listing. If the seller has provided measurements for the jeans, check to make sure they will fit you. Factor delivery costs into the final price. If you spend a lot of money, make sure the seller will insure the jeans when they ship. Buying insurance on expensive purchases can be a good investment. If something happens to your package during the shipping process, you will be protected. If you want more information about an item, ask by clicking the "Ask a question" link at the bottom of the listing page.
Pay for Jeans Safely
Always complete your transaction with a bid, Buy It Now or Best Offer. Transactions conducted outside of eBay are not covered by eBay protection programs. Never pay for your eBay item using instant cash wire transfer services or personal check. These payment methods are unsafe when paying someone you do not know. In the unlikely event that you do not receive your item or it is not as described, eBay Buyer Protection will cover your purchase price plus the original cost of shipping. With this protection, you will not lose any money that goes toward a purchase you are not able to use.
Know the Seller
Research the seller so you feel positive and secure about every transaction. What is the seller's feedback rating? How many transactions have they completed? What percentage of positive responses do they have? What do buyers say in their feedback? Did the seller receive praise? Most top eBay sellers operate like retail stores and have return policies. Check to see if the seller offers a money-back guarantee with favorable terms and conditions. While many sellers list their items as-is and choose not to accept returns, you may find sellers who are more flexible. This is an asset when buying jeans because it is likely that you may encounter size or fit issues, especially when buying from a brand you are not familiar with.

Conclusion
Buying the right jeans for you does not have to be a frustrating experience. Armed with the tools to make an informed purchase, you can buy jeans confidently and increase the likelihood that you will like the way they look on you. Choose your jeans by first deciding what would work best for your body type, what style you prefer, and the wash you like best. An auction site like eBay is a viable option for buying jeans online, often giving you the opportunity to buy name-brand jeans at discounted rates. Regardless of where you decide to purchase your jeans, knowing what to look for will make your shopping experience less overwhelming and more positive.