Marx Trains & Toys Free to View Buying Information:
A Brief Marx Toy History and Train Time-line Identification Guide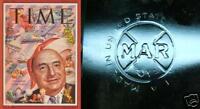 Louis Marx in TIME 1955 - Famous Logo
Born in 1896, Louis Marx was always interested in toys. As a young man, still in high-school, he was already working at the Strauss toy company in 1911. Then in 1917, he would serve his country as a soldier. Upon leaving, he would sell and design wooden toys for a Vermont based wood product company . A few years later in 1919, he and his brother would incorporate their own toy company. During the early years, Marx would also market toys for other makers such as F. Strauss, C.G. Wood ( Girard Model Works & Joy Line), and C.E. Carter (Ohio Art) . Starting with nothing, he would purchase obsolete toy dies from Strauss. Marx would successfully revive the old designs and become a millionaire by age 26. Thus began a promising future in the world of toys.
The toy and train industry would soon be transformed like it had never been before. Louis would be to the toy and train industry, what Henry Ford was to the Automobile industry. Marx would fill a spot left open by Lionel and Flyer and other toymakers. Marx would target that spot by supplying the economical end of the toy and train market. This strategy would prove successful for Marx.
Marx would make profits during the great depression, when others were failing. Why? Low, affordable pricing, high quality construction, and high production with mass marketing. Such an example of this practice in use is the Marx yo-yo. In 1928 Marx would reinvent the yo-yo and sell over 100 million. This practical policy would send Marx over the top as the world's largest toy and train manufacturer in the 1950's.
In 1955, the same year that he was featured in Time Magazine, Marx toy sales were $50 million dollars. The Marx company would grow to supply up to a quarter of all the toys made in the USA. The toy business had made him a multi-millionaire. He had the resources to effectively operate in the high end of the market, but this was not the special niche he so enjoyed. Marx was in the toy business, not the scale model business. He would leave that area for other manufacturers.
Marx train designs would be instep with the times, with quality and reliably second to none. Marx would produce the best toys and most durable trains ever possible for the lowest cost to the consumer.
Marx would go on to have three major production plants in the USA. Two would be in Pennsylvania and one in West Virginia. At one time Glen Dale employees numbered near 2000 and processed six rail cars of steel per day. The main corporate office would be in New York. All of the American mainland HO and O scale production would come out of the Girard plant of Pennsylvania. The same general location where the early Joyline trains had come from.
Marx would market its products to dime stores and the old department store and mail order giants: Butler Brothers, Sears, Montgomery Wards, Spiegel's, Penney's and others. These retail giants would then promote the toys in their big Christmas catalogs. Some toys were sold as accessories and add ons in dime stores; such as: Woolworths and stores like Western Auto, Firestone, Grants and Walgreens.
Marx was frugal with advertising and was proud of saving a buck. He really did not like the idea of influencing children's thoughts through advertising. Therefore, the early Marx toy and train history was not documented in yearly catalogs like some of the other major train manufacturers. However, time to time, they did produce a "Timely Table"(a brochure) which would show the Marx train line and accessories. Marx collectors must rely on Christmas and sale catalogs from early retailers to get a large amount of their information.
~ THE PROGRESSION OF MARX TRAINS ~
PREWAR SERIES:
Marx incorporated in 1919. In the early 1920's, Marx started production of a large array of tin and wooden toys for girls and boys. Some train related toys like Floor trains, Trolleys and Handcars, as well as Tabletop trains, and Ride-on trains would also see their beginning. Therefore the first Marx logotype train would most logically have been a steamer style floor train.
The first train sets that Marx became involved with, were the Joy Line or aka Joyline series, each car being about 4 inches long. Produced from 1927-35, they were made at the Girard Model Works, but marketed by the Marx Brothers: Louis and David. These are considered as the beginning of Marx Trains and sold in the 1933 Sears Wish book under the Marx brand.
Also around the same time a plant in Dudley, England would be set up to produce a British version of Marx trains, with beginnings from the Joy Line design.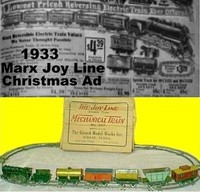 1934 The Classic Design Begins
Introduced at the beginning of the Streamliner Age in 1934, the Marx Toy Company would now focus it's attention on contemporary trains. The tin lithographed Union Pacific M10000 series would be the first, but more streamliners were on the way.
1935 would see the beginning of production of their seemingly endless run of the American Classic "6 Inch Tin" toy trains. This smaller sized "non-scale" train would run nicely on 027 track, a size which Marx exclusively used for all its train lines. Detail would be handled by ink lithographing on tin. Early models used two color lithography on the body as well as on the base. They were built to run on 0 gauge track. Marx would invent their own "toy scale" for the early train cars, they would have a height similar to 0 and S scale, but only about half the length. Engines, tenders and cabooses were semi-scale. This new rounded and streamlined "Six Inch" design is one that would prove to be a favorite for all times, withstanding four decades of production.
The first steam loco used to power the new 6 inch tin, was the Streamlined New York Central, Commodore Vanderbilt, equipped with the early swing pin (ESP) coupling system. Cars used the same earlier styled Joy Line loop couplers, and two color lithography. Engines were made in a mechanical style at first and were soon followed by an electrical style. A clockwork set sold for as little as 98 cents!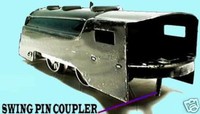 Swing pin with Joy Line coupler
One of the earliest Christmas Wish Books, a 1935 Wards shows a sparkling CV six piece freight set, bridge, station, 21 workers, 2 signals and track for only $1.79. Affordable? YES !
Engines, couplers, frames, and litho changed, but since Marx was the last US train manufacturer to change completely over to plastic (1972); this 6 inch tin series continued all the way into the 1970's and are probably the most widely recognized of Marx trains.
Most common of Marx couplers are tongue and slot (TSC), which Marx started using about 1936, as well as new one color bases. Some couplers were riveted to the car bases for electrics and some sliding in the bases used for windups. But Marx also came up their own early version of automatic type couplers (EAC) on its six inch eight wheeled cars around 1937. The Marx six inch base design would also see its final engineering change.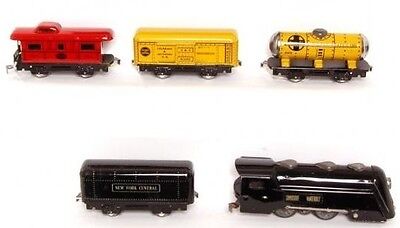 Four Wheeled Six Inch Tin Series- Black Round Bases
1934 A New Streamlined Design for the Times
The popular Articulated Streamliner passenger, Union Pacific M10000 series came out in 1934, and proved a success. At less than $2 for a large mechanical train it well outsold other manufacturers. Marx even included a commemorative coin in some boxed sets.
Also as well, the M10005 Streamline unit emerged in 1936. Passenger sets with a variety of named lithographed cars could make one large set. The ever expanding line would make 1937 another successful year for the m10005 streamline train.
M10,000 Union Pacific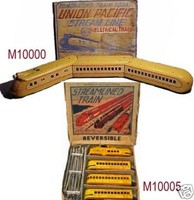 M10,005 City of Denver
1935 Marx introduces a toy train based on an Easter theme. Click below to view this train.
1936 The famous Marx Canadian Pacific power unit made its appearance around this time. Debuting in Canada in 1936 to go along with the first run of the Canadian Pacific's newly designed passenger trains.
This semi-streamlined style engine was quite popular and widely used through 1952 by the Marx Toy Company. Production of this type set approached half a million units! The CP passenger cars are quite popular with collectors!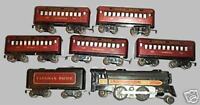 1937 Marx introduces the first electric automatic coupler - decoupler system for its 8 wheeled cars. Lionel would follow the next year with an automatic box coupler system.
1937-38 saw the beginning of the Articulated NYC Mercury Streamliner passenger trains and Mercury freight trains. An interesting coupling system, whistling engine, and lighted cars made these sets popular!
And don't forget the Bedazzling Blue Mercury six inch passenger train, with blue cars and blue tender. It's quite a beauty!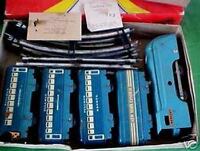 1937 Marx introduces the 424 "Radio Tower with Voice Train Control". The stop-go motion of a train can be controlled by your voice. Later marketed as the "Audio Engineer".
Marx also produces an automatic coal dump station, unlike any other manufacturer. It was engineered to add play value to their side dump car and their Pennsylvania coal train sets.
1939 The olive drab Commodore Vanderbilt army engine makes an entrance.

1940 Marx introduces a battery operated Commodore Vanderbilt, for those rural customers without electrical power. This train could run on flashlight batteries, car batteries, or dry cell. An electric train that sold for $4.45, what a bargain!
The Mercury Copper Queen passenger set also makes its appearance.
1941 The

tin or tinplate SEMI-

SCALE 027

series

begins

: 1/64 scale train running on O27 track.

Appearing in 1946, A.C. Gilbert will produce S scale: a line of this size running on 1/64 gauge track.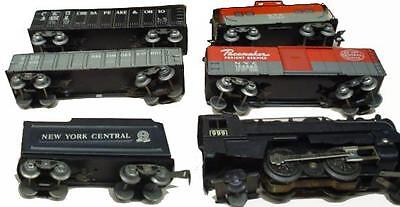 999 Loco with Scale Cars
1941 would have a new design, the scale series. They would be new larger metal freight cars, about 8 inches long and have eight 3/16 style wheels, but would still run on O track. This line was scaled in proportion to a more actual train size. The first diecast engine, the 999, would appear at this time. But soon after, due to WWII, all toy and train production would have to stop for a time.
1942 June, toy and train production stops until WW2 ends in 1945. The Marx factories produce items that support the war effort.
1943 Marx pieces together 1000 sets for Christmas, from former production runs. They are the only manufacturer to offer an new electric train that year. They sold out immediately!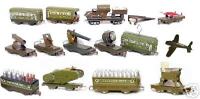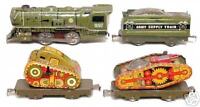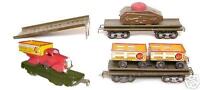 POSTWAR SERIES:
1946, Marx resumes toy and train production. The eight wheeled Scale line continued after the war. But Marx would now introduce another similar sized 7 inch scale type line, with 4 wheel design, to compete with other low dollar market trains in the 1950's, such as Hafner and Unique Art. Hafner (Wyandotte) eventually sold to Marx and Unique Art challenged by Marx would sell trains only from 1949 through 1951. Marx would pioneer an early completely plastic set in 1949 that was similar to a Schilling set.

Promoting of Marlines and Marxville accessories would also become a reality.
1948 The postwar Baldwin styled drivers would be introduced.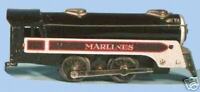 1949 also finds the beginning of Marx's largest diecast engine ever, the 333. It adorned a new 4-6-2 wheel arrangement, and it was soon to be Marx's first smoking locomotive. Large beautiful modern passenger cars would finally grace the Marx consist, with people visible inside and vista domes.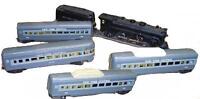 Seven Inch Scale Style
Six inch tin continues, but the eight wheel version is dropped. Punched frame tab couplers replace twisted tab and slot after the war (1946) and plastic couplers are seen on the six inch tin in 1953. The m10005 also returns for a limited run.
The early 50's saw large diesel units from Flyer, Unique, and Lionel and Marx was no exception. They had their large #21 tin version up and running as well. Marx was coming on stronger and more realistic than ever, while still maintaining their low consumer pricing and toy like charm that made Marx so appealing to the eye!

Large 21 SF Diesels and High Truck Scale Cars
1950-1951 Marx produces its version of the popular Disney train. Still a favorite today. Made in Marx's 7 inch scale, it would use a mechanical engine and cars that were decorated with Disney characters.
Also produced around 1952 were a smaller sized Marx EMD F-3 tin lithographed diesel with roadnames of Southern Pacific #6000 and Baltimore and Ohio #62. Mostly equipped as electric versions, some mechanical versions were also available.

Mid fifties saw the Fairbanks Morse styled Monon #81, Seaboard #4000 and Kansas City Southern #54 establish their production run all the way into the early 60's.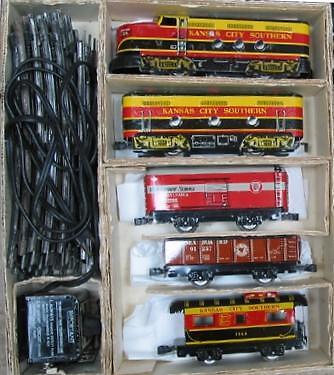 Sales stats for the fifties was that Lionel was outselling American Flyer about two to one and Marx Toy Company was outselling Lionel two to one also. But all three makers were challenged by Sakai of Tokyo, who could undercut all their prices, and provide a similar product!
Plastic Production Period:
The last design modeled began around 1952 would be a full line of 0 gauge 1/64 plastic that ran primarily on 027 and 034 track and a HO plastic series, with quite realistic details. 0 gauge rolling stock was 4 wheeled at first and progressed to 8 wheeled deluxe later. Engines as well as freight cars would be plastic. However passenger cars would never become completely plastic. Plastics would dominate the rails for two decades, well into the mid 1970's. Christmas catalogs would be filled with Marx! Sometimes you could get a playset trainset combo in the same box!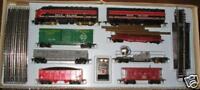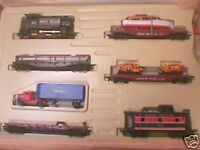 Large diesels and small switchers, mechanical steamers and electric steamers were part of the product line. Four wheel with simulated trucks, eight wheel and eight wheel deluxe would be the basic line up for freight cars. Periods between the design changes would see transitional sets emerge, with some leftover parts being used on newer designs and vise-versa. Sometimes tin and plastic were combined in the same set !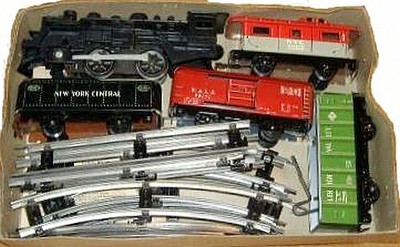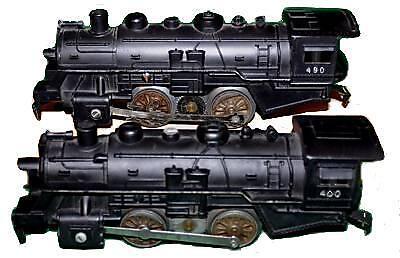 E-7 Diesels filled many large set boxes from 1952 into the late 1970's. Santa Fe was the earliest plastic diesel while New York Central, Rock Island, Western Pacific, New Haven, Union Pacific, Penn Central, and Allstate would soon fill more households with loads of diesel fun.

Large Allstate / Sears Plastic Set of 1958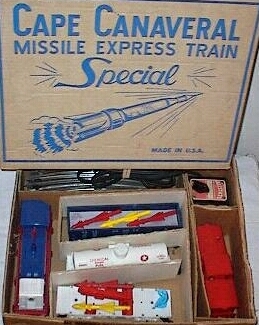 >>>With diesels such as the Cape Canaveral Express trainset/ playset and colorful Missouri Pacific displayed !
1954 Marx eight wheeled medium duty plastic rolling stock and the 1829 Hudson appear on the scene.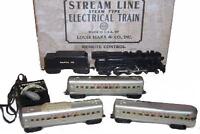 1955 Marx introduces a new larger diecast steamer, the 666. with 2-4-2. 1959 will get the sister steamer the 1666, now cast in plastic, with smoking versions available.
Marx begins to use can motors to power the engines in their lightweight train sets.

1954 Colber accessories decides to leave the market, when American Flyer no longer uses them. Marx will pick the line and add more accessories in 1955.
And around 1956 Marx would purchase the Hafner - Wyandotte train tooling and move it to it's Mexico based plant to produce inexpensive trains for the Mexican market.
1959-1960 Saw the introduction on TV influenced sets, such as a frontier wood burning locomotive with tender, baggage and passenger cars. Being a mix of tin and plastic, it was known as the William Crooks or AKA the Wells Fargo playset.
The Space Age will also influence new playsets and train sets. Rocket launchers and missile carriers will appear in such train sets as the famed Cape Canaveral Sets, New Haven, Allstate and Santa Fe. Marx would also produce new olive drab sets completely dedicated to a military theme.
Marx's largest retailer, Sears, would also get trains sets themed entirely to them. Marx would produce the Allstate line of plastic trains. Diesel, as well as steam sets, would honor the Sears company. The Orange Allstate E7 diesel set (pictured above) and the Blue Alco S-3 switcher sets are highly prized by collectors.
1969 The Big Rail - Sound of power and ICG Work train.
1969-1974 The Great American Railroad Series of train sets begins. These would be some of the late great sets from the Marx Toy Co..

Marx Company Recap / Overview
Marx was ingenious when it came to combining sets and recycling parts and materials. Nothing was wasted at the Marx plants. Plastic and tin were recycled when possible. If parts from one toy or set could be slightly modified and used in another type of set or toy, Marx would do it!
From the beginning, Marx made scores of accessory items to compliment his train lines. Economically priced and fitting in size, you probably will find some of them used with Lionel or American Flyer trains. Towers, lights, crossing arms, grades, tunnels, dump bins, buildings, depots, terminals, workers, passengers, loading docks, loading equipment; you name it, Marx made it!

Marx had toy and train production interests in England, Germany, Mexico, South America, Canada, Australia, Hong Kong, South Africa, France, Brazil and Japan. Most of these toys would usually display the MarX CIRCLE X trademark.
Some other familiar Marx name brandings used were Jaymar & import line Mar Jay ( ran by his dad Jacob and sister Rose) selling wood and paper products, Lumar / Lumarlines tin transportation toys, Linemar usually import products of Japan / Hong Kong, Marlines American trains, and Plastimarx of Mexico.
The Marx Toy Company made a vast line of all kinds of toys. Selling toys from 1919 until 1980. Marx was one of the earliest toy companies to experiment with plastics. They invented the PLAYSET around 1949- 1950. This proved to be a goldmine for Marx and the catalog giants like Sears helped him achieve such a grand success. Fort Apache, the Alamo, Gunsmoke, Roy Rogers Ranch, Wagon Train, Rifleman, Ben Hur, the Blue and Gray, and Zorro are just a few of the hundreds of Marx playsets. Some other memorable items are, the successful mass production of the Yo-Yo by Marx, doll houses, service stations, the invention of the Big Wheel pedal bike, the Green Machine, Great Garloo and Big Loo Robot, Johnny West and other action figures, and the Rock'em Sock'em Robots. They made toys engineered with high quality standards that sold at economical prices, so everyone could own one. Most Marx toys still are in working condition today ! They were toys for the working class of the world: the affordable alternative solution to building your own toy or railroad empire!
Louis Marx was the Toy King for many years and was a deserving candidate to be the First Toy Manufacturer elected to the Toy Industry Hall of Fame. His ideas of mass production and low pricing earned a plaque that defines him as "The Henry Ford of the Toy Industry".
1972 Marx retires from American toy manufacturing.
He sold off the toy company to Quaker Oats/ Fisher-Price in 1972 and retired from the USA toy business. Quaker Oats continued to made toys for a few more years, but closed the US Pennsylvanian Marx division in 1975, selling to British maker Dunbee-Combex early the next year.
1975 Girard train production ends.
The US Marx warehouses and storage rooms were auctioned in 1978. Dunbee-Combex-Marx who had also formerly purchased the British Marx Division in 1967, would end West Virginian production in 1980.
1980 Marx US Employment Ends
Kids and adults alike really appreciated the Marx toy line. And a great deal of thanks really deserves to go out to the men and women that worked at all the Marx facilities, who actually made this great toy era possible! Thank you!
MARX TRAINS RETURN - MODERN SERIES:
The Marx brand train was reintroduced in 1992. They produced a tin scale series and a six inch line, based on old Marx designs. Modern Marx only made trains complementing the previous line, not reproducing it. The old Canadian Pacific engine design was modified and used extensively, with impressive results.
2004 would see the end of New Marx and the Ameritrains brand would replace the New Marx branded trains. However, Ameritrains production was short lived and they no longer build tin trains. You can get more info and view a few of them, by clicking below.

Modern Marlines Work Train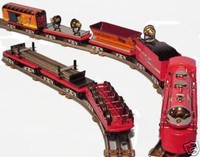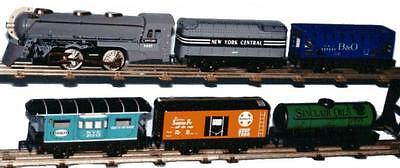 NEW-MARX HENRY DREYFUSS Twentieth Century Ltd
Florida's American Plastics company purchased the Marx train and toy assets, molds, and dies from Dunbee-Combex-Marx in 1982. Marx's old train prototypes and excess toys and some tooling were auctioned off. K-line (now Lionel) took possession of some molds and has produced Marx O style plastic buildings and trains since 1981. Model Power has done the HO trains. Aurora, Mattel and Mego acquired many of the toy rights and castings. Plastimarx or Mexican Marx continued manufacturing after 1978.
American Plastics gained the intellectual rights to Marx in 1988 and Marx Toys was established under the name Alliance Health Enterprises, Inc.. In 1997 it's name changed its to Alliance Technologies, Inc.. In 1998 the name was changed to Stereoscape.Com, Inc. and changed in 2003 to Marx Toys and Entertainment Corp..Starting in the mid 1990's they remolded some of the old Marx toys and games and would introduce some new ones.
Value and Pricing:
The better the condition, the more the train is worth. Rarity and Boxes add much to the value of a train. Marx items also have sentimental value. Here is the typical grading system as shone on eBay:
C-10 Mint: All original, brand new, unused and unmarred.
C-9 Factory New: all original, unused, may have factory rubs and slight evidence of handling, shipping and having been factory test run.
C-8 Like New: Complete and original. No rust, no missing parts, may show signs of display and age, minimal track time.
C-7 Excellent: All original tiny scratches and paint/litho scuffs, no rust and no missing parts. No distortion of parts.
C-6 Very Good: Minor scratches and paint nicks, minor spots of surface corrosion, no major dents. Some minor parts may be replaced.
C-5 Good: Shows play wear and usage, scratches with minor paint/litho loss. Small dents, light surface rust.
C-4 Fair: Scratched. Worn paint/litho, dented or missing parts, surface rust. Highly used.
C-3 Poor: Requires major repair. Heavily scratched, major rust, missing parts. Restoration recommended.
C-2 Restoration item: Restoration needed.
C-1 Junk, good for parts only: Junk, usable for parts.

Typical Sizes - Gauge - Scale
G gauge - 1:24 & 1:25 scale
Standard gauge- 1:30, 1:32 & 1:34 scale
O gauge - 1:43, 1:48, 1:50 & 1:55 scale - O27 (1/64)
S gauge - 1:60, 1:64, 1:70 & 1:72 scale
HO gauge- 1:87- 1:100 scale
Availability:
Many new and used Marx trains and Accessories are right here on eBay. Just type in Marx trains and click search or click below. Your Marx train treasure awaits you. Best of luck!
Got an old tinplate steam locomotive and need help identifying it??? Click here >>>>
I thank you for viewing the Marx train guides. If they have informed you or helped you in any way, I would appreciate a vote positive by clicking thumbs up...