Review Number 3 - PC Tattletale
Internet Safety Software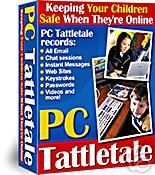 From the beginning of setup there is quite a difference with PC Tattletale (PCTT). If you think you computer is being used inappropriately PCTT will catch it! Of course, everything depends upon the parents settings but PCTT does give parents control of almost all aspects including email. Note that PC Tattletale's wide array of settings and reports makes it a great program for business owners as well! This is a fairly exhaustive review of all that PCTT can do. PCTT is very useful for parents giving them the ability to monitor ALL activity on a particular computer if a parent should choose.
PCTT sends emails to the designated parent of violations based upon parental settings. This is an invaluable tool so you can know in real time when a violation occurs. PCTT logs screenshots that are changeable by the second, as opposed to 30 second intervals. Note that the lower the setting the faster the computers hard drive will be filled up! PCTT does give helpful timetables for how long it will take the hard drive to fill based on any setting you choose. Of course, if the parent views, then regularly deletes unneeded files the system will not get bogged down. Screen captures, etc must be checked on the offending user's computer. Once checked any offending captures must be saved to a file or CD and then have the logs deleted to free up hard drive space.
Note on deleting; PCTT does not allow individual items to be deleted within a specific module including email and chat logs. Be sure to save important violations before deleting because you will delete the entire log. (This does not apply to Screen Captures. See VCR playback options below.)
PCTT does not allow you to differentiate between users on a particular computer. Simply adjust settings based upon the youngest user or the user you most suspect of doing something wrong or being a target of online predators. At our house we have a few users on each computer with separate sign-on names for each user. The emails of possible violations we receive from PCTT do tell us which user may have violated our family use policy.
PC Tattletale can be downloaded now from our EBay Store
Purchase now - Install tonight! - Click here
Please rate this guide
~~~~~~~~~~~~~~~~~~~~~~~~~~~~~~~~~~~~~~~~~~~~~~~~~~~~~~~~~~~~~~~~~~~~~~
Interesting features of PC Tattletale;
Screen captures; This is where your settings will really show in possibly dramatic ways and your emailed violations will come in quite handy. With notes or printouts of previously emailed violations in hand parents can pin point definite times of a violation and view the screenshots. The screen shot selector in PCTT can be played much like a VCR.
PC Tattletale VCR playback option allows parents to;
· Playback, fast forward, pause and rewind as needed
· Save screen shot as a jpg picture file to your computer, a disk or a CD
· Delete screen captures in bulk to clear hard disk space (Save violation snapshots first!)
· Switch your view to a particular day if multiple days are stored
· Exit from the VCR area (allowing you to quit without deleting at any captures)
Parebts can set PCTT to capture every second to every 15 minutes. While this option is great if your child or youth is violating their Internet use privileges it can be quite overwhelming if you have chosen to have PCTT capture screen shots every 15 seconds or less. We strongly recommend regularly viewing the screen shots and deleting un-needed captures to free up disc space. However remain vigilant because it's not only about what your child is doing but who may be watching what they are doing. Online predators MUST be taken seriously. Your child's activities may be completely innocent but predators are anything but!
Of course all PCTT violations will be sent to the email of your choice whether at work or at home. If you have chosen Web Watch and you set the program to capture by seconds causing your home or office email address to fill rapidly if the monitored user is active online. We suggest setting up a special email address under Yahoo or one of the other free email accounts just for PCTT notifications.
Email capturing sets PCTT aside from other software choices by allowing parents to capture complete emails, sent and received. Of course parents must decide for themselves whether they want to be able to view their child's email. If you suspect that your child or youth may be caught up in something that violates your family rules, is being prayed upon by a sexual predator or online bully or caught up in illegal activity then the email capture option will help you get proof. I am of the camp that says I will trust my child until they give me a reason not to, at which point I will do whatever is necessary to protect them from themselves or someone else. We have faced a serious situation in our home that was headed off by the capture of part of an email.
This captured email log is automatically saved to a hidden and protected location on the PC that only you have access to. The email logger contains per email accounts of; computer user, time received, from and to, the subject, whether incoming or outgoing, and which email provider was used. Individual emails can be printed from this screen but not individually saved or deleted. It is only possible to delete the entire log of emails.
PC Tattletale can be downloaded now from our EBay Store
Purchase now - Install tonight! - Click here
Please rate this guide
Web Watch & websites recorded are similar. Websites recorded shows all websites visited by all users while Web Watch records pages where violations of the Web Watch word list have been recorded. Parents add words they want to watch for in the Web Watch word list. Both areas of PCTT give information about the website visited. They log each visitor, time, etc and when clicked take the parent to the exact site your child or youth visited. Logs can be saved and deleted easily but remember the delete button deletes the entire log so save first if needed! If the site requires a log-in and password which the parent may not have, you can write down the information and find the screen capture in the screen captures area.
Chat logs keeps a log of all chat sites visited and includes usernames, time stamps and conversation titles. PCTT keeps a complete log of all chats and Instant Messages up to 20 conversations at a time! PCTT even color codes different conversations to make them easier to read and follow! This may sound like overkill but have you every watched a teenager in a chat room?
Key Strokes Recorded – This is another way of capturing what someone is doing on a particular computer. You can capture whatever is typed whether in an email, on MySpace, a word processor or in any program. It records every keystroke including spacebar and backspace and will even capture passwords!
Scheduling sets the time when you want your computer monitored in case there are open times when you do not want monitoring on for adult use. However PCTT cannot be set to block use during any portion of the day.
PCTT can also record any program that is started on the users' computer, all windows opened, all clip board activity and even all documents printed! Why? Employers, not just parents want to know how a computer is being used!
PC Tattletale can be downloaded now from our EBay Store

Purchase now - Install tonight! - Click here
Please rate this guide
~~~~~~~~~~~~~~~~~~~~~~~~~~~~~~~~~~~~~~~~~~~~~~~~~~~~
All Things Good summary of PC Tattletale
With all of it's options PC Tattletale offers most of the protection that the highest rated Internet safety programs offer but PCTT does it for 1/2 the price! With the ability to attain full activity reports by email then view exhaustive details of that activity and more on the offending computer we rate PCTT at 4.7 of 5.0 Smiley's!
All Things Good Marketplace rating = 4.7 of 5 Smiley's!
PC Tattletale can be downloaded now from our EBay Store

Purchase now - Install tonight! - Click here
Thank you to PC Tattletale and Keep It Simple Solutions at giveitakissDOTcom for guidance, assistance and permission to share this information to help keep our children and youth safe online.
Please rate this guide