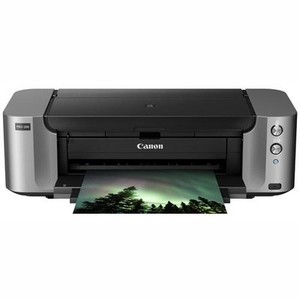 Get vivid color or crisp black-and-white printouts with an inkjet printer. Print your own photos, create full-color flyers, or turn out sharp-looking reports. Whether you need a basic printer or an all in-one-office machine, you can find the inkjet printer of your dreams on eBay.

Determine What Type of Inkjet Printer You Need
With an inkjet printer,, you can create a wide variety of documents and print your own photos. Popular inkjet printer choices include Canon inkjet printers, Epson inkjet printers, HP inkjet printers, and Lexmark inkjet printers. Before you buy a new printer, decide how you'll be using it. Will you mostly be printing spreadsheets and reports, or do you plan to print a lot of photos? Do you want a printer that can travel with you? One that copies and scans, too?
Basic inkjet printers: To print Web pages, spreadsheets, and text documents, a basic inkjet printer should suit your needs. These printers use CMYK (cyan, magenta, yellow, and key, or black) ink to reproduce different colors. Some budget inkjet printers mix CMY to create black ink instead of including a separate black ink cartridge. If you plan to print a lot of text, conserve your color ink by getting an inkjet printer with a separate black ink cartridge.
Inkjet photo printers: Six-color inkjet photo printers use CMYK ink as well as light cyan and light magenta to reproduce more detail in images and to create higher-quality photo prints. For the easiest way to print photos without saving them to your computer first, look for inkjet photo printers with an LCD preview screen, PictBridge to transfer images directly from your digital camera over USB, and media card slots compatible with the memory cards you use in your digital camera. Visit eBay's Photo Printers Buying Guide to learn more about choosing a photo printer.
Portable inkjet printers: Frequent business travelers may benefit from a portable inkjet printer. They generally weigh less than 5 pounds and print to 8 1/2" x 11" paper.
Multifunction inkjet printers: Multifunction inkjet printers, also called all-in-one inkjet printers, give you the option to print, scan, and copy, all at the touch of a button. Some have faxing capabilities and others allow you to print photos, too. Multifunction inkjet printers can be very convenient, especially for your home office, but combining so many functions into one machine can lead to a small loss of quality.
Inkjet cartridge refills
When buying an inkjet printer, look at the type of color ink cartridges and black ink cartridges it uses and make sure you can buy replacements easily. Also find out if you can replace individual ink cartridges or if you need to replace all of the cartridges at one time.
Bulk printing
Consider a laser printer if you print more than 100 pages per day. Although laser printers typically cost more than inkjet printers, laser printer toner refills often cost less than inkjet refills, which can save you money in the long run if you have extensive printing needs.

Evaluate Inkjet Printer Features
Make sure your printer will work with your computer's operating system. Here are some other details to keep in mind:
Resolution: The higher your inkjet printer's resolution, the better your printouts will look. Resolution is measured in dots per inch (dpi). Look for at least 600x600 dpi for text printing and at least 1200x600 dpi for graphics and photos. Low-resolution printing is especially noticeable on premium printer paper.
Print speeds: A manufacturer's listed print speeds will give you a rough idea of how many pages per minute your inkjet printer can print. Print speeds depend on a variety of factors. If you're printing low-quality copies in black and white, your printer will work faster than if you're printing high-quality pages in color.
Connections: Inkjet printers typically connect to your computer using USB or FireWire (IEEE 1394). Some older printers also support parallel port connections.
Paper and other print media: Many inkjet printers can print on various sizes of paper, from 8½" x 11" to legal size to envelopes. Your printer may also be able to print on heavy cardstock or lightweight vellum, which is ideal if you plan to create your own party invitations. Other media some inkjet printers can handle include transparencies, labels, glossy photo paper, matte photo paper, and even CDs and DVDs with printable surfaces. Some photo inkjet printers have a dedicated tray for photo paper. No matter what you print out, get your best results by choosing high-quality paper made especially for inkjet printers.

Find Inkjet Printers on eBay
Once you know what type of ink jet printer you want, go to the Computers & Networking portal, click Ink Jet & Photo Printers,, and start searching for items on eBay.
Keyword search: Search eBay listing titles for specific words. For example, if you want to find inkjet photo printers, type "inkjet photo printer" (without quotation marks) into the Search box. Click "Search title and description" to expand your results. Visit eBay's Search Tips page for more tips on searching with keywords.
If you can't find exactly what you want, try shopping eBay Stores,, tell the eBay Community what you want by creating a post on Want It Now,, or save a search oon My eBay and eBay will email you when a match becomes available.

Buy Inkjet Printers With Confidence
Before making your purchase, make sure you know exactly what you're buying, research your seller, and understand how eBay and PayPal protect you.
Know your purchase
Carefully read the details in item listings.
Figure delivery costs into your final price. If you spend a lot of money, make sure the seller will insure the item when it ships.
If you want more information, ask by clicking the "Ask seller a question" link under the seller's profile.
Always make sure to complete your transaction on eBay (with a bid, Buy It Now, or Best Offer). Transactions conducted outside of eBay are not covered by eBay protection programs.
Never pay for your eBay item using instant cash wire transfer services through Western Union or MoneyGram. These payment methods are unsafe when paying someone you do not know.
Know your seller
Research your seller so you feel positive and secure about every transaction.
What is the seller's Feedback rating? How many transactions have they completed? What percentage of positive responses do they have?
What do buyers say in their Feedback? Did the seller receive praise?
Most top eBay sellers operate like retail stores and have return policies. Do they offer a money-back guarantee? What are the terms and conditions?
Buyer protection
In the unlikely event that you don't receive your item or it is not as described, eBay Buyer Protection will cover your purchase price plus original shipping. Learn more.