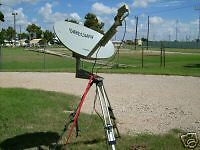 I have helped over 1000 people on EBay, set up their Satellite Internet System at their Home and out on the road in their RV, in the past year and a half, and lately people always ask me to explain the difference between a Used Hughes Satellite System and a New System. This will show you the difference.
This is a break down of the difference between a new Hughes Internet Satellite System, and a Used Hughes System off of eBay. It will cost you anywhere between $250 and Up to get a used system on EBay This system has no warranty. When you buy this system, there is no guarantee that the Modem is LOCKED from a Early Termination Lock or even if the system is in good shape. The average system on EBay is probably over 2 years old and if the modem was upgraded from a 6000 Modem to the current 7000S the dish and electronics on the dish could be as old as 7 to 9 years. There is no way of telling. I myself have picked up many systems on EBay and I have had pretty good luck with them. But here lately there has been a lot of Modems sold on eBay that had a ET Lock on them and it just took a lot of time trying to get them unlocked and working. If you want to see what a new system would cost with a warranty on the equipment here is the break down.
If you start with a used Hughes system, Hughes will charge you $25 to activate a used system and the dealer that sets up your account will charge you, as much as $100 to activate your used Hughes Satellite Internet System.
I have dealers that charge you about $30 to activate and these dealers help you if you have a problem of any kind. With what Hughes charges you and the activation with the dealer,this is a cost of $55.00 right at the start. So if you find a used system on eBay for $250 with shipping at $45+ you could easy get about $300.00 in this system, and still will not guarantee you the system works or might have a lock on it. See if you buy this system and you pay $45 for shipping and have to return it and it $45 you will loose the $45 it cost you to send the system back and a lot of these people charge a lot more than $45 to ship. A fair shipping cost for a total Hughes Satellite System weight is 50 Pounds with the package at 36 X 24 X 18 and from NY to TX my cost is $38.00 (Fed Ex Ground and UPS Ground) and this is a new system in the box with the mounting pole.
Now if you do not care about a contract or not and you plan on using the system for years, at home, on the road in your RV or both, you can get a new system delivered to you for $399 and with this purchase you also get a $100 rebate, Now you have the cost of a brand new system down to $299.00, This new system comes with free shipping and free activation , this is if you want to install the system your self and save the $200+ a dealer or installer will charge you.
You also save the $30 it would cost you to activate a used system and the $25 to activate the used system, Making the cost of the New system about activated and delivered to your location, your cost of $244.00 and you can even take off the $45 the shipping would be on EBay and total cost of a new Hughes system would be around $199 with all savings. This is a very good deal. If you are an RVer and travel on the road, all the time or part of the time, you will still need to build a tripod for the dish this will cost you about $80 through my sources. RV systems on EBay are going from $500 to as much as $1750.00 on eBay auctions and this might be used equipment. you can build your own for under $300.00 this includes shipping and activation.
There are only a very few honest dealers out there that will be very honest with you, and we at westtexastransplant (dba)
RV Satellite Service only work with best dealers that sell Satellite Internet.
You can always contact us for information or see our store on eBay under the name of westtexastransplant at.................
Used system on EBay $250 New Hughes System $399.00
Shipping 45 rebate after 30 days of service -100.00
activation 30 what you save on activation -30.00
Hughes used system chg 25 what you would save on the Hughes used activation charge -25.00
no warranty.........................xx 2 year Warranty
Total cost of a Used system $ 350.00 on average Total cost of a new system with all savings $199.00