Hello Every One,
We found a useful site that you can track your shipment worldwide, the site is:
www.track-trace.com,
You can track lots of shipping method there, such as: DHL, UPS, TNT and lots of more..., just in one place!
For parcel shipped via postal service, the link is:
www.track-trace.com/post
Type the above address in browser, open the page,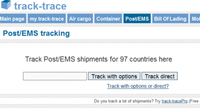 input the tracking number in the text input box, then click "Track with options" button, system will automatically retrieve tracking information from the sender's country, then click "Select country" page, you can select the destination country of the parcel, please note, the tracking information from destination country only available when parcel entered in this country.
Thanks for the great site, this site integrated almost all tracking functions in one place.
dig-ole