Watch the stitching: Louis Vuitton is very careful with it's stitching. Stitching should be very even and regular. The same number of stitches will be found in similar locations on similar bags... for example the leather tab that the handle attaches onto on any size monogram Speedy bag will always have 5 regular, even stitches across the top, like this: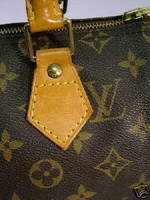 Made in Spain? Yes, while it is true that authentic Louis Vuitton is made in France, for over 25 years, Louis Vuitton has also produced bags in the USA, Spain, Germany and Italy. It is not true that a Louis Vuitton bag has to be marked "Made in France" to be authentic. Here is the embossed markings of an authentic Louis Vuitton bucket bag, Made in the USA
What about the "Upside Down LVs"?
Some styles of authentic Louis Vuitton WILL have "upside down" LVs on the backside. The reason for this is that Louis Vuitton uses one continuous piece of leather that wraps around from the front to back, without a seam on the bottom- and so, the backside has upside down logos. This is true on the Speedy styles (except French Company Speedys), the Keepalls, Papillons, and some similar styles. Most monogram pieces (any piece with a separate piece of canvas or leather on the bottom) will have the LVs rightside up on both sides. Here is the backside of an authentic Speedy 25: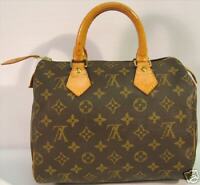 The Fonts:
Louis Vuitton uses a very specific font. I've noticed that a few counterfieters have begun to do a better job at knocking it off... so be careful, but current LV fonts will ALL look like the one on the patch above. Notice the VERY round "O"s. Here is an example of two straps- one authentic, one a "better" fake. Can you tell the difference?