Perhaps you've browsed across an auction of original comic book art (perhaps one of mine) and found yourself questioning exactly what it was. I was even contacted by one confused browser who'd happend across my auctions and wanted to know was I tearing the pages out of old comic books and selling them individually. Comic book art, also known as production art, or more broadly commercial art, is the original hand-drawn works used for the production of comic books, and this hobby of collecting comic book art has found a home on eBay.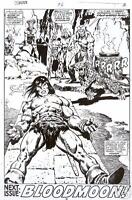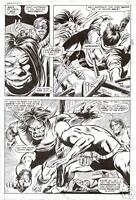 Prior to the invention of eBay comic book art was sold largely at the numerous annual conventions, or through a tedious mail order process. What the latter lacked was the immediate visual appeal that images provide. A typed list scarcely conveys the beauty of the art, and was taxing for those fans that haven't retained old comics to reference. And the former was often inaccessible, with conventions held mainly in big cities, necessitating a specific and costly trip on the hopes of finding something you might want.
Since the year 2000 comic book art has exploded onto eBay, raising the average price of the art tremendously and making many sellers a small fortune. With sales of individual pages on eBay going as high as $20,000 it is arguably one of the more successful collectors markets going. But for those just beginning to collect, or for those wishing to sell pages they bought years ago there are many questions. I've got a few tips, mainly trial and error results, that work both for a seller and for a collector looking for the most satisfying purchase.
Remember that comic book pages were never meant to be resold. Once the art was used no care was taken by the publishers in their storage. Consequently comic book art usually carries printers oils, unidentifiable stains, small tears, yellowing tape. The acid-based paper of old that was used yellows, especially when exposed over the years to sunlight. For some collectors, these things lend a charm to the art. But when a page has gone through all and even more unimaginable wearing it can diminish resale value. Not all of this needs to be noted when listing a page for sale. Collectors take some of this as a given; force majeure and the passage of time. Only when it is excessive - word balloons pasted on, tears that run into the art, excessive whiteout or yellowing - should a dealer list these issues. Rather than being a deterrent, it helps your sale by marking you as an honest dealer.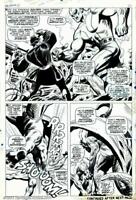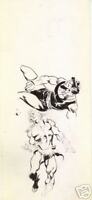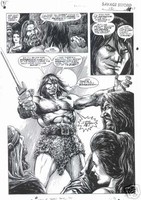 One thing I began doing many years ago when I first started selling, and which I've noticed has caught on with other sellers is giving a brief history of an artist while listing his page. Though most of these tales are known to real collectors, it still lends a professionalism and expertise to the seller, while reminding a collector of why they like a given artist.
If at all possible scan the original art directly. That can be a problem since original art ranges from 11X17 to a whopping 14X20. Another option is taking a color copy reduced to letter size. Color copies are superior to B&W copies since they reflect more accurately all the pages blemishes. But there are times when B&W copies work just as well, as in the case of pencil sketches. These sketch pages like the one below are an artists original first draft done on a newspaper stock before committing to a finished page.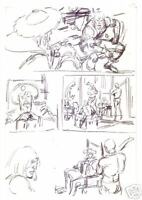 Beyond the avid collectors there are many first time and one time buyers of comic book art. These are often individuals who read comic books as a child and are interested in buying and framing a single page for the office or home. The best advice is to take your time when considering a page. On your first attempt at buying comic book art everything will look great. But if you browse, you might run across an artist or page from a book that is truly something that brings back those old memories. It's a truly great hobby, because it's tied into memories. Nostalgia, pure and simple.