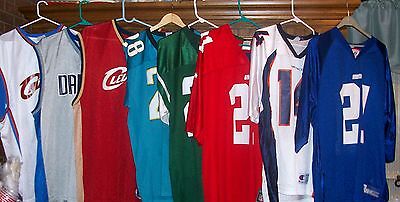 Intro
Maybe you've outgrown a jersey, or maybe your favorite player left your team. Either way, selling your jersey on eBay can be a very easy way to reclaim valuable closet space and earn a little pocket money. Use this guide as a good starting point before you sell.
Step one: Know what you have
Many listings for sports jerseys contain very little information, and sometimes, they contain incorrect information. It is very important to know the brand, the size, the team, the player, and the type of jersey it is. Although these things may seem simple, it is astonishing how many listings simply miss these key points. You'll also want to note if the jersey is authentic or a replica. If you aren't sure, check the jersey tags. Authentic jerseys will typically note that they are authentic.
For example: Don't post "blue #12 patriots jersey", instead post "Nike Tom Brady #12 New England Patriots authentic blue jersey - Size 48".
Not only will this make your listing look more professional, but it will also make sure you show up with more searches, too!
Step two: Take a ton of pictures
Taking pictures is a very important step in selling a jersey. Your customers will want to know what the jersey they are buying will look like, so by taking pictures of the front and back, and any spots where there may be tears or stains, you will ensure that you will not get any negative feedback. You'll also want to take a few close up shots of the numbers on the jersey to show if they are either screen printed or stitched. Stitched jerseys will typically earn more money than screen printed ones.
Step three: Pack up your item and send it off
Once your item sells you'll want to pack it up safely to make sure the package doesn't get destroyed in the mail. You'll want to wrap your jersey up in plastic, and then put it in either a large padded envelope, or a small box. Try to avoid too small of a box, or the jersey will get creased in transit.
You'll want to get tracking information, and depending on the price it sells for, you may want to get shipping insurance as well.

Good luck, and happy selling!