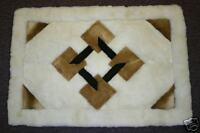 An Alpaca is a cross between the Llama and the Vicuna. Mainly raised in the high altitudes of the Andes Mountains, these animals are raised like sheep and cattle. Alpacas date back to the Inca Empire of the 16th Century and were treasured by royalty because of their beauty and silky soft texture.
Alpaca Fur is used to make exquisite hand sewn rugs, blankets, tapestries and pillows. Many of the designs are the work of centuries of training as local artisans spend years learning the workmanship and craftmanship that is required to create one of the intricate designs. To create a mid-size piece, the artisan selects several hundred sections of different colored fur (all natural and highly durable as there are no dyes or chemicals used). Then spending many hours cutting and arranging the pieces, they painstakingly hand sew each individual piece together to form the stunning designs.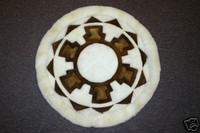 Although highly durable and extremely soft and silky, Alpaca furs are generally to be used in light wear area. Blankets, Bedspreads, Pillows and Rugs should be used in light traffic areas as they are designed mainly for their decorative appeal. You can still enjoy their comfort, but it is best to limit their use to get the maximum life and enjoyment out of them.
General care of your Alpaca furs should include regular brushing. The Alpaca fur can get matted from sitting or laying on it. A wire pet brush or hairbrush is ideal to use. Brush gently and often to maintain a tangle-free fur and preserve the silky-soft feel.
Avoid displaying, keeping, or storing your Alpaca fur in direct sunlight and keep it in a cool and airy room. If you need to store your fur, avoid sealing it in a plastic bag. Alpaca fur is best preserved when it can "breath". Also, when storing in airtight conditions with plastic condensation may occur during warm conditions and your beautiful Alpaca fur could end up smelling like an old wet dog.
Please remember that Alpaca fur is NOT machine washable. If extensive cleaning is required it is best to take it to a professional furrier. This can be quite expensive so it is best to make sure you take extra care to make sure it stays clean in the first place.
For any spills or small spot cleaning, you can use a mild soap and water mix and gently sponge the area. Make sure that you don't get the leather wet.
Finally, periodically sprinkle some talcum powder over the fur and gently brush it using a hairbrush. The talcum powder will not only give your fur a fresh clean smell, but will help soak up any body oils that may be building up on it from use.
Above all, make sure you enjoy and treasure your Alpaca fur.
Please check out our ebay store for many great gift and decorating items: My Auction Source